Meet the New InfoComm CEO — Online

InfoComm CEO and Executive Director David Labuskes, CTS®, RCDD, is on the job and tackling issues important to the pro-AV industry. Maybe you've met him already; maybe you haven't. Thanks to the power of the Internet, you can pick his brain in this 30-minute interview with rAVe founder Gary Kayye.

Future Trends at Integrated Systems Europe 2013

For the third year in a row, InfoComm will host a one-day Future Trends Summit on Jan. 28, 11 a.m.-5:30 p.m., the day before the Integrated Systems Europe (ISE) 2013 trade show in Amsterdam. "For professionals wishing to plan forward for the next three to five years, Future Trends is an event not to be missed," says Terry Friesenborg, CTS, Senior Vice President for International Development at InfoComm.
Future Trends will be moderated by Clive Couldwell, editor of AV Magazine, and divided into three segments: future customer needs, future AV technologies and the future of the AV market. Check out the full schedule.
"Our industry has gone through massive, transformative changes in the last 10 years, so that the industry we represent today doesn't look like — or act like — the industry of only a decade ago. But, as with all of technology, the pace of change only accelerates," says Joel R. Rollins, CTS-R, of Everett Hall Associates.
The Future Trends Summit will take place in the Education Zone, which is conveniently located in the Elicium Building, above Hall 12 of ISE 2013. The session will be followed by the ISE keynote address by cyber illusionist Marco Tempest and ISE's 10th birthday party. To register for Future Trends, or for any other courses featured at ISE 2013, visit iseurope.org.

Debuting the InfoComm Today Podcast

InfoComm, in association with AVNation, is proud to launch the InfoComm Today Podcast, a regular online forum covering industry news and trends. For our maiden voyage, the podcast welcomes InfoComm's own head of international development Terry Friesenborg, CTS, plus guests, to preview Integrated Systems Europe 2013, which will be held later this month in Amsterdam. Listen here.

New AV Business Leadership Series
InfoComm is pleased to offer the AV Business Leadership Series, a complete leadership development solution. Now you can take the guesswork out of professional development for your AV sales, marketing and management staff. The series includes:
Six webinars that you can attend with your entire staff, covering The New Normal, presented by strategic relationship expert David Nour
A special Business Leadership Lunch at InfoComm 2013, featuring networking and education for company CEOs
Admission for two attendees to InfoComm's inaugural AV Executive Conference in September, a two-day event designed to enhance your organization's business acumen
Two books by David Nour: Relationship Economics® and Return on Impact
Call your account manager for information on purchasing the series and starting your company down the path of cultivating great employees.

Pinpointing CTS Holders
Ever wished you could locate all the Certified Technology Specialists™ (CTS) in your city? InfoComm's new website makes it easier than ever to find qualified partners to work on your next AV project. Just browse over to the Certified Professional Directory and search by name, city, state or country.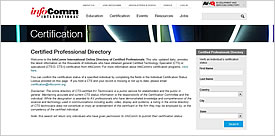 N.Y. Roundtable to Focus on Disaster Recovery
| | |
| --- | --- |
| | Please join InfoComm for a Regional Roundtable in New York on Feb. 7. James Bowman, President and CEO of SBS Group, will present Disaster Recovery: Preparing for the Unexpected. In addition, Duffy Wilbert, CTS, CAE, Senior Vice President of Member Services at InfoComm, will lead a roundtable discussion of industry trends and issues. Save your spot. |

Regional Roundtable in Baltimore
InfoComm is also hosting a Regional Roundtable in Baltimore on Feb. 21. Join us to make face-to-face connections with your AV colleagues and receive an industry update. Brad Malone, PMP, President and Principal Consultant of Twin Star Consulting, will present Maximizing Your Organization's Performance.

How to Enroll in CTS Prep Online — Free!
Imagine unlimited access to CTS Prep Online... for everyone in your company! InfoComm members now enjoy this great benefit and more.

Three Network Challenges and Solutions
You're not alone in facing network challenges. InfoComm University™ can arm you with solutions for the following common problem areas:
Remote monitoring and management
Streaming
Conferencing
Enroll in Networked AV Systems, Feb. 5-7 in Fairfax, Va. Call +1.703.273.7200 for registration information.

Benefits of Belonging — Save on Shipping
Did you know that InfoComm members can enjoy significant savings on shipping costs through the PartnerShip® program? Participants get discounts on domestic and international shipments through FedEx, as well as discounts on freight shipments arranged through PartnerShip Select Services. Enrollment in the program is free for members. Last year, more than 150 members saved on shipping — some up to $12,000. Learn more.
If you aren't already an InfoComm member, join today.

Upcoming Webinars
From Zero to Streaming in 10 Days
Jan. 30, 2013
Register

InfoComm Awards and Scholarships
Feb. 6, 2013
Register

Innovating Professional Development
Feb. 13, 2013
Register