The Growing Audiovisual Industry
The audiovisual industry currently generates $91 billion a year, according to InfoComm's 2014 Global AV Market Definition and Strategy Study, and is projected to be a $114 billion global industry by 2016.
Complex AV systems have become essential to the operation of government, institutions and corporations, resulting in a growing need not only for equipment but for installation, integration and managed services contracts.
The AV industry is strong, despite a challenging global business environment, because society relies on AV technology to facilitate essential communications. In order to meet the future needs of our customers, the audiovisual industry will require a well-trained workforce to respond to ever-growing customer needs.
Corporations, educational institutions and government agencies are the three largest consumers of audiovisual products and services. The increased need for communication and collaboration in these environments is fueling a reliance on AV.
Pro-AV Market by Region as of 2014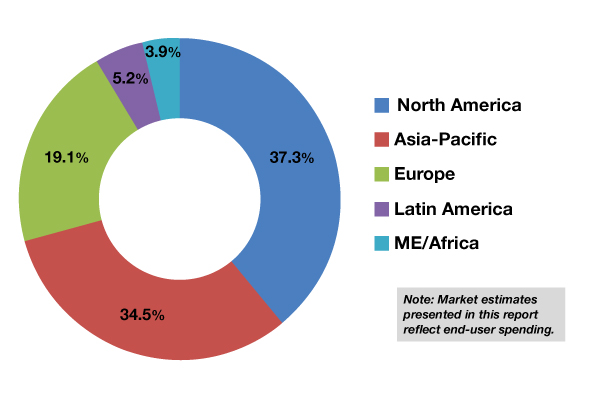 The Exceptional Experience
Whether they're in a board room, classroom, concert hall, hotel board room or church, our internal and external customers are demanding meetings, training and events that are engaging, inspiring and interactive. The audiovisual industry plays a critical role in delivering experiences. Visit theexceptionalexperience.com to explore key elements, end goals and find resources to help you create an exceptional experience.