InfoComm 2011 Keynote to be Delivered by HP's Rob Scott
InfoComm International® is pleased to announce that Rob Scott, vice president and general manager, HP Visual Collaboration, will be delivering a keynote address at InfoComm 2011, the world's biggest audiovisual tradeshow. InfoComm 2011 will showcase integrated display, projection, audio, conferencing, lighting and staging, digital signage and communications system solutions, June 15-17, 2011, at the Orange County Convention Center in Orlando, Fla. The speech will take place Tuesday, June 14, at 4 p.m. More
The Center of IT All
Make plans now to join us for InfoComm 2011 — the largest pro-AV event in the world — taking place June 11-17 in Orlando. With more than 950 exhibitors and 300 education sessions, there's no better place to connect with the buzz and keep your business competitive. Register today.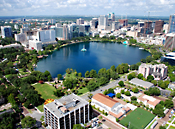 Win an Orlando VIP Package!
Register before Friday, April 29, for a chance to win an Orlando VIP Package including roundtrip airfare, three-night hotel stay, limo service, two theme park tickets, plus an amenity basket and InfoComm goodie bag! To be eligible to win, you must enter VIP Code MMBR2 when registering. Read the rules and regulations.
Touch Screen Design Gallery
Ultimate user experience is the key to making any client happy. Come and see the amazing talents of CAIP (Crestron Authorized Independent Programmers) and InfoComm International members at the Touch Screen Design Gallery! Now located on the InfoComm Show floor, booth #3220, this gallery will blow you away with the latest in touchpanel design and features.
Technologies for Worship Conference
Attention house of worship volunteers, technicians and leadership staff — this is your chance to learn about technologies directly related to your specific environment. From using social media, to workshops on audio and video systems, the Technologies for Worship Conference has it covered. Details



Don't forget to stop by the Technologies for Worship Pavilion to test-drive new gear, speak with product designers, network with installers and technical contractors, as well as experience live performances on the state-of-the-art Quiet Stage. The Technologies for Worship Conference and Pavilion are sponsored by Technologies for Worship Magazine.
Visit the InfoComm 2011 Blog


InfoComm International has launched the InfoComm 2011 Show Blog! A great place to catch up on announcements, updates and other information relating directly to the upcoming Show in Orlando, Fla.

Classroom AV
The K-12 education market is at a turning point after several tough years of ever-shrinking state funding. Although the U.S. recession technically ended in June 2009, K-12 school districts across the country are still grappling with how to fund AV technology purchases due to the lag between the mainstream economy and school budget cycles. The good news for school administrators is that many classrooms are packed with AV gear already. The bad news is that there is a constant need to upgrade, update and manage those assets. More


InfoComm Mourns the Death of Barry Halligan, CTS
It is with regret that InfoComm informs the industry of the death of Barry Halligan, CTS. An audiovisual professional since 1979, he most recently served as Vice President of Operations for Technical Innovations. He was 54 years old.
A gracious InfoComm volunteer who unassumingly elevated every project he worked on, Barry was a popular member of InfoComm Academy's Adjunct Faculty. Barry served on InfoComm's Certification Committee and taught for the Academy for more than a decade, most memorably highlighting the importance of service agreements.
He is survived by his wife, Connie, his sons, Todd and Taylor, his parents and his sister.
In lieu of flowers, contributions may be sent to:
American Cancer Society,
6500 Sugarloaf Pkwy.
Ste. 260
Duluth, GA 30097

Hospice Advantage
4330 Georgetown Sq.
Ste. #505
Atlanta, GA 30338

InfoComm Council Chairs Announced
InfoComm International, the leading trade association representing the commercial audiovisual industry, is pleased to announce its council chairs for 2011.
Asia-Pacific, Zane Au, CTS-D, Director, Shen Milsom & Wilke Ltd.
European, Kristian Glahn, CTS, Technical Director, Solutors A/S
Independent Consultants in Audiovisual Technology (ICAT) Thom Mullins, CTS, Affiliated Engineers, Inc.
Independent Reps, Steve Garber, BP Marketing Group
Manufacturers, Marc Bertrand, TC Group Americas
Programmers, Matthew Grisafe, CTS, AV Programming Associates
Rental & Staging, Janne Mummert, Video Equipment Rentals
Systems Integration Leadership Council (SILC), John Delockery, CTS-I, Interactive Solutions
Technology Managers, Scott Tiner, CTS, Bates College
Manufacturers' Training in Atlanta on March 23
Join your Atlanta colleagues at the Marriott Marquis on Wednesday, March 23, for a morning of Manufacturers' Training by Biamp, Chief, Digital Projection and Mediasite by Sonic Foundry.
Receive as many 2.5 RUs for free. Stay the afternoon for a member roundtable. See the agenda and register today!
End-Users Conference in Atlanta on March 24
If you're responsible for AV/IT services for your organization, plan to attend InfoComm International's AV Technology Today — a one-day event for end users in Atlanta on March 24. Presentations, product demos and conversations will cover videoconferencing, 3D for learning and digital signage. Discover how integrating AV solutions into your network can improve your bottom line and enhance your organization's performance. Register now.
Record Postings on InfoComm's JobSite
InfoComm is seeing record postings on its JobSite. Whether you're looking for a change in your career or your organization's next AV professional, search dozens of listings for the perfect match. InfoComm is happy to offer 25-percent off all job posting packages from now through March 31, 2011, with the promotional code 25OFFNEWYEAR. Let's help grow this $75 billion industry together!
Upcoming U.S. Roundtables
Join your colleagues at an upcoming Regional Roundtable in these cities
More information about Regional Roundtables.

Super-Size Your Training
Dial into the pulse of AV's rapid changes and zero-in on the training you are looking for with new tracks at InfoComm 2011. Search sessions with the following super tracks: AV Systems Technology and Design, Business and Management, Net-centric AV, Live Events and Technology Manager. More
Create Recurring Revenue With Digital Signage
Let InfoComm International show you how digital signage, the fastest growing segment of the AV market, could be your pathway to new business, steady business and more business. Tune in for a three-part webinar series on business planning for digital signage.
CTS Prep to the Rescue
"I feel like taking the CTS Prep was exactly what I needed to gain more confidence in signing up for the exam. I know and understand how important having the CTS designation is, so studying for the exam has been a little stressful. Taking the CTS Prep course has eased my nerves."
~ Heather R. Callaway, RCDD, LEED AP, OCI Associates Inc.

Only 9 seats left for the March 15 class. Call Amanda Eberle at +1.703.273.7200 or email to register.
InfoComm Training at the Big Book AV Tour
While you're at Stampede's Big Book AV Tour, March 18, in Miami, add even more value to your trip by staying for special InfoComm International training on how AV education and certification directly tie back to your profit margins. Contact Patrick Giambalvo for details.

More Renewal Options for European CTS Holders


An education organization established for audiovisual events professionals who work in live events, Lang Academy in Lindlar, Germany, recently had 37 courses approved for renewal units (RUs) for InfoComm International's Certified Technology Specialist ® (CTS®) program. See all of the 1,000 RU-approved courses .
Now Open: Add CTS to Your Name in Orlando


Ready, set, go! You can now schedule your CTS®, CTS-D® or CTS-I® exams at InfoComm 2011. Want to ease your exam jitters? Enroll in a prep course onsite before you take your exam.

InfoComm's BIM Task Force Completes BIM Parameter Lists and User Guides
The InfoComm BIM Task Force, appointed by the InfoComm Board of Directors in 2010, has developed a standardized list of parameters to be used to populate BIM metadata in Autodesk® Seek or other BIM software programs. In addition, the task force has developed user guides to accompany these parameter lists. The creation of these latest documents, along with the BIM Overview document that was finished in January, completes the deliverable set forth by the Board of Directors. The hard work, dedication, and enthusiasm of the BIM Task Force have made this latest step forward in the AV industry possible. Congratulations and thank you to the following members of the BIM Task Force:
David McNell, CTS-D, RTKL (CHAIR)
Harry Allison, CTS-D, Waveguide
Walter Black, Ph.D., VidCAD Documentation Programs
Michael Cukrow, Middle Atlantic Products, Inc.
Kevin Harrison, Stardraw.com
Todd Hutchins, CTS-D, Verrex Corporation
Casey Sherred, Acoustic Dimensions
Max Shirley, CTS-D, Newcomb & Boyd
Roneel Singh, CTS, WSP Lincolne Scott
David Wilts, Crestron Electronics, Inc.
To view the BIM Overview, parameters lists, and user guides, visit www.infocomm.org/bim.


ISE Announces Winner of Free Trip to InfoComm 2011
Congratulations Amedeo Bozzoni of Sistemi-Integrati in Milan, Italy! Bozzoni won roundtrip airfare to Orlando, Fla., three nights' hotel accommodations and free entrance to InfoComm 2011 in June. To register for InfoComm 2011, visit www.infocommshow.org.
Faculty Excellence Program is Global

Five top-rated instructors from outside the U.S. joined others in February at InfoComm International's headquarters in Fairfax, Va., for the 2011 Faculty Excellence Program. The program to honor AV instructors helps them perfect their teaching skills — all in an effort to bring you the latest in AV education at InfoComm 2011.
Roundtables in Australia and New Zealand
A series of roundtables and InfoComm Academy Days in Oceania begins March 17 in Auckland, New Zealand. More information and dates for roundtables in your city.
InfoComm China 2011


InfoComm China 2011, April 13-15, features more than 20 education sessions and three conferences focusing on transportation; digital signage; and leisure and entertainment. Additionally, don't miss the special in-depth classes, Foundations for Sound System Design and Advanced Topics for Sound System Design presented by SynAudCon.

Now Accepting Michael Vergauwen Scholarship Applications
Post-secondary education scholarships are available through the Michael Vergauwen Education Fund. Third- and fourth-year college students and graduate students pursuing a technical degree to be applied to an audiovisual career should apply. Applicants must also be dependents of employees or employees of member organizations. The deadline is April 29. Apply now.