Certified Technology Specialist (CTS)
For more than 30 years, InfoComm has administered the Certified Technology Specialist™ (CTS®) program, which is recognized worldwide as the leading AV professional credential.
Record-breaking news! There are now more than 10,000 CTS holders.
InfoComm offers three types of certification:
All three certifications are ANSI accredited under the International Organization of Standardization (ISO) and the International Electrotechnical Commission (IEC) ISO/IEC 17024 General Requirements for Bodies Operating Certification Schemes of Persons program.
Certification shows your commitment to being the best, in the AV field and for your company. Give yourself the CTS advantage.
Benefits of Certification
Free Tools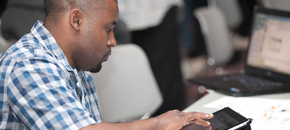 Before you take your CTS, CTS-D or CTS-I exam, check out the free practice exams. These resources will help you plan your course of study and boost your confidence.
CTS News
How an AV pro found her CTS family. Plus, how Dawn Meade, CTS, used this scholarship to help launch her career and become an industry influencer.
---
Certification is not a guarantee for performance by certified individuals. Certified Technology Specialist™ (CTS®) holders at all levels of certification have demonstrated audiovisual knowledge and/or skills. Certified individuals adhere to the CTS Code of Ethics and Conduct and maintain their status through continued education. Certification demonstrates commitment to professional growth in the audiovisual industry and is strongly supported by InfoComm.
All eligibility, application, score reports, special accommodation requests and general inquiries regarding InfoComm certification will be handled through the InfoComm International Certification Office, with headquarters located in Fairfax, VA, U.S.A. Purchases of education, membership or any other InfoComm services are not required to seek certification.
InfoComm International
Attn. Certification Office
11242 Waples Mill Rd., Suite 200
Fairfax, VA 22030

Phone: 1.800.659.7469 or +1.703.273.7200
Fax: +1.703.991.8259

certification@infocomm.org