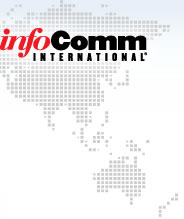 January 2016
A Message From the Directors
Dear Friends,
We are looking forward to a great year of professional development and industry engagement in India. InfoComm International® is expanding the team that supports the India market, and already AV professionals in the region have been furthering their careers through InfoComm certification, as you will read about in this Update.
We are also thrilled to announce that in 2016, InfoComm will again partner with Broadcast Engineering Consultants India Limited to bring high-quality, hands-on training to AV installers all across India. Students will learn how to properly prepare, terminate and pull cable. They will also study circuit theory, conduit capacity, signal separation, earthing and loudspeaker installation.
InfoComm's relationship with BECIL has been valuable to AV professionals throughout India and we are happy to continue our affiliation in 2016. We hope you will take advantage of these and many other InfoComm programs this year. And it is never too early to mark your calendars: InfoComm India 2016 will be 12-14 Sept. in Mumbai. We will see you there!
Sincerely,
Ratnesh Javeri Named to InfoComm Board of Directors
The Leadership Search Committee of InfoComm International has appointed Ratnesh Javeri, CTS®-D, Managing Director, Innovative Systems and Solutions Pvt. Ltd., to the Board of Directors. Javeri has been an active member of InfoComm for many years. His entrepreneurial spirit is reflected in his long list of accomplishments. Javeri holds the first CTS-D earned in India, and in 2014 he was honored as InfoComm's Volunteer of the Year.
Javeri is Managing Director of Innovative Systems and Solutions Pvt. Ltd., a 40-employee, ISO 9000-, 14000- and 18000-certified company in India. He was an active member of the task group that developed ANSI/INFOCOMM 2M:2010: Standard Guide for Audiovisual Systems Design and Coordination Processes. He is an item writer for the CTS-D exam, a three-year member of the Standards Steering Committee and member of InfoComm's Adjunct Faculty. He holds degrees in physics and electronics engineering and post-graduate qualification in foreign trade and advanced computing.
News of InfoComm's India Team
Gaurab Majumdar (left), Manoj Kumar (right)
Gaurab Majumdar has been promoted to Regional Director, India and Middle East, at InfoComm International. Gaurab has done an outstanding job of growing the association's presence in India, not only within the AV and ICT industries, but also within the government and end-user communities. He is joined by Manoj Kumar, who began his work with InfoComm providing contract services and coordinating InfoComm programs in the region. In his new position as India Account Manager, he will work with Gaurab to continue to grow InfoComm's membership, education and certification in India. InfoComm's India-based staff looks forward to delivering the educational and professional opportunities needed to support the growing AV industry in India.
Design Boot Camp Comes to Bengaluru
What exactly is InfoComm Design Boot Camp? It is three classes in one, taught over nine days, covering everything an AV designer or prospective CTS-D would need to know about the calculations, documentation and technology behind every great AV design. If you want a sneak peak at Design Boot Camp as it is taught at InfoComm International headquarters in Fairfax, Virginia, watch the video.
Design Boot Camp is coming to Bengaluru, 16-25 Feb. (there is no class 20 Feb.). InfoComm Staff Instructor Rob Brown, CTS-D, CTS-I, will meet students at the Fortune Park JP Celestial hotel and take them through three straight courses: AV Design 1: Environment, AV Design 2: Infrastructure and AV Design 3: Applied Design. According to one of your peers who has experienced Design Boot Camp, "Along with planning and design of AV for different applications, the training also covers various standards and concepts associated while working with other trades including HVAC, electrical, interior designer, lighting, IT and networking, and architects." Shailesh Shukla of Godrej & Boyce Mfg. Co. Ltd., said, "The training helped me to understand the various critical measurement requirements for AV designs."
Sign up today. If you have questions, send them to india@infocomm.org.
Starting Off the Year Right With Certification
T.S. Gopalakrishnan
Two of the first three professionals in 2016 to earn their Certified Technology Specialist™ (CTS) credentials call India their home. T.S. Gopalakrishnan, an InfoComm instructor, earned his CTS-I credential. You can hear Gopal talk about the importance of certification in this 2015 InfoComm Today Podcast.
| | |
| --- | --- |
| | |
| | Leo Joseph Thomas |
In addition, Leo Joseph Thomas, an AV consultant at Hewshott Media Pvt. Ltd. in Bengaluru, earned his CTS-D credential. That makes him a dual CTS-D, CTS-I — one of an exclusive club of high achievers. "I wanted to achieve the next level of professional expertise recognition after CTS certification in AV industry to help me and my company achieve our professional goals," Thomas said. "Preparing for a certification gives you a reason to brush up on what you already know and do every day. It can also teach you new concepts and standards that you were not aware of. Certification preparation can help you round out your skill set. It feels really good to earn a credential like this."
Learn more at infocomm.org/certification.
9-12 February 2016
Amsterdam, Netherlands

3-4 March 2016
San Jose, California, USA

13-15 April 2016
Beijing, China

10-12 May 2016
São Paulo, Brazil

4-10 June 2016
Las Vegas, NV, USA

10-12 August 2016
Mexico City, Mexico

23-25 August 2016
Sydney, Austrália

12-14 September 2016
Mumbai, India

11-13 October 2016
Bogota, Colombia

1-3 November 2016
Moscow, Russia

9-10 November 2016
New York, USA

6-8 December 2016
Dubai, UAE
Explore some of InfoComm's resources in German and in Spanish.