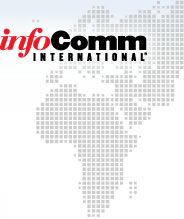 REGIONAL UPDATE
Europe, Middle East & Africa
August 2016
A Message From the Directors
Dear Friends,
We hope that all of you have had an enjoyable summer, and hopefully you've found time to enjoy some sunshine in-between your commitments. It has been a very busy time for us, with lots of activities in the pipeline for the coming months, which we look forward to informing you of.
In this update, we are delighted to announce that another company has achieved InfoComm's APEx designation, becoming the 47th firm to do so. Read below for more information.
Meanwhile, it's full steam ahead for the AV Awards, including the exciting new European CTS® of the Year Award. Some of us will be present at the Shortlist party on 1 Sept. in London, so if you're attending, do say hello! We look forward to seeing many of our AV industry colleagues there.
Sincerely,
Internet Videocommunications Becomes an APEx Company
InfoComm is delighted to announce that Internet Videocommunications has become the 47th company to achieve Audiovisual Provider of Excellence Program (APEx) status. The U.K.-based company specialises in the design, supply, installation and maintenance of a comprehensive range of video communication and videoconferencing solutions. APEx is a badge of excellence that highlights companies' commitment to providing quality service to customers, as well as upholding industry excellence.
Are you looking for a way to make your AV integration or consulting firm stand above the rest? Visit infocomm.org/APEx to find out more about the APEx Program.
European CTS of the Year Award
Shortlisted entrants for the inaugural European CTS® of the Year Award have been expressing their delight at receiving their nominations. It is the first time that this category has been part of the AV Awards program, which was open to all of our CTS holders in the region. Entries came from across Europe, and Colin Jacobs (Snelling Business Systems), Daniel Goldmann (Renox Audiovision GmbH), Justin Paveley (Focus 21) and Václav Jezbera (AV MEDIA) all have been nominated for the accolade.
Václav Jezbera was stunned to be nominated. "Being shortlisted took me completely by surprise," he said. "I didn't know I had been nominated by my colleagues. But it´s very nice to be shortlisted." Colin Jacobs was humbled by the recognition. He said, "What delights me most is the recognition it brings to SBS, a company that started as a two-man team, with myself being one of the two."
The shortlisted four will be attending AV Awards Night on 30 Sept., when the overall winner will be revealed.
InfoComm Challenges Industry Members in Support of COMM-TEC S14 Solutions Day
InfoComm has issued a 'training challenge' as part of its support of the COMM-TEC S14 Solutions Day. For the month of September only, InfoComm International® is offering a free opportunity to earn the InfoComm-Recognized AV Technologist Certificate (AVT) exclusively to registrants of the S14 Solutions Day, which takes place on Sept. 28 at COMM-TEC HQ in Uhingen, Germany. This fantastic limited-time deal carries a total value worth €245.
In order to obtain the AVT certificate, InfoComm is challenging all S14 Solutions Day attendees to take the Essentials of AV Technology Online course online, and pass the InfoComm-Recognized AV Technologist Test online, prior to S14 Day. All registrants for the day can have access to these two items online, in either English or German, for free for the month of September only, leading up to the event. Anyone that completes the challenge will receive their certificate at the event.
To take up the challenge, those interested should forward their S14 Solutions Day confirmation email to Mariana Kaiser, who will register them for the offer.
AMX-Supported Networking for the AV Industry Programme — London
With the support of AMX by Harman, InfoComm is training AV networking pros in the U.K. Taking place from 1 to 3 Nov., this course is made up of Networking Technology Online and Networked Audio Visual Systems (NAVS). The Networking Technology Online course will help students who require a better understanding of IT networks. For those not comfortable with IT networks, this online course should be completed before attending the Networked AV Systems classroom course. You can also take the 40-question NAVS Pretest to see if you're ready for the Networked AV Systems classroom course. Visit our website more details about the course.
12-14 September 2016
Mumbai, India

11-13 October 2016
Bogota, Colombia

1-3 November 2016
Moscow, Russia

9-10 November 2016
New York, USA

6-8 December 2016
Dubai, UAE

7-10 February 2017
Amsterdam, Netherlands

12-14 April 2017
Beijing, China

23-25 May 2017
São Paulo, Brazil

10-16 June 2017
Orlando, FL, USA

9-11 August 2017
Mexico City, Mexico

29-31 August 2017
Melbourne, Austrália
Explore some of InfoComm's resources in German and in Spanish.