AV Provider of Excellence (APEx) Program
Make Your AV Integration or Consulting Firm Stand Above the Rest
You're in business for one reason—your customers. You provide them with the utmost in quality by adhering to industry standards. You ensure their needs are met every step of the way. You hire and invest in trained staff and deliver superior customer service. And now there's a way that InfoComm International members like you can prove it: the APEx program.
This designation is earned by integration companies and AV design consulting firms that meet a set of five key markers of industry excellence. Whether your company has ten employees, more than one hundred, or somewhere in between, having the APEx "seal of approval" gives your firm a tangible competitive edge over the rest. In fact, some prospective customers are beginning to include the APEx designation as a requirement to bid.
Watch Trinity Video Communications explain the value of the program.
Become One of the Elite
There are fifty active APEx companies that you're competing against, with more applying every month. Level the playing field. Apply today.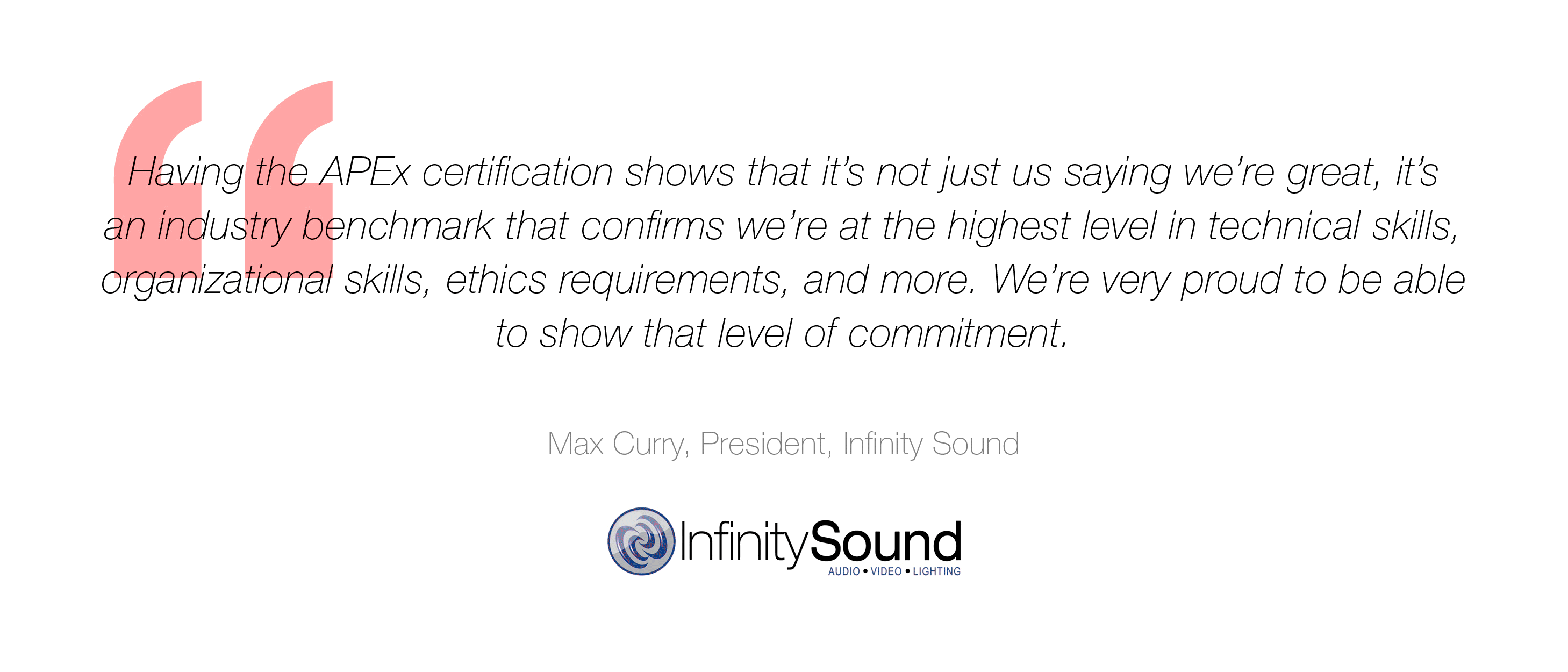 Your Company May be Closer to Earning the APEx Designation Than You Think
Do you:
Make sure installations perform to their expectations?
Provide clear designs and offer world-class service to your customers?
Train your people well and make sure they earn industry and manufacturer certifications?
Work in a collaborative manner to assess your customers' needs?
With these high standards, you are probably already meeting the requirements to earn a badge of excellence. Find out more details about the specific requirements needed for your company.
---
Looking for more reasons to join? Tune into the recorded webinar, Explore the Benefits of InfoComm's APEx Program, to hear more about the APEx advantage — and find out how close your company could be to earning this title.
---
Email APEx@infocomm.org if you have any questions or if you need assistance with the application process. Also, check our FAQs for answers to general questions.
As of January 2015, the CAVSP program was replaced with APEx