Distinguish Yourself — Become an InfoComm International AV Provider of Excellence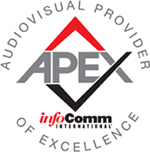 You've reached the top. For years you worked to make your AV integration or consulting firm stand above the rest. You train your people well, and you make sure they earn industry and manufacturer certifications. You provide clear designs and offer world class service to your customers. You work in a collaborative manner to assess their needs, and make sure installations perform to their expectations.
You stand above all, at the apex of the AV industry.
It's time to claim your rightful title, as an InfoComm AV Provider of Excellence.
What is the AV Provider of Excellence Program?
The InfoComm APEx program is a marketing recognition program for integration companies and AV design consulting firms dedicated to providing quality service to customers and upholding industry excellence. This offering replaces InfoComm's CAVSP™ program.
How Does My Company Qualify for InfoComm APEx status?
For the purposes of this program, small companies have 24 or fewer employees. Medium companies have 25-99 employees and large companies have 100 or more employees. All APEx companies must earn 100 points to be eligible for the program.
How Will InfoComm Promote the APEx Program to the Public?
InfoComm will invest in online advertising, SEO promotions and create an awareness campaign for industry end-customers. InfoComm will also create a toolkit for APEx companies to use when responding to bids/tenders, slides for client presentations, logos, window clings and more.
Want to Learn More?
Visit the
FAQs
. If you are interested in participating, please contact Aron Abrams at
aabrams@infocomm.org
.
---
Looking for the CAVSP program? As of January 2015, APEx replaces it. Contact us if you have questions, +1.703.272.7200.