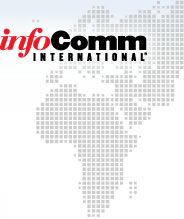 REGIONAL UPDATE
Europe, Middle East & Africa
January 2016
A Message From the Directors
Dear Friends,
With just days to go before Integrated Systems Europe 2016 in Amsterdam, we have a special offer for you. Prior to ISE, on 8 Feb., is the Smart Building Conference, a full-day programme of industry thought leaders who are at the forefront of trends in networked buildings. InfoComm International® members can receive 20 percent off their registration for this popular event, also held at the RAI Amsterdam Convention Centre, and enjoy informative sessions such as Smart…Above & Beyond Sustainability, From Office Design to Soundscaping, and Integrating AV With IT Infrastructure.
From there, you can move directly to the ISE Opening Panel Discussion, moderated by Wired magazine Editor David Rowan, after which we'll all kick off ISE in style at the ISE Opening Reception.
InfoComm is looking forward to a spectacular week in Amsterdam. Find us at stand 11‑N100 and throughout the RAI. We will see you there.
Sincerely,
InfoComm Has Big Plans for Integrated Systems Europe
The countdown to Integrated Systems Europe (ISE) has begun. InfoComm invites you to join us throughout the week of 9-12 Feb. at the RAI Amsterdam Convention Centre. At ISE 2016, InfoComm's comprehensive education and training lineup will feature sessions in three different formats — InfoComm Conferences, MasterClass sessions and FlashTracks — allowing attendees to choose from half-day, three-hour or quick 20-minute courses and presentations on a wide range of industry topics.
Our two conferences, InfoComm for Higher Education: What's Working Now on 9 Feb. and InfoComm for AV Executives: What's Working Now on 12 Feb. will offer in-depth looks at best practices in universities and corporations, respectively. InfoComm for AV Executives will feature leaders from European firms, such as AV Media a.s. and LANG AG, discussing corporate culture, business metrics and other keys to success.
Choose from the many other InfoComm sessions, with titles such as Classroom & Meeting Room Design; The Product is Dead, Long Live the Platform; Project Management for AV Integrators; Why Should AV Care About IoT?; Teaching an Old Tech Dog New Tricks; and much more. And join us most days at 17:00 at stand 12-N100 for Quiz the Wizard & Pretzels and Pints. Register here for InfoComm sessions at ISE.
Women of InfoComm Network Returns to ISE
The Women of InfoComm Network (WIN) will again convene at Integrated Systems Europe 2016 in Amsterdam. The group held its inaugural meeting at ISE 2015. The working session for current and prospective WIN members, as well as others interested in supporting and mentoring women in the AV/IT industry, will be held over breakfast on Wed., 10 Feb., from 7:30 to 9:00 in the Café Amsterdam at the RAI Amsterdam Convention Centre.
"The WIN breakfast at ISE will be a working group session to help chart the future activities of this important, dynamic and engaged council," said Sarah Joyce, Managing Director of Electrosonic. "Female executives from companies throughout Europe will chair small groups and facilitate discussion of local issues and develop initiatives to work through in 2016. Following the success of similar WIN events in Australia and Mexico last year, we are determined to make WIN Europe a vibrant community of InfoComm members creating activities throughout 2016 that further develop the mission."
InfoComm Readies for BVE and London Entertainment Week
InfoComm is taking part in BVE 2016 in London, 23-25 Feb. The BVE show is part of London Entertainment Week and welcomes 15,000 visitors from 60 countries working in the content creation, production, broadcast and delivery industry. The week kicks off with the TPI Awards, recognizing excellence in the international live event production industry. InfoComm is proud to be a supporting sponsor of the TPI Awards.
At BVE, InfoComm will be involved with a pair of information sessions. On 23 Feb., former InfoComm President and Founder of Paradigm AV Greg Jeffreys will present ANSI/InfoComm Visual Performance Standards: How They Help Achieve an Exceptional Result for a Client. Then on 25 Feb., longstanding InfoComm member and Key Account Director Nevil Bounds of U.K.-based Feltech will take part in the panel discussion Do We Need to Elevate Video Production to Broadcast Quality?
We look forward to seeing you there.
Join Our Team
Are you ready to be part of something big in the AV industry? Join the InfoComm team in Europe as we look to support AV professionals and companies throughout the region through business development, networking, events, training and certification. We are looking for an Account Manager to support our efforts in Germany, Austria and Switzerland (apply now), plus another Account Manager to lead InfoComm's engagement in Belgium, the Netherlands, Luxembourg and Scandinavia (apply now).
InfoComm is growing its presence in Europe. If you are interested in making a difference and promoting the AV industry's success, consider getting involved today.
9-12 February 2016
Amsterdam, Netherlands

3-4 March 2016
San Jose, California, USA

13-15 April 2016
Beijing, China

10-12 May 2016
São Paulo, Brazil

4-10 June 2016
Las Vegas, NV, USA

10-12 August 2016
Mexico City, Mexico

23-25 August 2016
Sydney, Austrália

12-14 September 2016
Mumbai, India

11-13 October 2016
Bogota, Colombia

1-3 November 2016
Moscow, Russia

9-10 November 2016
New York, USA

6-8 December 2016
Dubai, UAE
Explore some of InfoComm's resources in German and in Spanish.