Women of InfoComm Network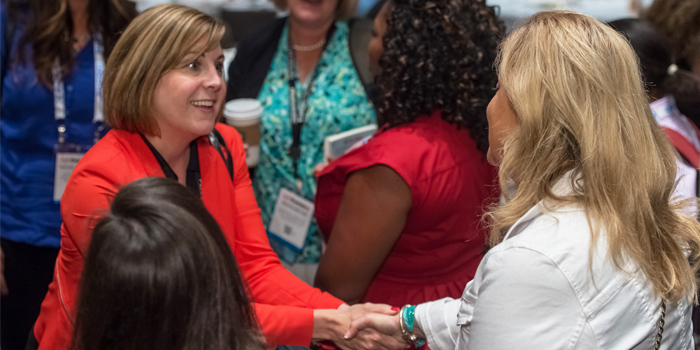 If you are an InfoComm International® member who wants to support women in our industry — whether you're a woman or a man — you are invited to join this council. Explore the mission and activities below.
Mission
To provide a global community of InfoComm members and other professionals committed to supporting and empowering women who work in the technology and AV industry.
WIN Career Empowerment Alliances
WIN Career Empowerment Alliances are a monthly group of 8-10 women that meet virtually. In these groups, WIN members are able to dive into topics related to career advancement, work-life balance, conflict resolution and so much more. Each group will have a facilitator to organize the meetings and get the members the monthly training materials. These groups are built on a mutual respect and trust which only continues to grow over time and members have a varied level of mentors to help through their career paths.
Interested in participating? Submit a short application to get started!
WIN Career Empowerment Alliance Application
---
Women of InfoComm Network Chair
Penny Sitler
Marketing Manager
Draper, Inc.
Find out more about Penny and her plans for the council.

Women of InfoComm Network Staff Liaison
Betsy Jaffe
Sr. Vice President of Member Services
InfoComm International

Women of InfoComm Network Staff Liaison
Amanda Eberle
Director of Membership
InfoComm International
---
Upcoming Events
Women of InfoComm Network High Tea | InfoComm India, Mumbai
Sept. 13 | 2:00 p.m.-4:20 p.m.
Join InfoComm International for India's First Women of InfoComm Network Event and High-Tea.
See the details and register for the Tea
Stay tuned for more upcoming events in 2016.
---
Activities
In the past year, InfoComm has hosted many events for women at trade shows in the U.S., Mexico, India and Europe.
At InfoComm 2015, the Women of InfoComm Network held its first official meeting. Hear from members of the council about their plans on the InfoComm Today Podcast: Women of InfoComm and CTS.
Take a look at photos of some of the events from this year!