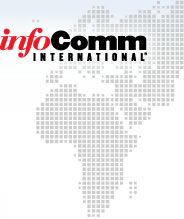 REGIONAL UPDATE
Europe, Middle East & Africa
October 2015
A Message From the Directors
Dear Friends,
As the AV industry in Europe continues to grow, InfoComm International® as an association grows as well. If you still haven't met her, we'd like to reintroduce Pamela Taggart, CTS®, the newly appointed Senior Director of Development for Europe. Formerly based in the United States as Director of International Education, Pam is now based in Munich and brings a wealth of experience and enthusiasm.
Pam is an integral part of growing the membership base in the region, encouraging member involvement, developing value proposition to meet member needs, facilitating the education and certification of industry professionals, as well as the promotion of our industry.
We look forward to Pam leading the way in InfoComm's European initiatives down the road, and she looks forward to working with all the great AV professionals in our region.
Sincerely,
3 Great Ways to Connect With InfoComm at ISE 2016
At ISE 2016, we'll be hosting a comprehensive educational program in a new format: InfoComm MasterClass, InfoComm Conference, and InfoComm FlashTrack. All classes provide renewal units (RU) toward the Certified Technology Specialist™ (CTS®) certification.
The InfoComm Conferences are two half-day sessions during the show (3 RUs/session). The InfoComm MasterClass program will center on in-depth technical and business topics with hands-on activities (3 RUs/session). These three-hour sessions will be taught by industry experts from organisations such as Harman Professional, Whitlock and Meyer Sound.
Our free FlashTrack sessions are quick 20-minute presentations at the InfoComm stand. You'll gain bite-sized insights into topics such as future technologies and how they will affect your business and InfoComm research into the European AV market. Each FlashTrack offers 0.5 RU.
Get more information or register.
InfoComm at OVAB Digital Signage Summit
On 10-11 Sept., Out-of-home Video Advertising Bureau Europe (OVAB) held its Digital Signage Summit Europe 2015 in Munich. This event, considered Europe's leading strategy conference for the digital signage and digital out-of-home industry, was attended by nearly 500 delegates, including representatives from InfoComm International. OVAB Digital Signage Summit Europe is a joint venture between Integrated Systems Events, producers of ISE, and Invidis Consulting.
The event included networking opportunities, such as a new program called Matchmaking, which allowed delegates to use an online meeting system to plan their meetings, invite possible partners or accept invitations to meet on-site. The matchmaker could also suggest meetings for attendees. The conference also included an installation city tour through Munich and more than 40 speakers.
All Around the Roundtable
InfoComm recently hosted two successful roundtables in London and Dublin. The first roundtable was held at London's Chandos House on 20 Oct., while the second took place at The Plaza Hotel in Dublin.
Each event kicked off with a keynote presentation by digital media consultant Lyle Bunn. In his presentation, Bunn described trends in digital signage, including how the utilization of digital signage relates to other enterprise applications and infrastructure. He also detailed how attendees could benefit as demand continues to grow and outlined a typical project process for maintaining an organized workflow. At the conclusion of the presentation, attendees participated in a networking reception where they had an opportunity to connect and share ideas with fellow members of the industry.
Interested in networking opportunities? Learn about events coming to your area. In the meantime, take a look at photos from the London event.
Advancing AV in Italy
InfoComm has bolstered its presence in Europe with the formation of an Italian Advisory Group. The goal of the group is to increase membership and awareness throughout Italy. The group's members include Luca Russo, Sales and Marketing Manager at the LINDY Group; Chiara Benedettini, President, Editor-in-Chief at Conessioni; and Roberto Vogliolo, CEO at DOOH.IT srl. Read more about the advisory group.
Member Spotlight: Focus21
Recently, Focus21 Visual Communications, an engineering company specializing in the integration and servicing of audiovisual and videoconferencing systems in the U.K., earned the distinction of being the first U.K.-based company to hold AV Provider of Excellence (APEx) status. APEx is a recognition program for AV integration and design firms that set high standards for employee training and certification and meet their clients' needs by delivering exceptional solutions.
For more than a decade, Focus21 has been part of the InfoComm International community, including through its commitment to the Certified Technology Specialist™ program. "We got onboard a long time ago, as one global company we did business with in our early days of trading had an AV professional who insisted on CTS as a pre-requisite for doing business," says Jim Harwood, CTS®-D, Managing Director and Partner at Focus21. Harwood has been with the firm since the beginning, in 1998. He started the company with a partner, both coming from military aviation engineering backgrounds. Harwood says he might still be in aviation if he hadn't discovered AV. Read more.
Video Recap: Live Hands-On Day in London
InfoComm's Live Hands-On Day, an intensive training addressing production essentials held on 4 Sept. 2015 at Church House Conference Centre in Westminster, London, U.K., was a great success.
Missed out on this great event? Watch the recap and hear from those who attended.
28-30 October 2015
Moscow, Russia

10-12 November 2015
Bogota, Colombia

11-12 November 2015
New York, USA

9-12 February 2016
Amsterdam, Netherlands

3-4 March 2016
San Jose, California, USA

13-15 April 2016
Beijing, China

10-12 May 2016
São Paulo, Brazil

4-10 June 2016
Las Vegas, NV, USA

17-19 August 2016
Mexico City, Mexico

23-25 August 2016
Sydney, Austrália

12-14 September 2016
Mumbai, India

6-8 December 2016
Dubai, UAE
Explore some of InfoComm's resources in German and in Spanish.