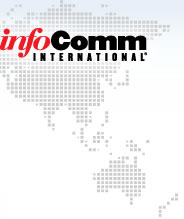 REGIONAL UPDATE
Asia & Oceania
August 2015
Message From the Directors
Dear Friends,
As we prepare this Update, we are in Melbourne, along with thousands of fellow industry professionals, enjoying Integrate 2015. And here is some breaking news: We will be doing this again next year, and the year after, and the year after.
In fact, no sooner did Integrate 2015 begin than Diversified Communications, one of Australia's largest and fastest-growing exhibition companies, announced that the existing partnership between Integrate and InfoComm International® will continue for five more years.
"Developing these international relationships helps Integrate to provide the local industry with up-to-date training and knowledge, in addition to the latest AV products," said Diversified Communications Australia Managing Director Matt Pearce. "In just seven years, Integrate has grown to become the most established commercial event dedicated to the Australian AV and systems integration marketplace, and extending our partnership with InfoComm cements its position as the must-attend industry event."
We are thrilled to be part of this excitement in the Asia and Oceania region. Trade shows are a great opportunity for members to learn, network and experience technology, and our partnership with Integrate has been important to InfoComm's reach in the Australian market.
Speaking of trade shows, before we sign off, we would like to remind you that InfoComm India 2015 is coming very soon. If you plan to attend, be sure to register. You know we will be there, 1-3 Sept. in Mumbai.
Sincerely,
Recognizing Excellence: The First CTS-I in India
InfoComm is proud to introduce Godfrey D'Sa, the first Certified Technology Specialist™-Installation (CTS®-I) based in India. D'Sa, who is Technical Director at Innovative Systems & Solutions Pvt. Ltd. in Mumbai, is an industry veteran with more than 20 years of experience in the field.
"CTS-I certified — what a feeling!" D'Sa told us. "Having been in the industry for the past 20 years, every day, every moment has been a learning experience. Thanks to my colleagues at Innovative and to InfoComm University™. Through online training, classroom sessions and Manufacturers' Training, it's been fun to learn new things, and getting certified is an achievement."
D'Sa's journey to CTS-I began about a year ago, with coaxing from InfoComm Executive Director and CEO David Labuskes, CTS, RCDD. "After getting a CTS, my next target was to go for CTS-I," D'Sa explained. "Mr. Labuskes took assurance from many of us at InfoComm India 2014 in Mumbai that we would all be CTS before the next InfoComm Show in India. I have kept to my word."
You can join D'Sa in advancing your AV career. More than 10,000 men and women worldwide hold CTS credentials. Learn more about certification today.
On the Road With InfoCommAsia
In advance of InfoComm India 2015, InfoComm and InfoCommAsia Pte. Ltd. held roadshows in several cities throughout the country, including Delhi (22 July), Bangalore (24 July), Chennai (27 July), Kochi (28 July), Hyderabad (29 July), Pune (30 July) and Ahmedabad (31 July). The Delhi, Bangalore and Chennai events included stands from leading AV companies, including BXB Electronics, Epson, Extron Electronics, Harman, Integrated Entertainment Solutions, Kramer, Pro Visual Audio, Rivera International and Xtreme Media.
As part of the program, InfoComm collaborated with the Federation of Indian Chambers of Commerce and Industry (FICCI) to organize seminars on "Integrated Digital Solutions for a Smarter India," which were offered in several cities. During the seminars, Jonathan Seller, InfoComm Senior Director of Development for Asia Pacific, discussed the association's role in promoting the Industry and developing AV skills throughout the region. Richard Tan, Executive Director of InfoCommAsia, talked about the benefits of visiting InfoComm India 2015 in Mumbai.
If you missed any of these events, don't worry. InfoComm will be back in India soon after the show, with a networking event 7 Sept. in New Delhi, presented in cooperation with FICCI. We hope to see you there.
The InfoComm LinkedIn Group
InfoComm International on LinkedIn is where AV professionals like you share insights, ask questions, talk about technology, find out what the association is up to, and much more. Join 16,000 of your closest friends and colleagues and reap the rewards of their collective wisdom.
1-3 September 2015
Mumbai, India

19-22 October 2015
Dubai, UAE

28-30 October 2015
Moscow, Russia

10-12 November 2015
Bogota, Colombia

11-12 November 2015
New York, USA

9-12 February 2016
Amsterdam, Netherlands

3-4 March 2016
San Jose, California, USA

13-15 April 2016
Beijing, China

10-12 May 2016
São Paulo, Brazil

4-10 June 2016
Las Vegas, NV, USA

17-19 August 2016
Mexico City, Mexico

2016
Sydney, Austrália
Explore some of InfoComm's resources in German and in Spanish.