First Class of AV Heroes Graduates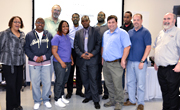 After a six-week crash course in all things pro AV, nine U.S. veterans graduated from the AV Heroes program and eight received their InfoComm-Recognized AV Technologist certificates. InfoComm International® Executive Director and CEO Randal A. Lemke, Ph.D., was on-hand to salute the first class of AV Heroes, a joint effort of InfoComm and the United Veterans Learning Centers. Next steps: the CTS® exam and employment in the growing AV industry.
The next session of AV Heroes kicks off in January, when more than 25 preregistered veterans will set their course for a career in AV. Your company can help bring this training — and this valuable career opportunity — to men and women who have served our country. Your company's donation to the International Communications Industries Foundation (ICIF) is tax-deductable and all of it will go to support scholarships for veterans. Explore the benefits of a donation.

AV Justice for All


InfoComm's Standards and Industry Innovations Department will be reaching out to architects at the AIA Academy of Architecture for Justice (AAJ) Fall Conference, Oct. 10-12 in Toronto. Jennifer Willard, CTS, chair of InfoComm's AV/IT Infrastructure Built Environment Task Force, and architect Jay Farbstein, Ph.D., FAIA, a fellow member of the task force, will speak during a Friday morning breakfast session. They will examine video technology in courtrooms, including the technological, spatial and procedural considerations required to facilitate effective implementation.

Plan an AVlympics Event, Win a Trip to InfoComm 2013


InfoComm is hosting an AVlympics event Oct.19 in Fairfax, Va. The all-in-good-fun competition will showcase AV athleticism, technique and skill. Host your own regional AVlympics event and win a free trip to InfoComm 2013. All information and contest rules are right here.

Just Days Left to Apply for the Certification Committee
If you are a CTS® holder with aspirations to join the InfoComm Certification Committee, now is the time to act. Find out how you can apply for the upcoming Certification Committee election. The deadline is Oct. 10.


Best of the All Voices Blog
Have you weighed in yet on these most-commented-on entries at the InfoComm All Voices Blog?

CTS Prep to the Rescue in Vancouver


"I feel like taking the CTS Prep was exactly what I needed to gain more confidence in signing up for the exam. I know and understand how important having the CTS designation is, so studying for the exam has been a little stressful. Taking the CTS Prep course has eased my nerves."
~ Heather R. Callaway, CTS, RCDD, LEED AP, OCI Associates Inc.
Enroll in CTS Prep, Oct. 15-17 in Vancouver, B.C.

Celebrate World Standards Week
World Standards Week is Oct. 9-12. Celebrate InfoComm's ANSI-approved performance standards by exploring how they allow AV professionals to focus on the creativity of their system designs without constantly reengineering projects or second-guessing themselves. Or, if you just love technical details and collaborating with your peers, find out how you can volunteer to be a part of the standards development process. Email standards@infocomm.org.

Webinar: Getting the Team Onboard
One of the most effective ways of improving profitability is to share high-level trends with your employees. A simple chart can paint a powerful picture. For example, illustrate for the sales team a trend around shrinking margins and discuss what you can do to change the trend. Join Frank Coker, CEO of CoreConnex, and expert AV analyst Tom Stimson Oct. 9 as they discuss how to present key trends to staff. Register now.

Final U.S. Roundtables of 2012
Don't miss the InfoComm 2012 Roundtable U.S. Tour when it comes to your city. The last two stops of the year will be in Houston Nov. 15 and Miami Dec. 13. Share your ideas about the future of the AV industry, network with peers and discuss issues impacting your business.

It's Almost Here: Power of AV for Education San Diego
Earn three CTS renewal units while learning about future technology trends in educational environments. Hear case studies from The Wharton School at the University of Pennsylvania, the University of Southern California and San Diego State University. Attend the Power of AV for Education in San Diego Oct. 16. Visit infocomm.org/aved for details.

Share Your Expertise at InfoComm Events
Are you looking for new ways to get involved in the audiovisual industry, share your expertise with colleagues and enhance your resume? InfoComm is seeking experienced speakers for its 2013 Member Roundtable and Webinar Series. Share your knowledge on a variety of topics, including sales, project management, leadership, marketing, business development or anything you think would be of interest to industry peers. Apply today.

How to Earn an 8% Raise
InfoComm's 2012 Compensation and Benefits Survey reveals that CTS holders earn 8 percent more than their peers. And it could be even more — up to 35 percent. Call your regional representative at 1.800.659.7469 and plan your path to the CTS credentials.

Build Your Network Knowledge in Sunny Florida
InfoComm University™ has training you won't find anywhere else — real-world solutions and guidance to help you get an in-depth understanding of networks and the way AV applications operate within them. Enroll in Networked AV Systems, Oct. 29-31 in Orlando, Fla.