Not Your Parents' Muzak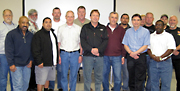 Last week, 15 technicians from a company you might normally associate with elevator music descended on InfoComm University™ for three days of intensive training. Yes, Muzak also handles pro-AV design and integration, from sound systems to digital signage, but John Jelinek, the company's operations training manager, understands you may not know that. "Muzak has been doing it awhile, but we're pushing even more into pro-AV sales," he says. To that end, the Fort Mill, S.C.-based company flew in techs from all over the country to train for their CTS®-I certifications. Most are already CTS holders (Muzak even has CTS-Ds on its roster), but to drive new business and offer a higher level of commissioning, Jelinek says the company wanted the expertise that comes with CTS-I. "And we like what InfoComm's been doing with standards," he says. "We're looking to incorporate those more."

The Best of the Best at InfoComm 2012
The industry's leading manufacturers, publications and associations come together to represent their areas of expertise and enhance your InfoComm Show experience. Learn from our partner groups about 3D, automated solutions and intelligent buildings, collaborative conferencing and telepresence, commercial electronic systems, digital audio, digital signage, display and projection systems, and worship technologies.
Register with the VIP Code LMBR4 for free show floor access and other special events.

Beer, Pretzels and More


Don't let the name fool you (although there will be beer and pretzels). These new InfoComm 2012 sessions are also educational experiences. On Wednesday and Thursday of the Show, end your day with insightful presentations by a cast of InfoComm Educators of the Year (and beer and pretzels). Learn what they consider today's most important AV technology considerations. Register today. The Beer and Pretzels sessions are sponsored by AOpen and Peerless-AV.

Almo Pro A/V to Recognize "Education Ambassador"


If you're in or around the Washington, D.C., area this week, don't miss Almo Pro A/V's E4 Tour stop at the Gaylord National Resort & Convention Center, this Friday, May 18. In addition to new products from 30 manufacturers and a selection of on-site training worth CTS renewal units (RUs), Almo Pro A/V will honor InfoComm International Executive Director and CEO Randal A. Lemke, Ph.D., with its first-ever E4 Education Ambassador Award. It's not too late to take advantage of this opportunity. Register now or register onsite.

InfoComm Launches U.K. Task Force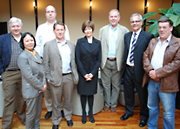 The InfoComm International® Board of Directors has appointed members of a new U.K. Task Force in order to investigate, research and address issues affecting the audiovisual industry in that country. Members of the task force serve one year and include a diverse mix of industry professionals, including integrators, distributors, manufacturers, end users and consultants. Frank Sheehan, Director of Technology at independent media and technology consultancy Visual Acuity, will chair the task force.

U.K. Roundtable a Big Success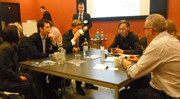 InfoComm's U.K. Roundtable, held April 26 in London, enjoyed a record turnout. The day's panel discussion focused on technology and business trends and the way today's end users think about AV systems. "InfoComm Roundtables provide very valuable and fantastic networking opportunities," said Nevil Bounds, sales director at broadcast and AV integration firm Feltech Electronics Ltd. The next London Roundtable will take place in November.

Last Chance to Sign Up for Pittsburgh Roundtable
Join us May 23 for a Business Roundtable and Manufacturers' Training at the Omni William Penn Hotel in Pittsburgh, Pa. Learn how to maximize your organization's performance from project management consultant Brad Malone, PMP. Get training directly from manufacturers, including: Biamp, Chief, Digital Projection, Kramer and Williams Sound. Save your seat.

New Yorkers, Save the Date
InfoComm has teamed with NewBay Media, producer of the popular Rental & Staging Roadshow, to produce the AV Roadshow & Roundtable (R&R for short). This new event will be held at the Metropolitan Pavilion in New York City on July 25, 2012. Email kmyers@infocomm.org for more information.

Passport to InfoComm 2012, the Trip of a Lifetime

Here's your chance to travel around the world just by visiting the InfoComm 2012 show floor, June 13-15 in Las Vegas. Pick up your Technology Trek passport at the InfoComm member booth C7529 or at show registration and get it stamped at six locations on the show floor. Then return it to the InfoComm booth and you'll be entered for a chance to win a $5,000 travel voucher and a $1,500 American Express gift card. While you're at the booth, find out why you should be an active member of the only year-round global trade association for the commercial AV industry.

Add CTS to Your Name in Las Vegas
Do you want to earn the esteemed Certified Technology Specialist™ (CTS) designation at InfoComm 2012 in Las Vegas? You can sit for your CTS, CTS-D or CTS-I exam right in the convention center, just steps away from the show floor and education classrooms. But hurry, these first-come, first-served exam seats are selling out fast. Reserve your seat now . CTS testing sponsored by Middle Atlantic.

Keep That Designation — Renew at the Show
You worked hard for that CTS, CTS-D or CTS-I designation — now keep it! You can renew those letters after your name right at the InfoComm 2012 Show in June. If you have 30 RUs and your expiration is less than six months away, stop by the certification area to renew onsite. Send an email to certification@infocomm.org for more information.

Three Days, 24 RUs
InfoComm University™ PreComm, formerly known as the Institute for Professional Development, is back with its traditional three-day courses, prior to InfoComm 2012 in Las Vegas, June 9-11. Venture to the technical core of the AV industry and connect with your peers for unique camaraderie. Just one of these courses will earn you nearly all the RUs you need for three years. Check out the full program. PreComm sponsored by ADI.

This Way to CTS-D Exam Confidence
Thinking about adding the CTS-D certification to your competitive advantage but can't leave the office to study? Say goodbye to exam jitters and join us from your desk for the upcoming CTS-D Prep Virtual Classroom. Class starts July 10. Call Amanda Eberle at 1.800.659.7469 or email to register.

For the Industry's Highest Achievers
New this year and exclusively for CTS-D and CTS-I holders, the CTS-D and CTS-I Symposium will sift through a year's worth of changes that affect your work. Don't miss the chance to meet and share ideas with fellow CTS-D and CTS-I holders. Symposium sponsored by Middle Atlantic.