Live Events Training at InfoComm 2012
Today's live events require interactive experiences for onsite attendees, remote audience participation, and engaging communication both before and after the event. Get the insights and tips you need through the InfoComm 2012 Staging and Live Events Track, featuring courses like IST07 Interactive Technologies for Live Events. Designed for live events operations managers and senior sales professionals, this course will cover live event streaming, mobile applications, bandwidth and network requirements, and much more. Call 1.800.659.7469 for one-on-one guidance in designing your show schedule.

Rental & Staging Forum, Awards, Reception
At InfoComm 2012, plan to participate in best-practice panel discussions and see the unveiling of Lighting&Sound America's 2012 Staged Events Awards. Social networking strategist David Nour, the keynote speaker from March's inaugural InfoComm Live, will present Building, Nurturing and Quantifying the Key Relationships That Can Produce Results, followed by a panel featuring live events executives. The Rental & Staging Forum is Wed., June 13, from 3:00 p.m. to 4:30 p.m., followed immediately by the awards ceremony and reception. Sponsored by Digital Projection.

Don't Miss the Council Meeting
At InfoComm 2012, the Rental & Staging Council will meet on Thurs., June 14, from 8 a.m. to 10 a.m. local time in the Las Vegas Convention Center, room N240. Breakfast will be served. This is your chance to network with like-minded professionals and engage in InfoComm-related initiatives that benefit the rental and staging industry. For more information, visit infocomm.org/councils.

New Yorkers, Save the Date
InfoComm has teamed with NewBay Media, producer of the popular Rental & Staging Roadshow, to produce the AV Roadshow & Roundtable (R&R for short). This new event will be held at the Metropolitan Pavilion in New York City on July 25, 2012. Email kmyers@infocomm.org for more information.

Not Your Parents' Muzak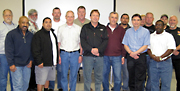 Last week, 15 technicians from a company you might normally associate with elevator music descended on InfoComm University™ for three days of intensive training. Yes, Muzak also handles pro-AV design and integration, from sound systems to digital signage, but John Jelinek, the company's operations training manager, understands you may not know that. "Muzak has been doing it awhile, but we're pushing even more into pro-AV sales," he says. To that end, the Fort Mill, S.C.-based company flew in techs from all over the country to train for their CTS®-I certifications. Most are already CTS holders (Muzak even has CTS-Ds on its roster), but to drive new business and offer a higher level of commissioning, Jelinek says the company wanted the expertise that comes with CTS-I. "And we like what InfoComm's been doing with standards," he says. "We're looking to incorporate those more."

InfoComm Launches U.K. Task Force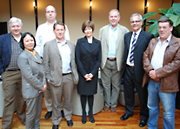 The InfoComm International® Board of Directors has appointed members of a new U.K. Task Force in order to investigate, research and address issues affecting the audiovisual industry in that country. Members of the task force serve one year and include a diverse mix of industry professionals, including integrators, distributors, manufacturers, end users and consultants. Frank Sheehan, Director of Technology at independent media and technology consultancy Visual Acuity, will chair the task force.

Passport to InfoComm 2012, the Trip of a Lifetime

Here's your chance to travel around the world just by visiting the InfoComm 2012 show floor, June 13-15 in Las Vegas. Pick up your Technology Trek passport at the InfoComm member booth C7529 or at show registration and get it stamped at six locations on the show floor. Then return it to the InfoComm booth and you'll be entered for a chance to win a $5,000 travel voucher and a $1,500 American Express gift card. While you're at the booth, find out why you should be an active member of the only year-round global trade association for the commercial AV industry.

Interactive Technologies for Live Events
Get ready for all-you-can-eat training at InfoComm 2012 in Las Vegas. Because today's meetings and conferences reach beyond four walls, industry experts have created an in-depth Super Tuesday session that covers everything from streaming media and digital signage to content management and bandwidth allocation. Read why you need to be there.