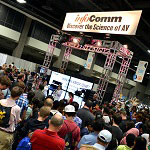 InfoComm Supports Science and Engineering Festival in Washington
InfoComm is pleased to be a sponsor and exhibitor at the 4th USA Science and Engineering Festival, April 16-17, at the Walter E. Washington Convention Center in Washington, D.C. At the InfoComm booth, students will immerse themselves in the science of audio and video technology and explore career possibilities. Read the news.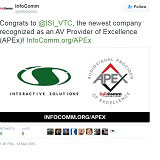 APEx Spotlight: Interactive Solutions
InfoComm welcomes Memphis-based Interactive Solutions Inc. (ISI) to the AV Provider of Excellence (APEx) program. APEx is a recognition program for AV integration and design firms that set high standards for employee training and certification and meet their clients' needs by delivering exceptional solutions. ISI specializes in videoconferencing, distance learning, telemedicine, and AV sales and support. It has been named to Inc. magazine's list of fastest-growing private companies for seven years. Will your company be next to reach the APEx? Learn more today.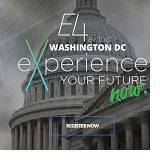 Almo E4 Tour Kicks Off in D.C.
Almo Professional A/V's E4 AV Tour is back on the road this spring, stopping in Washington, D.C., on April 6 and Atlanta on April 27. The spring tour begins with a keynote focused specifically on 4K. Attendees will learn how to correctly specify, sell and integrate these systems the first time. And back by popular demand, E4 Experience workshops allow attendees to roll up their sleeves and get hands-on by participating in two different application sessions: Designing a Huddle Space and Creating the E4 Digital Signage. Both workshops are worth InfoComm renewal units and will be available multiple times throughout the day. By partnering with InfoComm, Almo Pro A/V is able to offer an entire day of CTS-certified courses; some led by InfoComm instructors. Register at E4AVTour.com.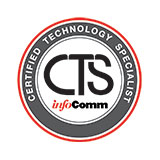 AV Awards' European CTS of the Year
The AV Awards 2016, sponsored by InfoComm and given out annually by AV Magazine, will debut a new category this year: European CTS of the Year. Open to any CTS, CTS-D, or CTS-I certification holder in the U.K., Ireland or mainland Europe, the European CTS of the Year recognizes an individual who has routinely met or exceeded client and company expectations. The award ceremony will be held Sept. 30 at the Grosvenor House Hotel in London. Enter today.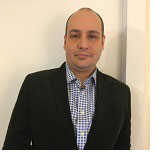 Inside the Tech Managers Council
John Arpino, CTS-D, is Manager of Audiovisual Engineering and Design at Google. He was recently elected Chair of the Technology Managers Council and talked to InfoComm about this new role and his AV career to date. "Our members are passionate about providing holistic and transparent technology solutions that make their companies more effective in whatever they do," he said. Read more and get involved.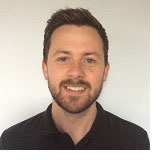 Prove Your AV Knowledge
"My main reason for participation in the AV Technologist Certificate program was to… demonstrate my knowledge of the AV industry," said Brendan Keegans, CTS, of U.K.-based integrator proAV. "It reinforces your technical credibility to an employer or client when you can demonstrate industry-recognized qualification. Aside from that, it's an excellent way to review some foundational knowledge and refresh the memory."
Free for InfoComm members, the InfoComm-Recognized AV Technologist Test was developed to provide a common AV vocabulary and a bridge to the ANSI-accredited Certified Technology Specialist™ credential. Test for your certificate.