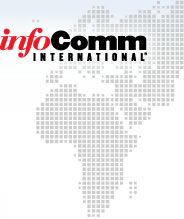 REGIONAL UPDATE
Europe, Middle East & Africa
October 2016
A Message From the Directors
Dear Friends,
We're heading into a busy October, with a raft of collaborative partnerships to tell you about. As an industry, we thrive on working together, putting in place relationships to deliver more education and networking opportunities, and helping build our marketplace.
There is a packed programme of activity across Europe, with events and training running in the UK, Germany, Ireland, Italy, Israel, the Netherlands and Spain. And of course, don't forget to check out our online offerings too – we have webinars running in the coming weeks in a variety of languages on such hot topics as simplifying AV and control signal distribution and the latest issues in digital signage.
So check out the schedule, mark your diaries and register online.
Sincerely,
InfoComm and VPLT Join Forces to Provide AVT Training
| | |
| --- | --- |
| | |
| Randell Greenlee, Director — Policy & International Relations at VPLT | |
In a first for Germany, we are pleased to announce that in partnership with VPLT, the Professional Lighting and Sound Association of Germany, we will co-host our Essentials of AV Technology course, followed by testing for the AV Technologist (AVT) certificate in Hannover, Germany, from 31 Oct. to 2 Nov. 2016.
We are pleased to be working with VPLT as part of our drive to improve education within the AV industry in Europe. With cooperation, VPLT can provide education to its members and customers on topic areas not typically covered by their own training. In turn, InfoComm will benefit from additional support for the course as well as additional logistical facilitation. The cooperation between InfoComm and VPLT means the price for the course and AVT test has been discounted for members of both associations. The course and test will also be offered publicly to anyone wanting to enroll. Those interested in taking up the offer should contact Mariana Kaiser, InfoComm European Program Coordinator, at mkaiser@infocomm.org.
AV Systems Training Day, Utrecht
| | |
| --- | --- |
| | |
| Kevin Huysegoms, CTS, Chief Wire Shark, A-Knowledge | |
InfoComm is hosting a Networked AV Systems Training Day in Utrecht, Netherlands, on 13 Oct, to be presented by Marcus Yarborough, CTS-I and Kevin Huysegoms, CTS. Offering attendees the opportunity to learn how to untangle the mysteries of networked AV systems, this one-day education event is ideal for integrators and technology managers who wish to explore AV and IT convergence. The range of sessions will explore real-world applications in digital signage, conferencing and remote monitoring and management, as well as networked AV security. Lunch will be provided and the day will wrap with a networking reception. To register your interest for the event, please email Laurien Pauw, InfoComm Account Manager for Northern Europe at lpauw@infocomm.org.
EC Contract Specifies InfoComm Criteria
Many of us in the industry are aware of the benefits that the Certified Technology Specialist™ (CTS) program offers designers, installers and AV professionals. But did you know that InfoComm training and certification were recently cited by the European Commission (EC) Directorate General for Interpretation?
The EC released a tender for AV and conference technology (AV&C) worth €15m that mentions InfoComm training and certification as part of the Quality of Service evaluation criteria, earning the submitting company points. These accumulated points determine a score, which is part of deciding (neutrally) who wins the tender. In describing the staff profiles the EC would seek through the tender, CTS, CTS-D and CTS-I certifications were listed as qualifications. For anyone looking to do business in the EMEA region, this is a real-world example of the benefit to your organization of having CTS employees on-staff. Find out more about CTS.
First Event Supported by InfoComm in Israel
On 22 Sept., "The First PRO-AV Forum for Local Authorities" organized by the portal AVMaster, in cooperation with InfoComm, took place at the new Crestron Experience Center in Israel. The event opened with a speech by Mr. Dotan Shoval, founder of AVMaster, and a packed agenda followed, covering a wide variety of topics that included issues faced by municipality teams as service providers in the smart city era. Sessions also looked at emergency communications, secure solutions for command and control centres, and the use of portable devices.
11-13 October 2016
Bogota, Colombia

1-3 November 2016
Moscow, Russia

9-10 November 2016
New York, USA

6-8 December 2016
Dubai, UAE

7-10 February 2017
Amsterdam, Netherlands

12-14 April 2017
Beijing, China

23-25 May 2017
São Paulo, Brazil

10-16 June 2017
Orlando, FL, USA

9-11 August 2017
Mexico City, Mexico

29-31 August 2017
Melbourne, Austrália
Explore some of InfoComm's resources in German and in Spanish.