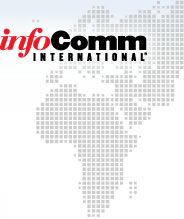 REGIONAL UPDATE
Europe, Middle East & Africa
November 2015
A Message From the Directors
Dear Friends,
Here at InfoComm International®, we thrive on reaching out to all the different countries in our region to provide resources that help you develop as audiovisual professionals. For example, in October, we hosted three online webinars especially for our Italian audience. Many participated and enjoyed hearing the latest from industry experts, with topics ranging from the benefits of augmented reality to other industry trends. If you're Italian (or speak the language), we recommend that you check them out at your convenience.
For everyone else in the EMEA region, be sure to keep up with all our great recorded webinars, available any time for your learning pleasure.
Sincerely,
Education Sessions Announced for ISE 2016
InfoComm is proud to announce its professional development program for Integrated Systems Europe 2016, 9-12 Feb., in Amsterdam. At this year's show, InfoComm's comprehensive education and training lineup will feature sessions in three different formats: InfoComm Conferences, InfoComm MasterClass sessions and InfoComm FlashTracks. The different formats allow attendees to choose from half-day, three-hour or quick 20-minute courses and presentations on a wide range of industry topics. Attendees to the FlashTrack sessions will also have the opportunity to sign up for a free one-on-one professional development consultation with an experienced InfoComm staff member. All sessions provide renewal units (RUs) toward the Certified Technology Specialist™ (CTS®) certification.
"For ISE 2016, we built an enriched and diverse educational program," said Pamela M. Taggart, Senior Director of Development, Europe, InfoComm International. "We wanted to mature our focus and go beyond basic training. This program does that by offering sessions focused around how we can improve the way we do business, in addition to deep dives into technology applications, key markets and much more. Professionals of all levels can participate by investing as little as 20 minutes to a half-day."
Learn more about InfoComm's education lineup at ISE 2016.
InfoComm Travels to Prague for ASAVI 2015
On 21 Oct., InfoComm visited the ASAVI Academy 2015 conference, hosted by the Association of AV Systems Integration in Prague. While there, InfoComm Executive Director and CEO David Labuskes, CTS, RCDD, delivered a presentation on InfoComm's exceptional experience initiative. A total of 150 AV professionals gathered at the academy for the conference to discuss the latest, as well as future trends in the industry. This is the 8th ASAVI Academy that InfoComm has participated in.
View photos from the event.
Explore the Importance of Certification
You have heard it from us many times: The Certified Technology Specialist (CTS) credential can be an important step in advancing your AV career. Now hear it from a peer. In a featured video titled The Importance of Education and CTS for AV Companies, David Lesch, CEO of AV Media in the Czech Republic, and his colleagues talk about what is behind their company's success. Watch the video and learn why education and certification can take you to the next level.
Talking Digital Signage in the Netherlands
InfoComm participated in TD Maverick's digital signage event in Kamerik, Netherlands, on 15 Oct. InfoComm Senior Director of Development for Europe Pamela Taggart was on-hand to hear industry expert Lyle Bunn describe trends in digital signage to a full house and explain how AV professionals can capitalize on new opportunities. Watch video from the event.
London Roundtable in Pictures
The European Roundtable tour stopped in London and Dublin in October for a pair of events focused on digital signage, sponsored by TD Maverick U.K. and ONELAN. The Roundtables, held at Chandos House and The Plaza Hotel, respectively, offered in-depth discussions; a presentation by Lyle Bunn, strategy architect at BUNN Co.; and a chance for networking with others. If you've never been to an InfoComm Roundtable, take a look at pictures from London. Do you recognize any of your peers?
9-12 February 2016
Amsterdam, Netherlands

3-4 March 2016
San Jose, California, USA

13-15 April 2016
Beijing, China

10-12 May 2016
São Paulo, Brazil

4-10 June 2016
Las Vegas, NV, USA

17-19 August 2016
Mexico City, Mexico

23-25 August 2016
Sydney, Austrália

12-14 September 2016
Mumbai, India

11-13 October 2016
Bogota, Colombia

1-3 November 2016
Moscow, Russia

6-8 December 2016
Dubai, UAE
Explore some of InfoComm's resources in German and in Spanish.