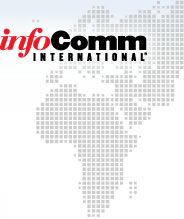 REGIONAL UPDATE
Europe, Middle East & Africa
April 2015
Message From the Directors
Dear Friends,
As we write this, we're putting the finishing touches on a pair of InfoComm International® roundtables in Europe — one this week in Amsterdam, the other next week in London. These regional events present free opportunities for InfoComm members to make face-to-face connections with industry colleagues in their city. For us, they're a chance to thank everybody for the continued support and commitment not only to our association, but to the industry as a whole.
In that spirit, has your company accomplished something you would like us to mention in our Regional Update? Have you earned your Certified Technology Specialist™ or AV Provider of Excellence (APEx) designation and deserve recognition from InfoComm and your peers? We are always looking for stories to share that demonstrate success. Please let us know what's new and we will be happy to spread the word. Contact us at the email addresses below.
Sincerely,
Building the Digital Future in the Middle East
Last month, InfoComm hosted two successful roundtables in the Middle East. The first, held at the Crowne Plaza in Doha, Qatar, began with a welcome address from InfoComm Senior Director of Development Jonathan Seller, who discussed the association's exceptional experiences initiative. The event also featured a special presentation by Chris Myers and Patricia Donohue of the Doha Film Institute, who discussed the transformation and special role of AV technologies at the institute.
Just days later, InfoComm traveled to Dubai, UAE. After learning about exceptional AV experiences, attendees enjoyed a special presentation by K.S.N. Prasad, Managing Director of Infosight Consultants, who discussed upcoming hotel projects and opportunities for AV companies seeking to do business with the hospitality industry. He also discussed the types of technologies hoteliers in Dubai are seeking.
Said Rajeev Abraham, General Manager of GP Acoustics Middle East DWC in Dubai, "As a start-up, I was able to meet with several key people in the AV industry in Dubai and found the contents of the event very valuable." Are you interested in joining us at a future roundtable? Find a list of all InfoComm events worldwide.
A Behind-the-Scenes Experience at ISE 2015
At Integrated Systems Europe in February, a group of German students experienced the show like no others. The students, from Fachhochschule Düsseldorf University of Applied Sciences, travelled to Amsterdam at InfoComm's invitation to learn about the latest technical innovations and the future of the AV industry. The programme was conducted by InfoComm Director of International Education Bill Thomas, CTS-I, who provided insight on the association, as well as the association's role in the development of standards, certification and education. Students also participated in exclusive booth tours, where they got a chance to network and gather information about the latest trends in audiovisual solutions.
"The mixture of companies chosen by the InfoComm was perfect," said one student. "We got exciting insight into different aspects of the industry and had the chance to make interesting and valuable contacts."
"This cooperation is a win-win situation for ISE and the university, its students and professors," said Kati Schmengler, Professor for International Sales Engineering. "We will promote this successful concept and establish more excursions like this."
Webinar: The Future of Pro AV
ISE 2015 showcased the latest in AV technology. What were the most important developments? Tune in to Future Trends in AV: An ISE Wrap Up to find out. Explore the five biggest trends in AV, as identified by a panel of industry experts at ISE. Hear rAVe Europe Editor in Chief Bob Snyder share his impressions of the show. Finally, hear from InfoComm's EMEA-based staff as they explain how to leverage InfoComm's member benefits and highlight upcoming programmes in the region. Log into this special online webinar.
Creating Exceptional Experiences
You've heard InfoComm talk about exceptional AV experiences. They're the result of a perfect combination of content, space and technology, woven together to exceed customers' expectations. Now AV professionals and technology managers can explain the value of their expertise through an all-new website dedicated to the exceptional experience. Find information, videos, case studies and links to resources you can use to communicate what makes your AV systems exceptional. Explore today.
Join the Women of InfoComm Network on LinkedIn
InfoComm's new Women of InfoComm Network Council now has its own LinkedIn group. What's more, there is also a Women of InfoComm Network LinkedIn group dedicated to professionals in the EMEA region. The group was created to support InfoComm members and other professionals committed to empowering women who work in the technology and AV industry in the EMEA region. Join today and help us build an online community where women and men can make connections, start conversations, share resources and promote opportunities for the advancement of female executives in AV and technology.
Did You Know?
AV employers! Urge your staff to demonstrate their AV knowledge with the InfoComm-Recognized AV Technologist Certificate. InfoComm members can evaluate their entire company or organization at no charge by asking staff to take a 100-question test that verifies the basic level of technical knowledge needed to be successful in the industry. The test is offered in English, German, Portuguese and Spanish.
Are you training new hires? Have them take Essentials of AV Technology, an online class, available in English, German, Portuguese and Spanish, that is free for member companies. Then test what they know with the free InfoComm-Recognized AV Technologist test. Pass the test, earn the certificate.
It's never been easier or less expensive to train and verify pro-AV knowledge. For more information, visit infocomm.org/avtechnologist.
12-14 May 2015
São Paulo, Brazil

13-19 June 2015
Orlando, FL, USA

12-14 August 2015
Mexico City, Mexico

25-27 August 2015
Melbourne, Austrália

1-3 September 2015
Mumbai, India

19-22 October 2015
Dubai, UAE

28-30 October 2015
Moscow, Russia

10-12 November 2015
Bogota, Colombia

11-12 November 2015
New York, USA

9-12 February 2016
Amsterdam, Netherlands

13-15 April 2016
Beijing, China
Explore some of InfoComm's resources in German and in Spanish.