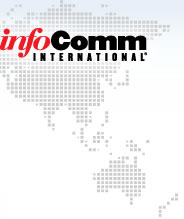 REGIONAL UPDATE
Asia & Oceania
November 2016
A Message From the Directors
Dear Friends,
Empowering women in AV has been an ongoing initiative at InfoComm International®.
At InfoComm India 2016, the Women of InfoComm Network (WIN) brought together a group of female visionaries to share their journeys to success, from Kirti Shetti (CTS®) of Kramer and Mahua Mukhopadhyay of AV Integration Distribution to Annu Jamloki of Harman.
Stories they told inspired every listener in the room, but what struck us the most was just how passionate these leaders were in supporting fellow women professionals and the positive energy they brought to the audience. It was fantastic to experience the magic that could happen when a community of like-minded individuals was brought together.
We look forward to bringing this forum to other cities and seeing this community flourish.
Sincerely,
Read About Virtual Reality in Live AV
Earlier this year, Facebook's Mark Zuckerberg predicted that virtual reality (VR) could "change the way we live, work and communicate in many ways."
Besides the most obvious applications such as gaming and virtual travel, VR is making its way to markets that most interest AV companies, including retail and corporate, as well as live entertainment.
In his article for InfoComm, "Virtual Reality Could Transform Live Events," Dan Daley gives an overview of the latest developments in this space. He also introduces some of the audio and video technology companies with new tools to shape VR immersion in live entertainment.
Melbourne: Participate in the Design Elements Course — Places are Limited
Join the InfoComm International Design Elements course on 29 Nov. in Melbourne and learn how to design basic meeting rooms or classrooms. This one-day course will teach you how to design an AV system that allows the end users enjoyable viewing and hearing experience. The course is divided into two sections: The morning session will focus on the elements of the viewing environment, while the second half of the day will explore the science behind a well-designed listening environment. By the end of the day, you will understand the most important parts of AV design, where to start from, how to design and the interaction of different design elements. This course is ideal for those intending to be more hands-on with audiovisual design processes in their work.
Learn more and register to save your place, since class places are limited.
1-3 November 2016
Moscow, Russia

9-10 November 2016
New York, USA

6-8 December 2016
Dubai, UAE

7-10 February 2017
Amsterdam, Netherlands

12-14 April 2017
Beijing, China

23-25 May 2017
São Paulo, Brazil

14-16 June 2017
Orlando, FL, USA

9-11 August 2017
Mexico City, Mexico

29-31 August 2017
Melbourne, Australia

26-28 September 2017
Mumbai, India

14-16 November 2017
Bogota, Colombia
Explore some of InfoComm's resources in German and in Spanish.
This email was sent to

%%email%%

.

This email was sent by: InfoComm International


11242 Waples Mill Road, Suite 200, Fairfax, VA 22030 USA



To change the type or frequency of your InfoComm email or to unsubscribe,
please visit our Subscription Center.



+1.703.273.7200

|

1.800.659.7469

| infocomm.org

Copyright InfoComm International® 2016