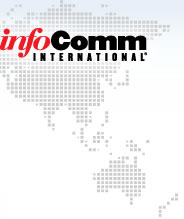 REGIONAL UPDATE
Asia & Oceania
JUNE 2016
A Message From the Directors
Dear Friends,
To better serve the nuanced local needs of InfoComm International® member communities, we created new advisory groups in Hong Kong and Singapore last month, following successful initiatives in Australia and India.
Members of these new groups represent diverse sectors of the industry, from consultants, systems integrators, distributors, and in-house technology directors to manufacturers, such as Biamp, Christie, Crestron, Kramer and Samsung. Together we work to explore new ways to address local challenges in the AV communities, and provide resources to nurture member engagement and support.
It's truly wonderful to see such busy members of InfoComm devoting their time and putting their heads together to drive our industry forward. We look forward to learning from their first-hand insights and bringing more effective local programs to better serve our members.
Sincerely,
Overheard at Asia's First InfoComm on Campus Event
The recent InfoComm on Campus event welcomed close to 90 technology professionals to the University of Hong Kong campus to explore how new classroom technology can be optimised and seamlessly integrated into an increasingly dynamic learning environment. Read a recap of some of the lessons shared by our esteemed speakers who each play a different role in classroom design, but are all at the cutting edge of learning innovation. They include professors, IT and AV directors, curriculum innovators, and instructional environment designers, sharing their experiences from across Hong Kong and Australia.
Get Free Career Advice From InfoComm at Integrate
Only two months to go until Integrate 2016 in Sydney! The InfoComm team can't wait to meet up with members and non-members alike at the largest AV and systems integration event on Australian soil.
Benefit from our free professional development consultation service at the show and sign up now if you want to receive custom advice on how to advance your career or help your staff enhance their skills. Although you can also make an appointment on the show floor, it is recommended to register prior to the show to secure your spot.
As a founding partner of Integrate, InfoComm will again offer a comprehensive professional development programme that includes InfoComm MasterClass sessions, seminars and other events, such as the Women of InfoComm Network breakfast event.
New this year at Integrate will be InfoComm FlashTrack and Explore the Floor sessions. FlashTrack presentations are free and last approximately 20 minutes, allowing you to learn about hot industry topics without spending an hour or two in a seminar. Explore the Floor sessions will be offered on day one and two in the morning and will help you navigate the show floor with strategy. View programme details.
Register for free to attend the Integrate Expo from 23 to 25 Aug.
University of Hong Kong Adds Eight CTS-Certified Technicians
To ensure its technical teams are properly trained to provide top-notch support to teachers and students, the University of Hong Kong (HKU) now requires all technicians to become InfoComm CTS®-certified.
At the recent InfoComm on Campus event in Hong Kong, seven HKU technicians were awarded their CTS certificates. They are Wong Yue Kit (Chris), Chan Hin Wai (William), Kwan Man Kin (K), Kwan Ho Ming (Patrick), Lau Ka Ming (Albert), Chee Yiu Ming (Ming,) and Lam Lee Po (Ricky). In June, Wong Chin To (Tim) also passed his CTS exam.
Congratulations to these new CTS-certified professionals!
Corporate Technology Services' Staff in Australia Joins the Ranks of Certified Technology Specialists
The company's initials coincidentally match, but as of this month four employees from Corporate Technology Services Pty Ltd in Australia have successfully earned their InfoComm International Certified Technology Specialist™ (CTS) certification.
Congratulations to Ryan Gomes, Reinhardt Sosin, Daniel Sobkowski and George Azzi for this achievement. All four now get to add the CTS designation after their names.
"Being more service based, we see the InfoComm CTS certification as a great tool to not only demonstrate that our technicians are some of the best in the industry, but it forms a solid part of our internal training program to develop all staff, as well as acts as an indication of those who take their career more seriously," said Duncan Lugstein, Managing Director. Corporate Technology Services specialises in full AV managed services, such as installation of audiovisual infrastructure.
Learn about InfoComm certification and explore test options.
10-12 August 2016
Mexico City, Mexico

23-25 August 2016
Sydney, Austrália

12-14 September 2016
Mumbai, India

11-13 October 2016
Bogota, Colombia

1-3 November 2016
Moscow, Russia

9-10 November 2016
New York, USA

6-8 December 2016
Dubai, UAE

7-10 February 2017
Amsterdam, Netherlands

12-14 April 2017
Beijing, China

23-25 May 2017
São Paulo, Brazil

10-16 June 2017
Orlando, FL, USA
Explore some of InfoComm's resources in German and in Spanish.
This email was sent to

%%email%%

.

This email was sent by: InfoComm International


11242 Waples Mill Road, Suite 200, Fairfax, VA 22030 USA



To change the type or frequency of your InfoComm email or to unsubscribe,
please visit our Subscription Center.



+1.703.273.7200

|

1.800.659.7469

| infocomm.org

Copyright InfoComm International® 2016