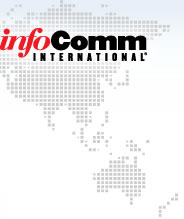 REGIONAL UPDATE
Asia & Oceania
March 2016
A Message From the Directors
Dear Friends,
Time flies by so fast when you are active. We are already approaching April 2016, and InfoComm China is just around the corner. If you plan to attend this trade show from 13 to 15 April in Beijing, make sure to sign up for InfoComm University™ classes or to register to take your  CTS® exam at the show.
We have had a busy start of the year already, hosting the AV Design Boot Camp in India, organising workshops at members' premises and welcoming our members at several networking events. Read on to find out the details and to get the latest news.
See you soon at one of our trade shows or other events in the region.
Sincerely,
New InfoComm Online Course: Learn to Install and Validate Category Cable
InfoComm International® has added a new online course to its already vast selection of course lists. How to Install and Validate Category Cable for AV is ideal for installers, technicians, primary contacts at systems integration companies, education contacts, and anyone who has already taken the introductory courses on installation, event setup for AV techs and who holds CTS or AVT certification.
This online course includes lessons on the state-of-the-art standards about cable labeling and 10 videos demonstrating these skills. For the first time in an online course, students will have the opportunity to take photos or a video to show their newly acquired skills.
India Advisory Group Members for 2016 Established
The India Advisory Group has been established for 2016. The mission of this group is to help grow the AV industry in India by nurturing leadership, developing resources and raising awareness of InfoComm's education and membership benefit among member companies and important stakeholders. This programme provides local InfoComm members a level of programme ownership that hasn't existed before.
The advisory group will have the opportunity to develop an outcome-based project with the goal to increase the number of trained AV industry professionals and establish locally based volunteer instructors.
See the full list of AV professionals who have volunteered their service for India's 2016 Advisory Group.
AV Installation Skills Day in India — First Dates for 2016 Announced
Broadcast Engineering Consultants India Limited (BECIL) and InfoComm International will collaborate to train professionals on AV installation skills all across India. The first two AV Installation Skills Day events will be held on 29 and 30 April 2016 in Bengalaru from 8 a.m. to 5 p.m. at the District Telecom training centre.
The AV Installation Skills Day is ideal for those new to the AV industry, such as field technicians who require a deeper technical knowledge on the topic or those preparing for their CTS — General exam. Course curriculum includes an introduction to cable and wire, cable termination and pulling, loudspeaker impedance, and other installation tasks on job site.
Seats are limited. Registration deadline for either event is 8 April.
AV Design Boot Camp Successful in Bengalaru
InfoComm International and staff instructor Rod Brown, CTS-D, CTS-I, hosted a successful AV Design Boot Camp in Bengalaru from 16 to 25 Feb. 2016. With 21 students in attendance, this intensive 10-day course prepared participants for their CTS-D exam. There was a high demand to register prior to course commencement, due to increasing numbers of AV design projects in India. At the end of the course, all students received a certificate of completion.
The InfoComm boot camp was given positive feedback overall. "This course has provided a lot of information. Some of them I was not aware of," said Chandrashekar Naik, Director Design and Deliverables at T2 Technology Consulting Pvt. Ltd.
Learn more about upcoming AV Design Boot Camps or other CTS exam preparation opportunities.
InfoComm Members Explore Smart Cities Business Opportunities
On 11 Feb., InfoComm International members from Chennai and Bengalaru met with representatives from Qualcomm, the manufacturer of 3G, 4G and next-generation wireless technologies in Chennai to explore new business opportunities. The meeting was initiated and organised by USDOC and the U.S. Consulate with the goal to inform U.S. delegates about the infrastructure and latest development of Smart Cities in India.
Smart Cities Mission is an urban renewal programme by the Indian government with the goal to make 100 cities all over the country citizen-friendly and sustainable. The Smart Cities mission's purpose is to boost economic growth, enable local area development and harness smart technologies.
First Workshops on Members' Premises: Informing About AV Education
InfoComm's first two workshops on members' premises were welcomed with great success on 5 Feb. in Bengalaru. The two-hour workshops informed human resources teams and people managers about the importance of professional development in AV education, on InfoComm's available online and on-site resources, courses as well as certification programmes. At Online Instruments' onsite, 23 staff members participated in this workshop, with more employees from other branches linked through videoconference. At IAV's premise, 10 employees participated to learn about education resources available via InfoComm University™.
If you are interested in InfoComm International organising a workshop on your premises for your staff in India, please contact Gaurab Majumdar, Regional Director India and Middle East, at gmajumdar@infocomm.org.
Brisbane Networking Event Booked Out
InfoComm's networking event in Brisbane on 15 March was fully booked out. The first in a series of InfoComm 2016 networking events in Australia saw over 20 AV professionals from Brisbane and the surrounding regions get together to hear about the latest development in the market, catch up with colleagues and benefit from new business connections. Attendees also heard a guest presentation from Mark Twisleton, CTS®, InDesign Technologies who shared insights on The Connected University.
"InfoComm has been holding networking events for its members in Australia and New Zealand for more than 10 years," said Jonathan Seller, Senior Director of Development, Asia-Pacific Region. "Our members' feedback is that they value these opportunities to come together as an industry in a non-commercial environment and talk about what's going on in the industry. We have a number of members that wrap business travel around our networking events as they find it an efficient way of meeting their supply partners face to face."
Upcoming InfoComm networking events in Australia will be held on 3 May in Perth and 5 May in Adelaide. For details and to book your table, email your InfoComm team at oceania@infocomm.org.
InfoComm Interacts With Members in Japan and Singapore
Held in Tokyo and Singapore on 9 March and 11 March, respectively, InfoComm members came together to connect with fellow AV professionals and learn about the latest industry development.
David Labuskes, CTS, RCDD, Executive Director and Chief Executive Officer and his InfoComm staff, were present to welcome members. In his speech during the Singapore event, which was attended by over 48 members, he highlighted the importance of AV/IT convergence and how both sides of technology are complementing each other.
Furthermore, he discussed the key role of AV technology in sectors such as distance learning in education, enterprise-grade videoconferencing in corporate and e-health and telemedicine in healthcare.
Dave also shared an optimistic view of the global AV industry, as it is growing at a rate of 11% CAGR per year according to InfoComm market research. For the Asia Pacific region especially, the growth rate marks a healthy 18%, which is the highest in the world. As per InfoComm projection, Asia is also currently the largest AV market in the world. The growth of Asia Pacific is mainly driven by China, India and Southeast Asia.
ISE in 20 Minutes (at a Time)
At Integrated Systems Europe in February, InfoComm International hosted a series of FlashTracks, 20-minute education sessions on everything from the future of AV, to market research, to project management skills. Now you can relive your favorite FlashTracks, catch what you missed or pretend like you were in Amsterdam all along. Watch the videos.
InfoComm International Council: Call for Volunteers
InfoComm is adding councils and you are invited to participate. Represent your needs, grow your network and make a difference for the industry by uniting with your peers. Members participate in peer discussion online and in person, conduct research and help shape products and services to meet the needs of our industry. Being an InfoComm International Council member enables you to gain additional professional recognition for yourself and your company.
Most council members commit a few hours of their time each month to attend quarterly audioconference meetings or email discussion groups.
To be eligible, you must be an InfoComm International member. There are 11 councils to choose from. Please note that interest forms have to be submitted before June 2016.
View a full list of councils and to sign up as a volunteer.
13-15 April 2016
Beijing, China

10-12 May 2016
São Paulo, Brazil

4-10 June 2016
Las Vegas, NV, USA

10-12 August 2016
Mexico City, Mexico

23-25 August 2016
Sydney, Austrália

12-14 September 2016
Mumbai, India

11-13 October 2016
Bogota, Colombia

1-3 November 2016
Moscow, Russia

9-10 November 2016
New York, USA

6-8 December 2016
Dubai, UAE

7-10 February 2017
Amsterdam, Netherlands
Explore some of InfoComm's resources in German and in Spanish.