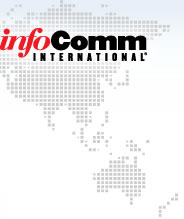 REGIONAL UPDATE
Asia & Oceania
June 2015
Message From the Directors
Dear Friends,
We spent a good amount of June in sunny Orlando, Florida, for the big U.S. show, InfoComm 2015. The show was a great success, with a grand total of 39,105 professionals representing 108 countries around the world. The show floor, consisting of 950 exhibitors, showcased exciting new technologies.
A lot of our time was spent in the fantastic International Business Centre. It was great to see and connect with AV professionals who travelled from many different locations to participate in this event.
With InfoComm 2015 behind us, we would like to remind you that there are many other upcoming events that may interest you. Take a look at the events happening in your region, including Integrate 2015 in Association With InfoComm, 25-27 Aug., and get involved. Whether it's a conference, roundtable or education session, we hope to see you soon.
Sincerely,
Networked AV Comes to Australia
Are you an AV or IT professional looking to gain more knowledge on AV systems on the network? Get ready Australia: InfoComm University™ will be offering networking courses Down Under.
As part of the AMX-Supported Networking for the AV Industry Programme, we will be coming to Perth and Gold Coast with Networking Technology Online and Networked Audiovisual Systems. The three-day courses are designed to help end networking challenges and keep your skillset up to date as more AV applications operate within enterprise IP networks. You'll also review in-depth AV and IT concepts.
The Perth session is being held 1-3 July at the Crowne Plaza and the Gold Coast session will be held July 6-8 at the AMX University Training Centre in Southport.
Interested in InfoComm University courses? Explore courses coming to your region.
Hong Kong Prepares for AV Design
InfoComm University is coming to the PCCW Tower in Quarry Bay, Hong Kong, with Design School, featuring a trio of AV design courses focused on improving your knowledge of AV solutions.
The first of the three courses, to be held on 20-22 July, will be AV Design 1: Environment. In this course, students will learn more about the physics and methodology behind the design and implementation of AV environments. This includes concepts such as sound reinforcement and display needs. The second course, AV Design 2: Infrastructure, focuses on the spatial aspects of AV design and includes topics on lighting, acoustical, electrical needs and more. This course will be held on 19-21 Aug. The third course, AV Design 3: Applied Design, reviews best practices and ways to develop designs and documentation for projects. It will be held on 14-16 Sept.
All of you who work with AV designs — designers, engineers, technology managers, project managers — are welcome. Whether you're studying to earn your CTS®-D certification or sharpening your skills, Design School can boost your career.
12-14 August 2015
Mexico City, Mexico

25-27 August 2015
Melbourne, Austrália

1-3 September 2015
Mumbai, India

19-22 October 2015
Dubai, UAE

28-30 October 2015
Moscow, Russia

10-12 November 2015
Bogota, Colombia

11-12 November 2015
New York, USA

9-12 February 2016
Amsterdam, Netherlands

3-4 March 2016
San Jose, California, USA

13-15 April 2016
Beijing, China

10-12 May 2016
São Paulo, Brazil

4-10 June 2016
Las Vegas, NV, USA
Explore some of InfoComm's resources in German and in Spanish.