Veni, Vidi, Vici — Kids Conquer AV at the Science and Engineering Festival
Print
Type: Article, Report or Whitepaper
Topics: AV Industry; Education
Date: April 2014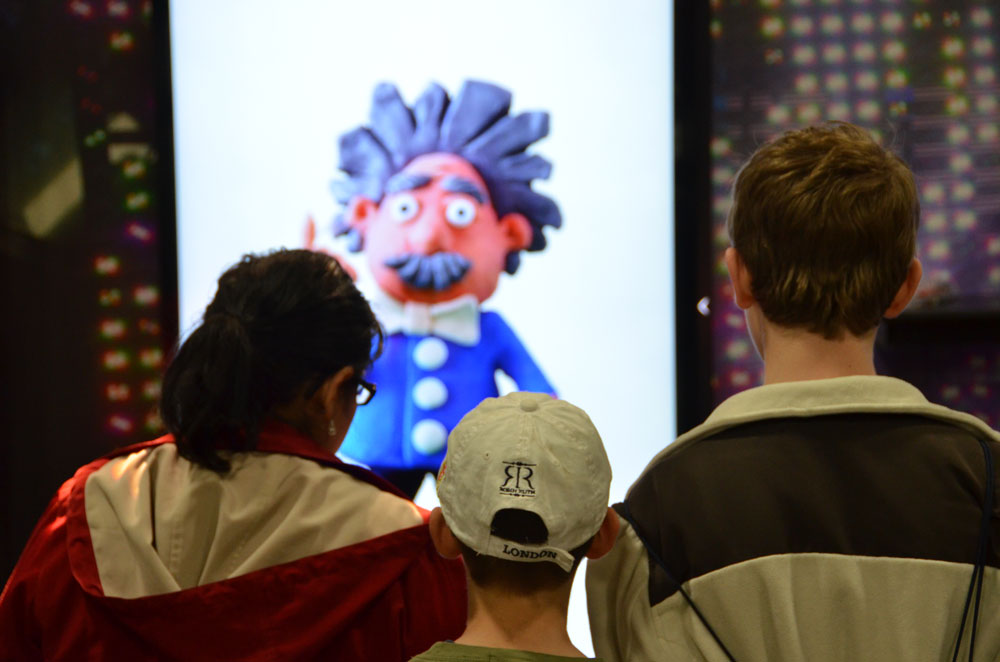 Over the course of the past weekend, thousands of kids, parents and educators got to play with some of the latest audiovisual applications and learn more about careers and training in AV. InfoComm was privileged to sponsor and participate in the USA Science and Engineering Festival, held April 25-27 in Washington, D.C. This event is a part of the national effort to promote science, technology, engineering and math (STEM) in schools and get the kids thinking about careers in those fields.

InfoComm also sponsored the Nifty Fifty, a group of 150 noted science and engineering professionals who have been touring across the D.C. area in the 2013-2014 school year to speak about their work and careers at various middle and high schools. InfoComm also supported US News and World Report's STEM Solutions Conference, a large high-level discussion about STEM for policymakers and others interested in advancing technical education and careers for students.
InfoComm's interactive program at the festival consisted of a two-sided booth and an AV experience lab.
The front side of the booth featured two virtual prize and information wheel displays integrated with Leap Motion Controllers, programmed to use wheel spinning hand gestures. The wheel landed on questions about audio and video signals and components, which were answered by an Albert Einstein Claymation character, as well as prize wins. The virtual wheels were spun 15 times every hour. While the kids were naturally excited about the potential of winning earbuds, headphones and speakers (and the last day's drawing for an Xbox One), they also asked questions about AV professions and technologies. Many teachers and school administrators wanted to know about the availability of InfoComm curriculum for their schools.
We asked Freeman's Senior Video Engineer Brian Alexander to tell us more about the "Science of AV Wheel" experience, as he dubs it.
You used Leap Motion to create an interactive experience for our booth. What elements and programming went into it?
The idea for the interactive wheel started after discovering the Leap Motion Controller in October of last year. The opportunity to use it in an interactive experience presented itself less than a week later. I immediately began working through how to incorporate different elements of the application and leaned on several interactive programmers that provided guidance along the way. Once the core functions were established the decision was made to build the custom application by mixing 3D elements with 2D graphics that were all controlled with the Leap Motion Controller. I have had several iterations of the application and continually refine the creative elements of the content to make it a more eye-catching experience.
You will be creating a similar experience at a larger scale at our show in June. Can you tell us a bit about that?
The interactive experience at the InfoComm show in June will display on a 3 × 3 vertical video wall. We are currently working through content details and exploring possibilities of incorporating additional AV elements into the overall experience. Without going into too much detail, the experience promises to deliver exciting visual content and is intended to remind attendees that InfoComm is on the leading edge of AV technology.
The exhibit also included Crestron-donated Samsung display with video, stills and video games fed through a Media Player, Mac, Blu-ray and PlayStation and manipulated through PlaybackPro.

Throughout the event, InfoComm's instructors gave a brief, interactive presentation on the 150 Rule and the closest viewer position (1× the screen width). They also taught about light and pixels and gave out InfoComm ear plugs as a gift. Some of the questions the young students asked were:
Does the 150 rule work with the words I read in books?
Does the 150 rule work if I take my glasses off?
If pixels are made of red, green, and blue lights, then how do TVs show the color yellow?
Do projectors have pixels too?
How do TVs know which colors the pixels should be?
I see that your video wall is really made of four TVs put together. How did you cut up the picture into four pieces?
Why would I even want to wear ear plugs?
How do I know when a room gets so loud that it can hurt my ears? Can I measure the sound in a room?
More than 700 people registered for the Xbox One raffle on the last day of the event and got an opportunity to hear about InfoComm and the AV industry before the prize drawing. The event host, Walter E. Washington Convention Center, recorded as many as 350,000 visitors at the festival.
InfoComm will make its AV science videos available for member organizations to use in their own outreach efforts in the near future.
View our photos at https://www.flickr.com/photos/infocomm/.