Planning for the Future
The InfoComm Board of Directors approved a three-year strategic plan for the association. This plan's purpose is to serve as a guide that will help steer InfoComm on a path that will make it the most effective for you, regardless of your industry role.
InfoComm's core purpose remains advancing audiovisual communications globally. In an industry fraught with rapid change and disruption, InfoComm's commitment has remained constant. However, today it is your Board's vision that in order to best serve the AV community globally, we must provide leadership to drive the transformation of human communication by creating exceptional experiences through technology.
It's not about making technology work better; it's about helping along the transformation of the way people connect.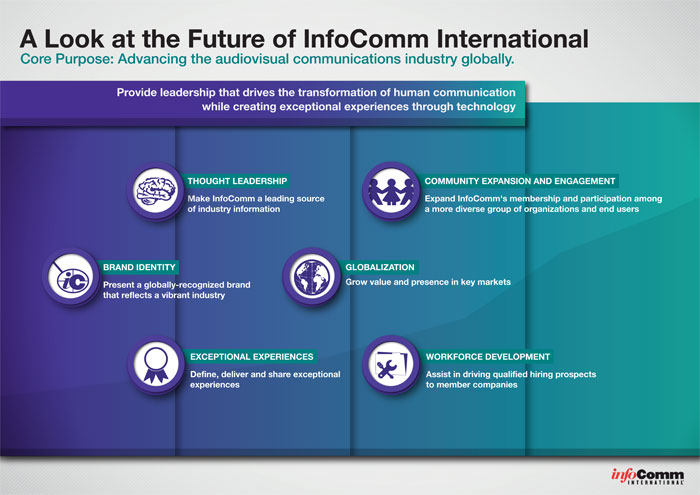 Meeting Future Challenges
Over the last decade, the pace of change in our industry has been swift and constant. And there's no reason to believe that this trend won't continue. If anything, the pace of change in communications will be faster and more impactful. Commerce will undergo rapid change as the very nature of technology-mediated human communication changes in response to evolving needs and emerging technologies. Traditional, presentation-focused modes of communication will give way to connected, collaborative, social, visual, mobile and virtual communications. Time, geography and group structure will no longer remain the barriers to effective communication that they are today.
As audiovisual professionals we will bring together appropriate technologies to support this new way of connecting. In order to accommodate new expectations and technology architectures, there will be massive shifts in the business models of the InfoComm community across the entire value chain, including product distribution, software, service delivery and licensing.
Preparing For What's Next
Given our evolving needs, and propelled by its core competencies in human communications and enabled by technology developments, the InfoComm community will need to reposition and expand its expertise to become vibrant, cohesive, strong, and impactful as a leader in delivering exceptional experiences in service of human communications. Our community's big tent will need to broaden and welcome new or continued interaction among varied technology provider constituencies. InfoComm International must provide thought leadership and practical guidance to support our community and its allies in the development and application of innovative technologies, processes and services that enable the transformation of human communications.
Consider the people who manage facilities and events that use AV equipment. These stakeholders will be expecting high-quality communications experiences. Their performance will be measured by their contribution toward greater engagement and better end results for all participants at their venue. The experiences provided will be expected to excite, motivate, improve productivity, and create valuable results through interactions that are transparent, more vivid, have greater clarity and are more interactive. The solutions that the industry provides to these customers will need to be delivered collaboratively through a consultative process that not only focuses on technological solutions, but also on the role of enhanced communications in formulating and executing organizational strategies.
Why Take This On?
The future of our industry is dependent on becoming customer-focused and putting ourselves in the shoes of the people who use our technology. Our customers have higher expectations for how their rooms and buildings will operate — of how their events are delivered. And they need to know why they should invest in videoconferencing systems and sound reinforcement, when they already have tablets, Skype, iPods and smartphones. We need to change the conversation again to help the decision makers see the possible. We have to convince customers that nothing less than great is good enough. I firmly believe that the future of our industry depends on our success in achieving this aspiration.
Strategic Plan


Thought Leadership
Make InfoComm a leading Source of Industry Information

Community Expansion and Engagement
Expand InfoComm's membership and participation among a more diverse group of organizations and end users

---

Brand Identity
Present a globally-recognized brand that reflects a vibrant industry
Globalization
Grow value and presence in key markets

---

Exceptional Experiences
Define, deliver and share exceptional experiences
Workforce Development
Assist in driving qualified hiring prospects to member companies