CTS News October 2012

118 Days Left to Study for Your CTS Exams at ISE
For the third year in a row, InfoComm International® will be offering CTS®, CTS-D and CTS-I exams at Integrated Systems Europe (ISE) in Amsterdam, 29-31 January. Plan your study schedule and save your exam seat now!
Here's why your colleagues think you should sign up:
"Pyramid recognises the growing importance that training and certification in our industry has, and InfoComm clearly leads the way. I have wanted to consolidate my industry knowledge into one recognisable qualification for a long time, whilst encouraging my staff to do the same. Time is very important to me, so being able to combine my trip to ISE with my test made complete sense. It was cool to be able to do both at once!"
— Nic Black, CTS, Managing Director, Pyramid
"I had been looking into taking the CTS exam, so when I saw it was possible to take it at ISE, the decision was easy. With my new international credentials that strengthen my professional reputation — and my company's — I am looking forward to the benefits of being a CTS holder."
— Ian McKeown, CTS, Absolute Technologies
"As an annual ISE attendee, being able to take the CTS exam onsite made my overall return on investment in ISE even higher than previous years. I am proud to have earned this international credential to prove my knowledge in AV, undoubtedly benefitting Absolute Technologies and my career."
— Matthew Cordner, CTS, Absolute Technologies
Last year, the first-come, first-served exam seats sold out. Don't be left behind in 2013.
---
Act TODAY to Serve on the InfoComm Certification Committee
This year, there are four open positions for the InfoComm Certification Committee. Could one of those be right for you?
If you are passionate about your CTS credentials and want to give back to the industry, this opportunity could be just right. Submit your application before the Oct. 19 deadline.
---
Ready to Cross the AV/IT Cultural Divide?
InfoComm University™ has training that you won't find anywhere else — real-world solutions and guidance to help you get an in-depth understanding of networks and the way AV applications operate within them.
Networked AV Systems will deepen your understanding of AV and networking technologies and their design by guiding you to balance network policies with customer demands.
Don't know where you stand in the divide? Test your knowledge to find out:
Telnet and Secure Shell (SSH) operate at which layer of the OSI Model?
Data Link layer
Network layer
Presentation layer
Application layer
Think you know the answer? Tackle more questions with the pretest [PDF] and see if you're ready to learn how to deliver a flawless AV experience on IT networks.
Enroll now for upcoming courses:
Oct. 29-31 at the University of Central Florida in Orlando
Feb. 5-7 in Fairfax, VA
Call 1.800.659.7469 for one-on-one guidance to explore if this course is right for you.
---
Clients Say CTS Professionals Save Time and Money
Mary Meeker
Spread the word to your clients: Using companies with CTS holders really makes a difference. Here's what one client has to say:
"CTS professionals understand drawing details, before they reach the site, leaving only unexpected site conditions to deal with upon arrival. Efficient installations save time and money for everyone."
— Mary Meeker, Owner, MMDI Inc.
---
Celebrate Standards Week by Learning How AV Standards Can Boost Your Business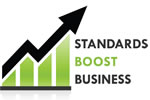 Happy World Standards Week, Oct. 9-12! InfoComm International has four ANSI-approved standards – and they can help your business.
In today's complex global marketplace, your company needs every advantage it can get, and InfoComm International can help you. Read case studies about businesses that used standards to trim the bottom line, access a toolkit and explore how standards can improve your business's financial future.
---
Discover How Project Management Can Increase Your Profit Margin — And Earn 18 RUs
Staging and Events Management Virtual Classroom, Jan. 28-Feb. 22, is a convenient way to earn RUs right from your desk ... or your couch.
Here's what Bob Garofalo, CTS, Vice President of Giant Audio Visual, Inc., has to say about his experience with the course:
Bob Garofalo
"I would absolutely recommend the Staging and Events Management Virtual Classroom course to others. In a tight market with narrow margins, the difference between profit and loss often comes down to how effective the project was managed."
"This course hit on the fundamentals in a well thought out, easily understood format. Second, it was interactive just like attending a course in person, except without the travel costs and the time away from the office. Simply outstanding!"
---
Two Upcoming Events in Washington, D.C. in November
Where AV and Health Information Technology Meet
Healthcare is one of the fastest growing vertical markets in the AV industry. Stay ahead of the curve by learning about the future of AV and IT in healthcare settings. Attend the Technology Crossroads Conference in Washington, D.C., Nov. 27-28. InfoComm members receive $300 discount on registration, use promo code TECHXMEMBER.
Register
The Growing Show for Government Audiovisual Communications Solutions
If you are facing challenges regarding security, reliability, and collaboration within your AV and IT systems — you need to be at GovComm 2012, Nov. 28-29 in Washington, D.C.
Explore the mix of networked AV systems topics, along with future trends, emergency notification, AV technology and project management. GovComm is the perfect place for technology managers, IT directors, and everyone who wants to learn more about audiovisual communications.
Browse the courses to learn about earning RUs. And use code GCCTSP to register for a free show floor pass.
---