Europe, Middle East and Africa
In June, InfoComm 2016 — with the largest-ever audience for Las Vegas — provided a great centrepiece for the industry. Just a few of the many highlights included a highly entertaining keynote speech from Freakonomics co-author Stephen Dubner, a packed educational programme (made even better this year with the Seminar and Workshop Package) and of course the vibrant show floor, with 1,000 exhibitors. Thank you to all those who attended and made it the show it was; we hope to see you again next year in Orlando.
---
Regional News
InfoComm 2016 is Largest on Record

The 1,000 exhibitors occupying 527,105 square feet made this year's InfoComm show the largest ever. A total of 38,833 visitors attended this year's InfoComm, 4.8 percent more than the last time the show was held in Las Vegas in 2014. "The AV industry's commitment to advancing technology and showcasing it at InfoComm has never been stronger," said Jason McGraw, senior vice president of expositions for InfoComm International®. "The market is constantly changing and we've been pleased to introduce new features at InfoComm, such as drones, the Internet of Things and content creation and streaming, which reflect the dynamic nature of commercial AV." More than 12,000 seats were registered at InfoComm University™ sessions throughout the week, and a record 252 attendees registered to take their Certified Technology Specialist™ (CTS) exam. All in all, it was a bumper event. Read more.
---
InfoComm to Support AV Professionals in Spain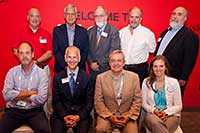 We are pleased to announce that InfoComm has signed a friendship agreement with Spanish AV association AFIAL (Asociación de Fabricantes, Importadores de Sonido, Iluminacion y Tecnologias Audiovisuales). The collaboration — which was signed in Las Vegas at InfoComm 2016 — is part of InfoComm's commitment to expand its reach within Europe, and to promote the development of the industry within Spain. With the signing of this protocol between InfoComm and AFIAL, the two organisations will work together to promote education and quality in our industry in Spain. AFIAL brings together manufacturers, importers and installers of professional sound, dramatic lighting and audiovisual technology working in Spain, in order to optimize the development of our industry, through improving the professional skills of technicians and testing competency levels.
---
InfoComm Appoints Account Manager for Northern Europe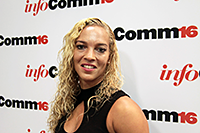 InfoComm is delighted to announce the appointment of Laurien Pauw, Account Manager Northern Europe. Based in the Netherlands, Laurien will work with members in the Benelux and Nordic regions. She joins with a wealth of experience, having worked as an account manager at several radio stations, a large publisher and a TV production company. Laurien also worked as a channel and partner manager in the telecom industry. "We're thrilled to welcome Laurien to the team," says Pamela Taggart, Senior Director of Development Europe at InfoComm International. "It is an exciting time for InfoComm. We look forward to developing our European offering as we continue to experience significant membership growth."
Regional Updates
Stay engaged and in-the-know with InfoComm's EMEA regional newsletter. You'll get highlights of upcoming events and courses near you.

Browse the EMEA Regional Update Archives
---
InfoComm in German
Besuchen Sie die deutsche Website.
Education Catalog in German
Browse the new German virtual catalog.
ZUGANG ZUR VIRTUELLE BROCHURE.
---
InfoComm Europe on Facebook!
Introducing the InfoComm International Europe Facebook Group. This online community is targeted to AV professionals in Europe who want to share insights, ask questions, talk about technology, keep track of industry trends, preview recent InfoComm International events and much more.
---
InfoComm Italia on LinkedIn

Get involved with the new InfoComm International Italia LinkedIn Group. This group, targeted to those who are part of the Italian AV market, is where AV professionals like you share insights, ask questions, talk about technology, find out what the association is up to, and much more. Join your colleagues and reap the rewards of their collective wisdom.