Europe, Middle East and Africa
From record-breaking shows and conferences to welcoming the 10,000th Certified Technology Specialist™, from engaging networking opportunities throughout the region to the myriad training classes and webinars, 2015 was an amazing year for InfoComm International® and the AV industry. We couldn't have done it without great members, engaged industry professionals and the many friends we've made along the way.
All of us would like to thank you for your dedication to excellence in professional AV. We hope you continue to promote the industry through your hard work and excitement, and we look forward to what's next in 2016. Happy New Year.
---
Regional News
CTS in Norway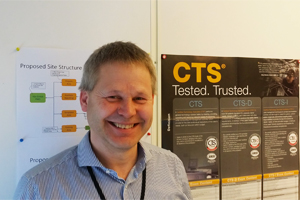 Although Norway ranks as one of the smallest European countries in terms of population, it nevertheless has a thriving AV industry. Describing his company Viju as a "big player in a small market," Svein-Erik Jensen, CTS®, Senior Director of Competence and Quality at the 18-year-old systems integration company, which also operates in the U.K., U.S. and Singapore, is leading the charge in education and certification in Norway.
Jensen himself was one of the first people to become CTS certified in Norway, after transitioning to AV from the IT industry, where certification is traditionally more commonplace.
---
Explore the Importance of Certification
You may have heard InfoComm say that a CTS credential can play a big part in advancing your AV career. And employing CTS holders can benefit your business. Now hear it from one of you peers. In this video, David Lesch, CEO of AV Media in the Czech Republic, and his colleagues talk about the importance of industry education and certification. AV Media has been a member of InfoComm since 1996.
If you want to learn more about opportunities to work with InfoComm to enhance your business, contact our team serving Europe, the Middle East and Africa.
Regional Updates
Stay engaged and in-the-know with InfoComm's EMEA regional newsletter. You'll get highlights of upcoming events and courses near you.

Browse the EMEA Regional Update Archives
---
InfoComm in German
Besuchen Sie die deutsche Website.
Education Catalog in German
Browse the new German virtual catalog.
ZUGANG ZUR VIRTUELLE BROCHURE.
---
InfoComm Europe on Facebook!
Introducing the InfoComm International Europe Facebook Group. This online community is targeted to AV professionals in Europe who want to share insights, ask questions, talk about technology, keep track of industry trends, preview recent InfoComm International events and much more.
---
InfoComm Italia on LinkedIn

Get involved with the new InfoComm International Italia LinkedIn Group. This group, targeted to those who are part of the Italian AV market, is where AV professionals like you share insights, ask questions, talk about technology, find out what the association is up to, and much more. Join your colleagues and reap the rewards of their collective wisdom.