Asia and Oceania
Position yourself for sustainable growth in the China marketplace. Previously known as Integrated Systems China, InfoComm China is one in a series of dedicated pro-AV trade shows organized by InfoCommAsia Pte Ltd and InfoComm International for the China market.
---
Regional News
New InfoComm Online Course: Learn to Install and Validate Category Cable

InfoComm International® has added a new online course to its already vast selection of course lists. How to Install and Validate Category Cable for AV is ideal for installers, technicians, primary contacts at systems integration companies, education contacts, and anyone who has already taken the introductory courses on installation, event setup for AV techs and who holds CTS or AVT certification.
This online course includes lessons on the state-of-the-art standards about cable labeling and 10 videos demonstrating these skills. For the first time in an online course, students will have the opportunity to take photos or a video to show their newly acquired skills.
---
India Advisory Group Members for 2016 Established

The India Advisory Group has been established for 2016. The mission of this group is to help grow the AV industry in India by nurturing leadership, developing resources and raising awareness of InfoComm's education and membership benefit among member companies and important stakeholders. This programme provides local InfoComm members a level of programme ownership that hasn't existed before.
The advisory group will have the opportunity to develop an outcome-based project with the goal to increase the number of trained AV industry professionals and establish locally based volunteer instructors.
See the full list of AV professionals who have volunteered their service for India's 2016 Advisory Group.
---
AV Design Boot Camp Successful in Bengalaru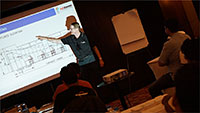 InfoComm International and staff instructor Rod Brown, CTS-D, CTS-I, hosted a successful AV Design Boot Camp in Bengalaru from 16 to 25 Feb. 2016. With 21 students in attendance, this intensive 10-day course prepared participants for their CTS-D exam. There was a high demand to register prior to course commencement, due to increasing numbers of AV design projects in India. At the end of the course, all students received a certificate of completion.
The InfoComm boot camp was given positive feedback overall. "This course has provided a lot of information. Some of them I was not aware of," said Chandrashekar Naik, Director Design and Deliverables at T2 Technology Consulting Pvt. Ltd.
Learn more about upcoming AV Design Boot Camps or other CTS exam preparation opportunities.
Regional Updates
Stay engaged and in-the-know with InfoComm's Asia and Oceania regional newsletter. You'll get highlights of upcoming events and courses near you.
Browse the Asia and Oceania Regional Update Archives
---
The InfoComm LinkedIn Group

InfoComm International on LinkedIn is where AV professionals like you share insights, ask questions, talk about technology, find out what the association is up to, and much more. Join 16,000 of your closest friends and colleagues and reap the rewards of their collective wisdom.