Preparing to Take the Certification Exams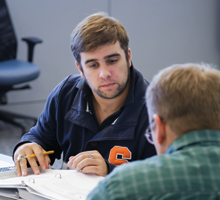 Although you're not required to take any particular courses or buy any resources to take any of the CTS® exams, InfoComm has a wealth of materials that might help you prepare. The pages below contain some options that have worked for your peers.
Need more help? Call +1.703.273.7200 (or contact our Customer Service Team). We'll set you up for a course of study that matches your experience and skills.
---
The Certification Committee and InfoComm, in keeping with the accreditation requirements of the ISO/IEC 17024:2012 standard, do not link any training or education programs or any other educational provider's educational programs offered, to obtaining a CTS credential.
Alert: Fraudulent Study Materials
If you see InfoComm University™ education or CTS certification practice exams on a website other than infocomm.org, they could be fraudulent.
Remember, infocomm.org is the only source for official materials.