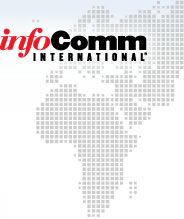 REGIONAL UPDATE
Europe, Middle East & Africa
July 2016
A Message From the Directors
Dear Friends,
As we move swiftly into the second half of the year, we have been keeping up the pace following InfoComm 2016. There has been a plethora of events and training taking place of late across the region, including the Hands-On Training Day in the U.K., CTS study sessions and much more. It was also a pleasure to be involved in the Digital Signage Summit Europe event in Munich, which proved to be an engaging and informative experience.
We're very excited to announce the shortlist for the inaugural CTS® of the Year Award. Please see below for the final four – our congratulations to the finalists.
As we write this, we are finalising the details of AV Technologist (AVT) testing events in Germany and Spain — read on for more information. We've compiled a short quiz to test your AVT knowledge. Have a go and see how you get on. Remember, — we are always ready to lend a hand with training if you feel you need to work on your skills!
Sincerely,
European CTS® of the Year Award – Finalists Announced
The shortlist for the inaugural European CTS® of the Year Award has been announced. It is the first time that this category has been part of the AV Awards program, which was open to all of our CTS holders in the region. The quality of entries from across Europe was incredibly high. The shortlisted entrants are:
Colin Jacobs, SBS
Daniel Goldmann, Renox Audiovision GmbH
Justin Paveley, Focus 21
Václav Jezbera, AV MEDIA
Congratulations to the four finalists, who will all be invited to the AV Awards Night on 30 Sept., when the overall winner will be revealed.
InfoComm and Harman Professional Solutions Collaborate on Education Program
Harman Professional Solutions and InfoComm International® have announced the availability of a brand-new education program designed to bridge the burgeoning AV-IT skills gap. The association and Harman have joined forces to create a targeted, two-day course titled Design for Streaming. Harman then combined Design for Streaming with its own SVSi Designer course to create the Networked AV Solution Design seminar program, which will prove invaluable for professionals looking to learn more about the basics of network architecture, as well as the planning and configuration of AMX SVSi networked solutions.
This exclusive program, which earns delegates 20 InfoComm Certified Technology Specialist™ (CTS®) renewal units and Harman accreditation, will be available first in Germany, 25-27 July. Register your interest here.
Networked AV Systems Training Day – Utrecht
InfoComm is hosting a Networked AV Systems Training Day in Utrecht on 13 Oct. This one-day education event is aimed at technology managers who wish to explore real-world applications that address how AV and IT are coordinated to create an unparalleled audience experience. Composed of four one-hour sessions, this event will train you on matching AV and networking technologies to your customers' needs for digital signage, conferencing, remote monitoring and management, and networked AV security. Lunch is provided and the day will wrap with a networking reception. To register your interest for the event, please email Laurien Pauw.
A Brace of AVT Sessions in Spain and Germany
InfoComm is to hold two AV Technologist (AVT) testing events in Spain during September. The first will take place in Madrid on 15 Sept., with the second to take place at the end of September in Barcelona (date not fully confirmed; it will be either 29 or 30 Sept.) It is strongly recommended that people take the Los Fundamentos de la Industria AV para Profesionales Técnicos y de Ventas Online course before attending the test, so that they have a much better chance of passing. This course is free to members, and non-members are able to receive a discount if they register for the event. To register, please email europe@infocomm.org.
InfoComm will also be holding an AVT challenge prior to COMM-TEC's S14 Solutions Day. Stay tuned for more details.
In the meantime, test your AVT knowledge. We've put together a short quiz for you to put your AVT knowledge to the test. See how you get on against your fellow colleagues – and good luck!
10-12 August 2016
Mexico City, Mexico

23-25 August 2016
Sydney, Austrália

12-14 September 2016
Mumbai, India

11-13 October 2016
Bogota, Colombia

1-3 November 2016
Moscow, Russia

9-10 November 2016
New York, USA

6-8 December 2016
Dubai, UAE

7-10 February 2017
Amsterdam, Netherlands

12-14 April 2017
Beijing, China

23-25 May 2017
São Paulo, Brazil

10-16 June 2017
Orlando, FL, USA
Explore some of InfoComm's resources in German and in Spanish.