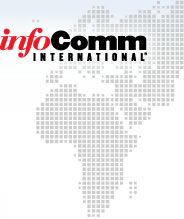 REGIONAL UPDATE
Europe, Middle East & Africa
June 2016
A Message From the Directors
Dear Friends,
It has been an amazing month so far. InfoComm 2016 — with the largest-ever audience for Las Vegas — provided a great centrepiece for the industry. Just a few of the many highlights included a highly entertaining keynote speech from Freakonomics co-author Stephen Dubner, a packed educational programme (made even better this year with the Seminar and Workshop Package) and of course the vibrant show floor, with 1,000 exhibitors. Thank you to all those who attended and made it the show it was; we hope to see you again next year in Orlando.
As you read this, we will be gearing up for the Digital Signage Summit in Munich. It's a great privilege to be involved in Europe's leading strategy conference for the digital signage and digital out-of-home (DooH) industry, and we hope those of you attending enjoy your time in Munich.
It is now your last chance to apply for the European CTS® of the Year award, with the deadline for entries extended until June 24. Please see below for more details. This is a great opportunity to highlight some of the great work that is carried out in the industry, so make sure to get those last minute award entries in to take advantage of it!
Sincerely,
InfoComm 2016 is Largest on Record
The 1,000 exhibitors occupying 527,105 square feet made this year's InfoComm show the largest ever. A total of 38,833 visitors attended this year's InfoComm, 4.8 percent more than the last time the show was held in Las Vegas in 2014. "The AV industry's commitment to advancing technology and showcasing it at InfoComm has never been stronger," said Jason McGraw, senior vice president of expositions for InfoComm International®. "The market is constantly changing and we've been pleased to introduce new features at InfoComm, such as drones, the Internet of Things and content creation and streaming, which reflect the dynamic nature of commercial AV." More than 12,000 seats were registered at InfoComm University™ sessions throughout the week, and a record 252 attendees registered to take their Certified Technology Specialist™ (CTS) exam. All in all, it was a bumper event. Read more.
European CTS of the Year Award
You have just hours to get your entries submitted for this brand-new category of the AV Awards, open to all eligible European CTS holders. We're delighted to see the prestigious AV Awards offering this terrific opportunity for CTS holders to gain recognition for exceptional contributions made to their business/organisation and to the industry. The final deadline for all applications is 6 p.m. on Friday, 24 June — make sure to get your applications in now by emailing the completed application form to Rachael Hamilton at AV Magazine. The award is free to enter and open to any current InfoComm CTS, CTS-D, CTS-I certification holder in the U.K., Ireland or mainland Europe.
InfoComm to Host Evening Event and Awards Ceremony at Digital Signage Summit Europe
Digital Signage Summit Europe 2016 has been extended and is, for the first time in its 10-year history, taking place over two days. A great event for digital signage and DooH professionals, the Summit runs at the Hilton Munich Airport on 23-24 June and the programme offers two full days of digital signage and DooH insight, expertise and technology.
A special Evening Event and Awards Ceremony will take place on Thursday, 23 June at 6 p.m. This event will take place at the Airbräu, and provide conference attendees with some relaxed networking. The event will also provide an opportunity to hear about the latest developments at InfoComm EMEA, and meet the latest additions to our team in the region. More information is available.
InfoComm to Support AV Professionals in Spain
We are pleased to announce that InfoComm has signed a friendship agreement with Spanish AV association AFIAL (Asociación de Fabricantes, Importadores de Sonido, Iluminacion y Tecnologias Audiovisuales). The collaboration — which was signed in Las Vegas at InfoComm 2016 — is part of InfoComm's commitment to expand its reach within Europe, and to promote the development of the industry within Spain. With the signing of this protocol between InfoComm and AFIAL, the two organisations will work together to promote education and quality in our industry in Spain. AFIAL brings together manufacturers, importers and installers of professional sound, dramatic lighting and audiovisual technology working in Spain, in order to optimize the development of our industry, through improving the professional skills of technicians and testing competency levels.
Join InfoComm's UK and Ireland Events in July
There's a brace of great InfoComm events taking place in London in July. The first is a Hands-On Training Day at Church House Conference Centre, Westminster, on 8 July from 9 a.m. The interactive programme provides an opportunity for AV professionals to stay on top of their game and cater to fast changing challenges of client expectations for high quality content delivery systems. Refreshments will be provided, including lunch, and activities will wrap up with a short networking reception from 4.30 p.m. For more information or to sign up, please visit.
A UK Staging and Events course is also set to take place, running 13-15 July in London, and is ideally suited to those who manage, produce or are interested in deepening their knowledge of live events. The course covers topics including the following: managing show departments, clients and venues, acquiring field-tested project management tools, discovering how putting pre-show planning into practice can reduce problems onsite, and much more. For more information or to sign up, please visit.
For those interested in pursing a certification as a Certified Technology Specialist (CTS), InfoComm is offering a one-day live streaming CTS Study Session on 12 July. This first-time offering for the region allows live access to this class for those wishing to finely hone their knowledge before taking the CTS exam. Sign up now.
InfoComm Appoints Account Manager for Northern Europe
InfoComm is delighted to announce the appointment of Laurien Pauw, Account Manager Northern Europe. Based in the Netherlands, Laurien will work with members in the Benelux and Nordic regions. She joins with a wealth of experience, having worked as an account manager at several radio stations, a large publisher and a TV production company. Laurien also worked as a channel and partner manager in the telecom industry. "We're thrilled to welcome Laurien to the team," says Pamela Taggart, Senior Director of Development Europe at InfoComm International. "It is an exciting time for InfoComm. We look forward to developing our European offering as we continue to experience significant membership growth."
10-12 August 2016
Mexico City, Mexico

23-25 August 2016
Sydney, Austrália

12-14 September 2016
Mumbai, India

11-13 October 2016
Bogota, Colombia

1-3 November 2016
Moscow, Russia

9-10 November 2016
New York, USA

6-8 December 2016
Dubai, UAE

7-10 February 2017
Amsterdam, Netherlands

12-14 April 2017
Beijing, China

23-25 May 2017
São Paulo, Brazil

10-16 June 2017
Orlando, FL, USA
Explore some of InfoComm's resources in German and in Spanish.