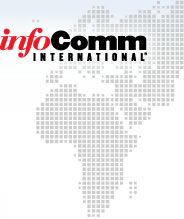 REGIONAL UPDATE
Europe, Middle East & Africa
MAY 2016
A Message From the Directors
Dear Friends,
With just days to go to InfoComm 2016, the finishing touches are being put in place ahead of what is sure to be a fantastic show in Las Vegas. We are expecting a large international contingent of visitors – many from the EMEA region – and we have a fantastic Seminar and Workshop Package that many visitors will be taking advantage of, read on for more details. Find us in the Grand Concourse Lobby throughout 4-10 June, we hope to see you there.
We were delighted to reach out into Europe with our recent series of multilingual webinars. In partnership with LINDY, the first webinar kicked off in April on the topic of distributing AV signals across various solutions, and was made available in German, French, English and Italian. There are now plans for further expansion of the programme, and we will keep you informed as and when details are confirmed.
In another first, the inaugural European CTS® of the Year award is open for entries. The award scheme, which is sponsored by InfoComm International®, is free to enter and this new category in the AV Awards, run by AV Magazine, is a great opportunity for CTS holders to gain peer recognition for the work they do every day. The deadline for entries has just been extended into early June, so now is the time to get your entries in! Good luck everyone.
Sincerely,
HOT PICK AT INFOCOMM: New Seminar and Workshop Package
At InfoComm 2016, InfoComm University™'s new Seminar and Workshop Package lets you attend your choice of as many 4 hour workshops or 1-2 hour seminars as you want, from Wednesday to Friday. This education package gives you access to workshops like Mix it Up — Live Audio Workshop and Programming Logic and Best Practices, as well as training classes focused on audio, business management, live events, design, control, and more. This package offers outstanding value, and we have received a terrific response from visitors so far. Pricing starts from just $189 for members. Click here to find out more.
Deadline Extended: European CTS Holder of the Year Award
A brand new category has been launched for this year's AV Awards, open to all eligible European CTS® holders. We're delighted to see the AV Awards offering this terrific opportunity for CTS® holders to gain recognition for exceptional contributions made to their business/organisation and to the industry. The deadline has just been extended so nominations now close on 10 June - make sure to get your applications in now via the simple online process.The award is free-to-enter and open to any current InfoComm CTS®, CTS®-D, CTS®-I certification holder in the U.K., Ireland or mainland Europe.
Digital Signage Summit
Digital Signage Summit (DSS) Europe 2016 is, for the first time in its 10-year history, taking place over two days. A great event for digital signage and DooH professionals, the Summit runs at the Hilton Munich Airport on 23-24 June and the programme offers two full days of digital signage and DooH insight, expertise and technology. We are pleased to be taking part in this stimulating two-day conference.
A special 'Industry Briefing and Networking Drinks Reception' is planned for Thursday, 24 June at 18:00h. The InfoComm event will provide conference attendees with some relaxed networking and an opportunity to hear about the latest developments at InfoComm EMEA. More information is available here.
European Webinar Presenters Wanted
We are seeking Spanish, Portuguese, French, German and Italian language presenters for webinars in our rapidly expanding international webinar series in Europe. The webinars are one hour in length and should address vendor neutral technical and business issues of interest in Europe or Latin America. Interested? Submit your webinar title, short abstract and contact information to Bill Thomas, CTS-I, InfoComm Director of International Education.
4-10 June 2016
Las Vegas, NV, USA

10-12 August 2016
Mexico City, Mexico

23-25 August 2016
Sydney, Austrália

12-14 September 2016
Mumbai, India

11-13 October 2016
Bogota, Colombia

1-3 November 2016
Moscow, Russia

9-10 November 2016
New York, USA

6-8 December 2016
Dubai, UAE

7-10 February 2017
Amsterdam, Netherlands

12-14 April 2017
Beijing, China

24-26 May 2017
São Paulo, Brasil
Explore some of InfoComm's resources in German and in Spanish.