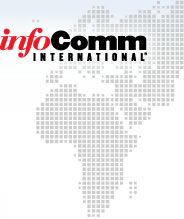 REGIONAL UPDATE
Europe, Middle East & Africa
APRIL 2016
A Message From the Directors
Dear Friends,
2016 is off to a flying start — we cannot believe it is April already, with record-breaking ISE and InfoComm China shows already under belts. It has certainly been a packed start to the calendar, whether we have been running official InfoComm events, or supporting other organisations' activities with InfoComm education and outreach programmes. ISE yet again proved itself to be an essential destination for the AV, IT and smart buildings markets and we take a look back at its success below.
Of course we are now less than two months away from our June event as InfoComm returns to Las Vegas this year. We are expecting a large international contingent of visitors — many from the EMEA region. We are looking forward to a spectacular week in Vegas. Find us in the Grand Lobby and take advantage of the extensive education programme throughout 4-10 June. We will see you there.
We are also delighted to get the inaugural European CTS® of the Year programme up and running as part of the annual awards run by AV Magazine. This is a great opportunity for CTS holders to gain peer recognition for the work they do every day. Read on for more details.
Sincerely,
ISE Goes From Strength to Strength
A record-breaking Integrated Systems Europe (ISE) 2016, 9-12 Feb. at the Amsterdam RAI saw a 10.7-percent increase in attendees, with a final count of 65,686 registrants from across the globe. We're delighted to confirm that the much-talked-about fourth day, which was added to the show for the first time this year, proved to be a hit with visitors and exhibitors alike.
At ISE, InfoComm added professional development consulting to its comprehensive education programme. The one-on-one consultations were conducted by InfoComm's Europe-based and other international staff, helping individuals and companies to identify courses of study for advancing their careers and businesses. David Labuskes, CTS®, RCDD, Executive Director and CEO, InfoComm International, said: "Yet again I can say how proud we are to be associated with ISE and the unique position it holds today." He continued: "Our InfoComm Conferences, MasterClasses and FlashTrack education sessions drew excellent delegate numbers and offered ISE attendees an opportunity to experience a little of what InfoComm International can offer."
InfoComm Keynote: Think Like a 'Freak' With Stephen Dubner
Stephen Dubner, best-selling co-author of Freakonomics, will deliver the keynote address at InfoComm 2016, the largest audiovisual trade show in North America. The annual event takes place this 4-10 June at the Las Vegas Convention Center and Westgate Las Vegas Resort and Casino, with Dubner's insight set to lift the lid on how emerging communication technologies are changing the behaviour of the people that use them. Dubner will explain what this behaviour can tell the industry about the kinds of problems that can and can't be solved by communication technology applications.
"Though the AV industry loves technology, what AV professionals do every day is really all about people — helping them communicate, work and learn more effectively," said Jason McGraw, CTS, CAE, Senior Vice President of Expositions, InfoComm International. "It can be hard to predict whether a technology solution is going to help achieve those goals unless you can think like a 'freak.' Stephen Dubner illuminates the unseen forces driving human behaviour. His data-driven perspective will help InfoComm attendees better understand the most complex, failure-prone piece of any given AV system — the user. By looking at the factors that drive usage, InfoComm 2016 attendees will gain insight into how to nurture the successful adoption of new technologies."
European CTS Holder of the Year Award Now Open for Entries
We've teamed up with AV Magazine to launch a brand new, free-to-enter category in the AV Awards this year — open to all eligible European CTS holders. This is a fantastic opportunity for CTS holders to gain recognition for exceptional contributions made to their business/organisation and to the industry. The award is open to any current InfoComm CTS, CTS-D, CTS-I certification holder in the U.K., Ireland or mainland Europe, and we'd love to see the European industry well represented with entrants. Nominations close on 27 May — get your applications in now!
European Webinar Presenters Wanted
We are seeking Spanish, Portuguese, French, German and Italian language presenters for webinars in our rapidly expanding international webinar series in Europe. The webinars are one hour in length and should address vendor neutral technical and business issues of interest in Europe or Latin America. Interested? Submit your webinar title, short abstract and contact information to Bill Thomas, CTS-I, InfoComm Director of International Education.
10-12 May 2016
São Paulo, Brazil

4-10 June 2016
Las Vegas, NV, USA

10-12 August 2016
Mexico City, Mexico

23-25 August 2016
Sydney, Austrália

12-14 September 2016
Mumbai, India

11-13 October 2016
Bogota, Colombia

1-3 November 2016
Moscow, Russia

9-10 November 2016
New York, USA

6-8 December 2016
Dubai, UAE

7-10 February 2017
Amsterdam, Netherlands
Explore some of InfoComm's resources in German and in Spanish.