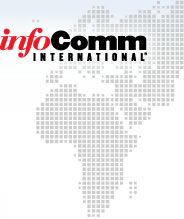 REGIONAL UPDATE
Europe, Middle East & Africa
December 2015
A Message From the Directors
Dear Friends,
From record-breaking shows and conferences to welcoming the 10,000th Certified Technology Specialist™, from engaging networking opportunities throughout the region to the myriad training classes and webinars, 2015 was an amazing year for InfoComm International® and the AV industry. We couldn't have done it without great members, engaged industry professionals and the many friends we've made along the way.
All of us would like to thank you for your dedication to excellence in professional AV. We hope you continue to promote the industry through your hard work and excitement, and we look forward to what's next in 2016. Happy New Year.
Sincerely,
InfoComm to Offer Professional Development Consulting at ISE 2016
Are you going to Amsterdam for Integrated Systems Europe Feb. 9-12? InfoComm International will be offering free professional development consultations. The consultations will be conducted by InfoComm's Europe-based and other international staff with the goal of helping individuals and companies identify courses of study for advancing their careers and businesses.
The in-person, one-on-one consultations at ISE will run approximately 20 minutes each. Participants will receive a tailored plan of training opportunities not only from InfoComm, but also from others sources inside and outside the AV industry, including courses devoted to information technology and networking, as well as business management. Many of the education sources that are part of InfoComm's offering deliver free and low-cost training.
There are two ways for ISE 2016 attendees to set up a consultation: Make an appointment ahead of time or sign up in person during ISE at either the InfoComm FlashTrack stand 12-N100 or at the InfoComm stand 11-N100. The free, 20-minute consultations will be held at the InfoComm stand 11-N100.
InfoComm's professional development consultations are part of the comprehensive program planned for ISE 2016. The association's education and training lineup will feature sessions in three different formats: InfoComm Conferences, InfoComm MasterClasses and InfoComm FlashTracks. The different formats allow attendees to choose from half-day, three-hour, or quick 20-minute courses and presentations on a wide range of industry topics. All sessions provide renewal units toward the Certified Technology Specialist™ (CTS®) certification.
For more information on InfoComm's professional development program, Conference and MasterClass pricing, and to register for ISE 2016, visit infocomm.org/ISE2016. To register for individual InfoComm sessions, visit iseurope.org/infocomm-at-ise-2016-overview.
Insights From a European Tour
Recently, InfoComm Executive Director and CEO David Labuskes, CTS, RCDD, traveled through Europe, visiting InfoComm members and learning what they value about their involvement with the association. He also gained fresh insight into parts of the European market, such as how the Nordic AV market is home to a remarkable number of Certified Technology Specialists. Read about his journey at InfoComm's All Voices Blog and learn what he hopes you'll get out of ISE 2016.
InfoComm Goes to Italy for SIEC 2015
In November, InfoComm took part in the 2015 Systems Integration Experience Community (SIEC) event in Milan, Italy. About 1,200 visitors joined InfoComm and 30 exhibitors for the fourth such event, where InfoComm representatives presented the association's exceptional experience initiative and discussed the AV industry in Italy and InfoComm's future plans in the country. Watch video from the event; join InfoComm's Italy LinkedIn Group; and read about our Italian Advisory Group.
Explore the Importance of Certification
You may have heard InfoComm say that a CTS credential can play a big part in advancing your AV career. And employing CTS holders can benefit your business. Now hear it from one of you peers. In this video, David Lesch, CEO of AV Media in the Czech Republic, and his colleagues talk about the importance of industry education and certification. AV Media has been a member of InfoComm since 1996.
If you want to learn more about opportunities to work with InfoComm to enhance your business, contact our team serving Europe, the Middle East and Africa.
9-12 February 2016
Amsterdam, Netherlands

3-4 March 2016
San Jose, California, USA

13-15 April 2016
Beijing, China

10-12 May 2016
São Paulo, Brazil

4-10 June 2016
Las Vegas, NV, USA

17-19 August 2016
Mexico City, Mexico

23-25 August 2016
Sydney, Austrália

12-14 September 2016
Mumbai, India

11-13 October 2016
Bogota, Colombia

1-3 November 2016
Moscow, Russia

9-10 November 2016
New York, USA

6-8 December 2016
Dubai, UAE
Explore some of InfoComm's resources in German and in Spanish.