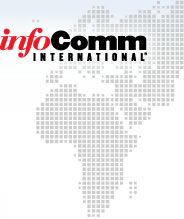 REGIONAL UPDATE
Europe, Middle East & Africa
September 2015
Message From the Directors
Dear Friends,
As we write this (maybe even as you receive it), we are preparing to celebrate our industry at the AV Awards, 25 Sept., at the Grosvenor House in London. InfoComm International® is a supporter of this special night, when we kick off the evening with a networking reception nearby and then make our way to the red carpet. For those of you reading this the next morning in or around London, we assure you it was great seeing all of our AV industry colleagues and we look forward to seeing you at another regional event soon.
Speaking of big events, here is a reminder to our friends in the Middle East and Africa: InfoComm MEA 2015 is almost here. The exhibition will be held 19-22 Oct. at the Dubai World Trade Centre and is shaping up to be a fantastic event. It's not too late to register, so be sure to do so soon. We hope to see you there.
Sincerely,
Digital Signs and Roundtables: Building Business Value
InfoComm is hosting a pair of European Roundtables with an eye toward helping AV professionals succeed in digital signage. Both the 20 Oct. event in London and the 22 Oct. event in Dublin will feature guest speaker and digital signage industry expert Lyle Bunn (pictured). Bunn was named one of the 11 Most Influential People in Digital Signage by DigitalSignageToday.com and has served as an Adjunct Faculty member for InfoComm University™ since 2006.
In his Roundtable presentation, Bunn will describe the key elements of today's digital signage applications and how AV professionals can successfully meet growing demand. He will also offer a snapshot of the market and highlight the latest trends.
In addition, attendees at both events will have a chance to network with colleagues and address a range of business topics during lively roundtable discussions. The London and Dublin InfoComm Roundtables are free to members and open to all other AV professionals for a minimal fee. Learn more.
Hands-On Training a Big Success
InfoComm's Live Hands-On Day event, an intensive day of training on production essentials, held 4 Sept. at Church House Conference Centre in Westminster, London, was a great success. With more than 60 industry professionals from around the U.K. and Ireland region, the event offered plenty of activities to keep attendees engaged, including first looks at Canon's and NEC's latest 4K projector offerings, Panasonic's user-friendly multiprojector image manipulation and Green Hippo's 4K canvas solution. There were courses on lighting for video in large venues, acoustic intelligibility, video playback and display, projection, video camera techniques and the latest in laser projection.
We'd like to thank our sponsors, Canon Europe, Green Hippo Limited, NEC Display Solutions United Kingdom, Panasonic and Shure Systems Group, as well as supporting companies the Church House Conference Centre, Creative Technology, Creative Staging and Jacobs Massey. Special thanks to the Church House Conference Centre for also sponsoring the day's reception.
View photos from the event. Do you see anyone you know? And picture yourself at an upcoming InfoComm education event.
Networking Programme Arrives in Belgium
Are you looking to build your networked AV knowledge? InfoComm University will be holding an AMX-Supported Networking for the AV Industry Programme in Leuven, Belgium, 19-21 October. The three-day course will be led by instructor Kevin Huysegoms, CTS®, Chief Wire Shark at A-Knowledge. When you sign up for the programme, you receive access to the InfoComm Networking Technology Online course, which helps students gain a better understanding of IT networks before diving into Networked AV Systems training. Upon completion, you will be able to:
Define the impact of AV applications on enterprise networks
Discover client needs for networked systems, negotiate trade-offs between quality and bandwidth, and navigate conflicts between network policies and customer demands
Get the background you need to cross the AV/IT cultural divide and specify devices for enterprise networks
Document and stick to shared expectations for networked systems
Discuss remote monitoring and management, streaming, conferencing and other software applications
The course will be held at AMX Belgium. Register soon to save your seat.
19-22 October 2015
Dubai, UAE

28-30 October 2015
Moscow, Russia

10-12 November 2015
Bogota, Colombia

11-12 November 2015
New York, USA

9-12 February 2016
Amsterdam, Netherlands

3-4 March 2016
San Jose, California, USA

13-15 April 2016
Beijing, China

10-12 May 2016
São Paulo, Brazil

4-10 June 2016
Las Vegas, NV, USA

17-19 August 2016
Mexico City, Mexico

23-25 August 2016
Sydney, Austrália

12-14 September 2016
Mumbai, India
Explore some of InfoComm's resources in German and in Spanish.