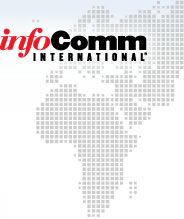 REGIONAL UPDATE
Europe, Middle East & Africa
August 2015
Message From the Directors
Dear Friends,
As we look ahead to October, we would like to offer a friendly reminder to our friends in the Middle East and Africa that InfoComm MEA 2015 will be held 19-22 Oct. at the Dubai World Trade Centre. It is shaping up to be a great event, with quality education and networking opportunities. Registration is open, so be sure to sign up soon. We hope to see you there.
In the meantime, take a look at our events and training pages to keep track of InfoComm International® happenings in your region.
Sincerely,
Live From London: Ultra HD and Acoustics
It's not too late to join us for InfoComm's Live Hands-On Day 4 Sept. at Church House Conference Centre in Westminster, London. It will be an intensive, enriching training session for live events professionals focused on addressing production essentials.
Presented by InfoComm International and supporting companies, course topics will include lighting for video in large venues, acoustic intelligibility, video playback and display, projection, video camera techniques and the latest in laser projection. Andre LeJeune, CTS®, InfoComm University™ Staff Instructor says, "The course is aimed at professionals with basic technical expertise working in fixed or live installations. Professionals will learn production basics so that they are faster and more efficient, saving valuable time on site. This will empower them to deliver an exceptional experience for clients and their audiences, every time."
Event sponsors include Canon Europe, Green Hippo Ltd., NEC Display Solutions United Kingdom, Panasonic and Shure Systems Group. Supporting companies include Church House Conference Centre, Creative Technology, Creative Staging and Jacobs Massey.
Chris Lavelle, InfoComm Regional Director, U.K. and Ireland, echoes, "The course brings together all of the benefits of InfoComm's certifications, training programmes and expertise supported by local InfoComm representation. The intensive and exciting one-day event will be at Church House Conference Centre, a prime example of events excellence with an award-winning in-house audiovisual team." Lavelle says AV installers and integrators will also benefit from the education.
Manufacturers that would like to take part in similar events, please contact Chris Lavelle at clavelle@infocomm.org. And if you will be in London 4 Sept., don't miss out. Register now.
InfoComm-Sponsored Golf Tournament Raises £21,000
A golf tournament at Buckinghamshire Golf Club on 23 July raised £21,000 for Sense International, a global charity supporting deafblind people in developing countries. The event was sponsored by InfoComm International, NEC Display Solutions and Buckinghamshire Golf Club.
The tournament offered the opportunity to play alongside professional and celebrity golfers, including football legends Ray Clemence and Luther Blissett. The Sense International campaign aims to raise funds for a pioneering programme to screen 300,000 infants in Kenya and Uganda. Between 10 June and 10 September, the U.K. Government will match donations.
"We're extremely grateful to everyone who attended the golf day," said Sue Piper, Head of Corporate Fundraising at Sense International. "The money raised will help us set up the first screening services for young children with sensory and multisensory impairments in Kenya and Uganda. A million thanks to all who helped us raise this impressive sum!"
Read about the event and view photos.
Reminder: InfoComm Italia on LinkedIn
Get involved with the new InfoComm International Italia LinkedIn Group. This group, targeted to those who are part of the Italian AV market, is where AV professionals like you share insights, ask questions, talk about technology, find out what the association is up to, and much more. Join your colleagues and reap the rewards of their collective wisdom.
1-3 September 2015
Mumbai, India

19-22 October 2015
Dubai, UAE

28-30 October 2015
Moscow, Russia

10-12 November 2015
Bogota, Colombia

11-12 November 2015
New York, USA

9-12 February 2016
Amsterdam, Netherlands

3-4 March 2016
San Jose, California, USA

13-15 April 2016
Beijing, China

10-12 May 2016
São Paulo, Brazil

4-10 June 2016
Las Vegas, NV, USA

17-19 August 2016
Mexico City, Mexico

2016
Sydney, Austrália
Explore some of InfoComm's resources in German and in Spanish.