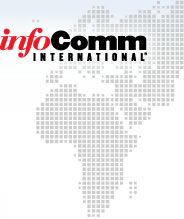 REGIONAL UPDATE
Europe, Middle East & Africa
July 2015
Message From the Directors
Dear Friends,
We would like to thank all of you who came out to see us at InfoComm 2015 in June. A good part of our time was spent in the fantastic International Business Centre. It was great to see and connect with AV professionals who travelled from many different locations to participate in this event. With a grand total of 39,105 AV pros attending the show, representing 108 countries around the world, the future of our industry remains bright.
Now, with the show in the rear-view mirror, we would like to remind you that there are many other upcoming events and education opportunities that may interest you. For example, there is the AMX-Supported Networking for the AV Industry Programme coming to Leuven, Belgium, on 19-21 Oct. The same programme heads to London the following month. There is still plenty of time to register and prepare.
Take a look at our events and training pages to find out what is happening in your region. We hope to see you soon.
Sincerely,
Save the Date: InfoComm Live in London
Are you a live events professional based in the U.K.? Then mark your calendars. We are coming to you live on 4 Sept. at the Church House Conference Centre in London for InfoComm Live Hands-On Day. This one-day event, with InfoComm University™ Staff Instructor Andre LeJeune, CTS®, will give attendees an opportunity to discover the latest in live event AV technology and how it translates into an exceptional experience.
The event is free for members. Interested? Contact Ben Barnard to reserve your seat today.
InfoComm on LinkedIn: Now in Italian
Introducing the InfoComm International Italia LinkedIn Group. This group, created especially for those of you doing business in the Italian AV market, is where AV professionals share insights, ask questions, talk about technology, find out what the association is up to, and much more. Join more than 110 of your colleagues and reap the rewards of their collective wisdom.
Networked AV in the Middle East
On 10-12 May, InfoComm University™ held a Networked AV Systems classroom training session, hosted by E-Sharp Consultancy in Dubai. The course was attended by 20 students from around the region, including students from Saudi Arabia and Kuwait. The course, taught by InfoComm's Rod Brown, CTS-D, CTS-I, provided attendees with an engaging and interactive classroom experience as they received an in-depth understanding of the relationship between AV and the network.
Interested in InfoComm University training? Explore courses that are coming to your region.
12-14 August 2015
Mexico City, Mexico

25-27 August 2015
Melbourne, Austrália

1-3 September 2015
Mumbai, India

19-22 October 2015
Dubai, UAE

28-30 October 2015
Moscow, Russia

10-12 November 2015
Bogota, Colombia

11-12 November 2015
New York, USA

9-12 February 2016
Amsterdam, Netherlands

3-4 March 2016
San Jose, California, USA

13-15 April 2016
Beijing, China

10-12 May 2016
São Paulo, Brazil

4-10 June 2016
Las Vegas, NV, USA
Explore some of InfoComm's resources in German and in Spanish.