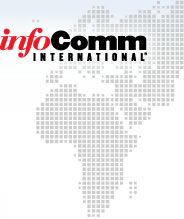 REGIONAL UPDATE
Europe, Middle East & Africa
May 2015
Message From the Directors
Dear Friends,
Our North American show, InfoComm 2015, is almost here. We hope to see many of you in Orlando, Florida, for this year's big event. If you are coming, we encourage you to join us at the International Business Centre, sponsored by AV Magazine, located on Level 1 of the Orange County Convention Center. Stop by for refreshments, meet with other international attendees and relax. We would love to chat with you.
Can't make it to Florida? Not a problem, take a look at the schedule of events happening in your region.
Sincerely,
SCHOMS InfoComm Members in Action
SCHOMS, a community of professionals engaged in the design and support of university learning spaces and technologies, are providing reviewers to help InfoComm International® develop a new course, How to Manage AV Spaces and Staff. The course is designed to help university technology managers hone their management skills. Four reviewers are representing the SCHOMS and technology manager community, including Tessa Rogowski, ISS Customer Service Manager, University of Essex; Kevin McLoughlin, Audio Visual Manager, The Royal Society of Medicine; Mike Alinson, Teaching & Learning Spaces Manager, University College London; and Dr. Crispin Bloomfield, IT Business Partner for Education, Durham University.
The insight and depth of experience the reviewers bring to this effort are critical to making this new course a useful global resource for those whose daily task is to plan and oversee the operations of large enterprise technology departments. The reviewers are planning to finish their comments and edits this fall.
Read about the SCHOMS and InfoComm joint initiative.
Behind the Scenes at the Queen Elizabeth II Centre
The Queen Elizabeth II Centre is Central London's largest dedicated conference and exhibition facility. It recently underwent a significant AV/IT upgrade to enhance visitors' experience. In this episode of the InfoComm Today Podcast, Deborah Jones, CTS®, the QEII Centre's AV/IT Sales Manager, talks about the improvements and what makes them exceptional. Listen now.
You can also read about the QEII's upgrades, gain fresh insights and see pictures of the centre's new videowall and other features at the dedicated Exceptional Experiences website.
Promoting the Exceptional Experience in Vienna
On 21 May, InfoComm Roundtable attendees in Vienna were asked about the popular AV technologies in their market. Their answers? Streaming media, interactivity and big videowalls. They were also asked about the challenges they faced: tight budgets, competition from unqualified companies and difficulty attracting skilled workers.
InfoComm was in Vienna at the Hotel Stefanie to help AV professionals succeed. Godwin Demicoli, CTS, InfoComm Regional Director for Europe, kicked things off by explaining the importance of creating exceptional AV experiences for clients. The presentation provoked a lively discussion, with attendees interested in communicating the merits of exceptional experiences to potential customers. Check future Updates for a Roundtable near you.
Networked AV in York
If you're still learning to navigate AV on the network or you're ready for advanced instruction, InfoComm University™ can help you.
In association with AMX Europe, InfoComm is training AV networking pros throughout Europe. Join our three-day course in York, U.K., 15-17 June. The programme includes elements of Networking Technology Online and Networked AV Systems. For those not comfortable with IT networks, the online course should be completed before attending the Networked AV Systems classroom course. Overcome networking challenges and keep your skills current as more AV applications operate within enterprise IP networks.
Infographic: Corporate AV Should Be Exceptional
Businesses work and communicate more effectively — internally and with the public — when they use expertly designed and integrated audiovisual systems. An exceptional experience in corporate AV combines content (formatted and delivered so people can comprehend), space (perfect lighting, acoustic and environmental conditions), and technology (seamlessly integrated and flawlessly functioning). Check out the new infographic.
13-19 June 2015
Orlando, FL, USA

12-14 August 2015
Mexico City, Mexico

25-27 August 2015
Melbourne, Austrália

1-3 September 2015
Mumbai, India

19-22 October 2015
Dubai, UAE

28-30 October 2015
Moscow, Russia

10-12 November 2015
Bogota, Colombia

11-12 November 2015
New York, USA

9-12 February 2016
Amsterdam, Netherlands

3-4 March 2016
San Jose, California, USA

13-15 April 2016
Beijing, China

10-12 May 2016
São Paulo, Brazil
Explore some of InfoComm's resources in German and in Spanish.