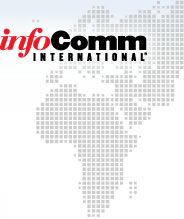 REGIONAL UPDATE
Europe, Middle East & Africa
March 2015
Mission Accomplished! Design Boot Camp in the U.K.
Part one of InfoComm International®'s Design Boot Camp in Hemel Hempstead, U.K., is off to a fantastic start. A full class of students, consisting of AV designers, engineers, tech managers and project managers, committed themselves to learning more about planning and designing AV environments. These items include sound reinforcement and display needs. Students also explored the design process, such as measurements, calculations, drawings, specification and performance criteria.
However, this is just the beginning of Design Boot Camp in Hemel Hempstead. Coming up on 21-23 April is AV Design 2: Infrastructure. After that, AV Design 3: Applied Design will take place on 12-14 May.
Are you up for the challenge? Learn more about training opportunities on our education page or contact Ben Barnard, +44 (0)1442 345100, to customise your training. And ask how the new online design courses could help you meet your goals.
Ready for More NAVS?
On 2-4 March, InfoComm held a Networked AV Systems course at the Wirtschaftskammer Österreich Landesinnung Wien in Vienna with great success. The 20 participants were enthusiastically engaged with an in-depth understanding of networks and how AV applications work within these systems.
Interested in taking a NAVS course in your area? Together with AMX, InfoComm University™ is coming to a city near you with the Networking for the AV Industry Programme — featuring Networking Technology Online and the Networked Audiovisual Systems. Next up, we will be in Gothenburg, Sweden on 15-17 April and Zevenaar, Netherlands on 26-28 May.
This three-day course is designed to help address networking challenges and keep your skill-set up to date as more AV applications operate within enterprise IP networks.
You will gain an in-depth understanding of AV and IT concepts including:
The capabilities and limitations of remote monitoring and management
How to discover your customer's security concerns for the AV system
The differences between emerging technologies in streaming and conferencing
Identifying trade-offs between quality and bandwidth
Why Loyalty Matters to Manufacturers and What They Can Do to Earn It
For AV manufacturers, loyalty is precious. It needs to be earned and rewarded generously. Does your company do what it takes to build loyalty? And if you're a dealer or consultant, are you loyal to certain manufacturers and feel recognized for your steadfastness? One executive from a major AV manufacturer shares his thoughts: "Long-term loyalty is worth so much more than that single purchase order." Read more.
Join the InfoComm LinkedIn Group
The InfoComm LinkedIn Group is where AV professionals like you share insights, ask questions, talk about technology, find out what the association is up to, and much more. Join more than 15,600 of your closest friends and colleagues and reap the rewards of their collective wisdom.
Message From the Directors
Dear Friends,
March has gone by in a flash, with a busy spring on the horizon. We've put the amazing Integrated Systems Europe 2015 and several great courses and networking events in the rear-view mirror. Now we look forward to another slate of opportunities to meet our fellow EMEA AV colleagues over a cocktail or a rigorous training course.
Are you thinking about building your networked AV foundation? Networked AV courses will be coming to Sweden, Dubai and the Netherlands. Or perhaps you're looking for the other type of networking opportunity — the type where you connect with other industry professionals. Meet InfoComm and your fellow peers at the roundtables in Amsterdam, London and Vienna.
Many other events and classes are lined up in the coming months, so be sure to take a look at our education calendar and at our upcoming events and plan to join us.
Sincerely,
8-10 April 2015
Beijing, China

12-14 May 2015
São Paulo, Brasil

13-19 June 2015
Orlando, FL USA

12-14 August 2015
Mexico City, Mexico

25-27 August 2015
Melbourne, Australia

1-3 September 2015
Mumbai, India

28-30 October 2015
Moscow, Russia

10-12 November 2015
Bogota, Colombia

9-12 February 2016
Amsterdam, Netherlands
Explore some of InfoComm's resources in German and in Spanish.