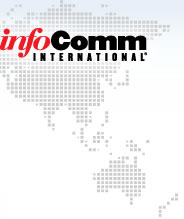 REGIONAL UPDATE
Asia & Oceania
DECEMBER 2016
A Message From the Directors
Dear Friends,
It's December, the season of year-end round-ups, which lend an opportunity to reflect on the milestones of the year and other performance indicators and trends we might have missed. But one time a year is hardly enough to stay on top of things.
To that end, InfoComm has just introduced the Pro-AV Business Index, a free monthly update to give a snapshot of the health of the commercial audiovisual industry.
To stay informed of AV business conditions, including the billing/sales and employment index, don't miss these reports. And if you want to get the report earlier than anyone else and other perks, join InfoComm's AV Intelligence Panel.
Visit our website to learn more about the panel and take the survey to see if you are qualified to join.
Finally, we would like to thank you for your dedication to excellence in professional AV. We look forward to continuing to promote the industry in 2017. Happy New Year.
Sincerely,
For Hong Kong-Based Vega, InfoComm APEx Designation Sends Clear Message to AV Clients and Staff
Three years ago, the Hong Kong office of Vega received its first InfoComm International AV Provider of Excellence (APEx) designation. Now into the third year of being an APEx company, the audiovisual solutions provider has seen firsthand the benefits of maintaining this level of commitment to this industry.
Matthew Deayton, Global Business Development Director, says: "Being one of a few APAC-focused system integration companies to hold APEx sets Vega apart from the pack. This has a direct positive impact on our bottom line."
VR & AI Spark Interest at Hong Kong Telecom Networked AV Week 2016
At the Hong Kong Telecom Networked Audio Visual Week, InfoComm was invited to speak about the business value of AV and explore the latest market trends.
Besides interactive display, wireless presentation and access control, and video surveillance, a key draw was the next-generation zone, which gave a taster of virtual reality (VR) and artificial intelligence (AI) technology. Curious visitors were eager to learn how VR and AI would fit into future AV solutions and change the game for the industry.
If you share these sentiments, read Dan Daley's article "Virtual Reality: Virtually Ready for Pro AV." The article was published as a Special to InfoComm International in July 2016.
6-8 December 2016
Dubai, UAE

7-10 February 2017
Amsterdam, Netherlands

12-14 April 2017
Beijing, China

23-25 May 2017
São Paulo, Brazil

10-16 June 2017
Orlando, FL, USA

9-11 August 2017
Mexico City, Mexico

29-31 August 2017
Melbourne, Austrália

26–28 September 2017
Mumbai, India

14–16 November 2017
Bogota, Colombia
Explore some of InfoComm's resources in German and in Spanish.
This email was sent to

%%email%%

.

This email was sent by: InfoComm International


11242 Waples Mill Road, Suite 200, Fairfax, VA 22030 USA



To change the type or frequency of your InfoComm email or to unsubscribe,
please visit our Subscription Center.



+1.703.273.7200

|

1.800.659.7469

| infocomm.org

Copyright InfoComm International® 2016