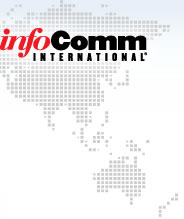 REGIONAL UPDATE
Asia & Oceania
OCTOBER 2016
A Message From the Directors
Dear Friends,
October is AV Month, a time for the AV community to celebrate, promote and share our industry with the world. As AV is just beginning to take off in many parts of Asia, the need to raise awareness of our field is greater than ever.
When it comes to advancing the voice of our industry, each of us has a part to play, whether it's sharing project stories with local media, hosting architects on an installation tour, or giving a seminar to university students.
Vist our website to learn about how you can participate.
Happy AV Month 2016!
Sincerely,
Qatar's Consolidated Gulf Co. Becomes the Middle East's First AV Provider of Excellence
Consolidated Gulf Co. (CGC) of Doha, Qatar, has received the Middle East's first AV Provider of Excellence (APEx) designation. APEx is the InfoComm International® seal of approval for companies that set high standards for employee training and certification and meet their clients' needs by delivering exceptional solutions. With this mark of distinction, CGC joins an elite group of almost 50 dedicated integration companies and AV design consulting firms worldwide.
"[The APEx certification] gives us extra courage to invest even more energy and excitement in delivering the best AV standard in Qatar." — Vangelis Petridis, head of AV Solutions at CGC
Huge Increase in Demand for InfoComm Education at Integrate
Last month, Integrate 2016 in association with InfoComm lowered its curtains after three packed show days in Sydney. With a total of 5,575 visitors, the show saw a 4 percent increase in attendance compared to the previous year. InfoComm's education programme was more successful than ever before, with a huge increase in session attendees and our recently launched FlashTrack format proving to be particularly popular.
In addition, more than 38 attendees defied Sydney's rain showers in the early morning of day two to gather at the Women of InfoComm Network breakfast, and discuss the important role of mentorships.
If you have a suggestion for a future seminar topic or want to find out how to become a volunteer session presenter within our education programme, contact us at oceania@infocomm.org.
We look forward to seeing you next year in Melbourne!
India Women of InfoComm Network Q&A With Mahua Mukhopadhyay
Mahua Mukhopadhyay is part of a small and growing club of women leaders in India's AV industry. As director at AV Integration Distribution (India) Private Limited, she looks after all critical aspects of her business while serving as proud mentor to a team that leans on her for strength and guidance.
In this Q&A, Mukhopadhyay gives a glimpse of her view on the barriers and opportunities for women AV professionals and what India's AV industry needs in the next few years.
11-13 October 2016
Bogota, Colombia

1-3 November 2016
Moscow, Russia

9-10 November 2016
New York, USA

6-8 December 2016
Dubai, UAE

7-10 February 2017
Amsterdam, Netherlands

12-14 April 2017
Beijing, China

23-25 May 2017
São Paulo, Brazil

10-16 June 2017
Orlando, FL, USA

9-11 August 2017
Mexico City, Mexico

29-31 August 2017
Melbourne, Austrália
Explore some of InfoComm's resources in German and in Spanish.
This email was sent to

%%email%%

.

This email was sent by: InfoComm International


11242 Waples Mill Road, Suite 200, Fairfax, VA 22030 USA



To change the type or frequency of your InfoComm email or to unsubscribe,
please visit our Subscription Center.



+1.703.273.7200

|

1.800.659.7469

| infocomm.org

Copyright InfoComm International® 2016