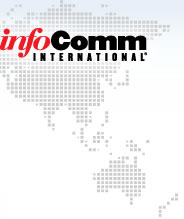 REGIONAL UPDATE
Asia & Oceania
SEPTEMBER 2016
A Message From the Directors
Dear Friends,
Without doubt Integrate 2016 was this month's highlight for Oceania's AV industry. Another highly successful Integrate expo has been wrapped up, with dedicated AV professionals from Oceania and overseas coming together to see the latest products and services. We would like to thank all InfoComm International® members and other professionals who visited our booth or participated in our education and training events during the show.
This year, our programme was jam-packed with seminars, MasterClass and FlashTrack sessions, and the Women of InfoComm Network breakfast event. The newly introduced InfoComm FlashTrack format proved to be particularly popular, not only due to its compact 20 minute-length, but also because of trend topics such as Networked Packet Analysing or the Internet of Things (IoT). While the gates at Integrate 2016 have now closed, InfoComm will continue to serve its members and the audiovisual industry with training sessions and local events in the region. Find out what's coming in your region.
Sincerely,
Show Your CTS Pride With New Digital Badges
Now it's easier than ever to display your CTS® certification across the Web.
If you are already a CTS, CTS-D or CTS-I holder, you should have received an email invitation from Acclaim with instructions for claiming your digital badge. You will be able to show your certification on LinkedIn, personal website, and email signature. Learn more.
India's First Women of InfoComm Network Event
To connect women in the Indian AV industry and foster future female leaders, InfoComm is hosting its first "Women of InfoComm Network" event (WIN) in India on 13 September during the InfoComm India trade show.
"Women account for a very small percentage of the growing AV industry in India and their representation is even smaller in technical and senior management positions," says Gaurab Majumdar, Regional Director, India and Middle East, InfoComm International. "The WIN forum is a first step to encourage women to join the AV workforce and empower them to grow and thrive."
Speakers featured at the event include Mahua Mukhopadhyay, Director AV Integration Distribution (India) Private Limited; Prabha Lakhsmi, Director & Chief Sales Officer, Office 2000 Solutions Pvt Ltd; Kirti Shetti, CTS, Director-Operations, Kramer Electronics India Pvt Ltd; and Karuna Gopal, President, Foundation for Futuristic Cities, Hyderabad. Learn More.
12-14 September 2016
Mumbai, India

11-13 October 2016
Bogota, Colombia

1-3 November 2016
Moscow, Russia

9-10 November 2016
New York, USA

6-8 December 2016
Dubai, UAE

7-10 February 2017
Amsterdam, Netherlands

12-14 April 2017
Beijing, China

23-25 May 2017
São Paulo, Brazil

10-16 June 2017
Orlando, FL, USA

9-11 August 2017
Mexico City, Mexico

29-31 August 2017
Melbourne, Austrália
Explore some of InfoComm's resources in German and in Spanish.
This email was sent to

%%email%%

.

This email was sent by: InfoComm International


11242 Waples Mill Road, Suite 200, Fairfax, VA 22030 USA



To change the type or frequency of your InfoComm email or to unsubscribe,
please visit our Subscription Center.



+1.703.273.7200

|

1.800.659.7469

| infocomm.org

Copyright InfoComm International® 2016