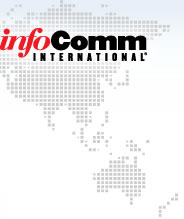 REGIONAL UPDATE
Asia & Oceania
JULY 2016
A Message From the Directors
Dear Friends,
This month, we get the inside scoop of India's rapid AV expansion from Ratnesh Javeri, industry veteran and InfoComm Board Member.
As an organisation, InfoComm International® has stayed one step ahead of this growth by offering a plethora of education initiatives to equip new professionals with the knowledge and skills to support the exploding new market segments. Since 2015, we have conducted nine CTS® Prep classes, launched a new three-day AV Installation Fabrication Training, and partnered with the Mumbai College to teach IT students AV basics.
These efforts are starting to come to fruition. The number of new CTS-certified professionals in India has grown from two in 2013 to 17 in 2015. And this year, 15 individuals have joined this elite group in a mere seven-month period.
We know that our work has only just begun. Join us at the InfoComm India trade show to learn more.
Sincerely,
Interpreting India's Exponential AV Industry Growth: Q&A With Ratnesh Javeri, CTS-D
The audiovisual market in the Indian subcontinent is projected to reach an astonishing US$5.4 billion by the end of 2016. So which industry sectors are driving this growth? What should international companies do to position themselves for success in India?
In the featured Q&A, Ratnesh Javeri, CTS®-D, CQD, CQT, shares his perspective on these questions and more. Javeri is Managing Director of Mumbai-based Innovative Systems & Solutions Pvt. Ltd. He was awarded InfoComm's Harald Thiel Volunteer of the Year Award in 2014.
Enter Your VIP Code to Secure Your Seat at the Women of InfoComm Network Breakfast at Integrate 2016
If you are attending Integrate Expo from 23 to 25 August, make plans to join us at the second Women of InfoComm Network breakfast on Wednesday, 24 August. The Women of InfoComm Network Group invites both women and men of the AV industry to attend this breakfast during which we will explore how women and men can encourage women to pursue successful long-term careers in technology.
Shara Evans, founder and CEO of Market Clarity, an award-winning technology analyst firm that provides insight, intelligence and advice on all aspects of the telecom and emerging technologies markets, will be the keynote speaker. Her keynote will focus on "Inspiring women in technology. The role of mentors in fast-tracking your career." Shara is internationally and nationally acknowledged as a cutting edge technology expert, strategy advisor and thought leader.
The Women of InfoComm Network breakfast event at Integrate is your opportunity to make new connections, find resources and discover new mentors. Men are also welcome to join.
Important note: Registration is required to secure your place. Sign up today and enter VIP code WINFOC16 to receive your complimentary ticket to the Women of InfoComm Breakfast.
Event Details

Date:

Wednesday, 24 August

Time:

7.30 a.m.–9.30 a.m.

Venue:

Forest Room, Novotel Sydney Olympic Park
Olympic Boulevard & Herb Elliott Ave, Sydney Plympic Park, NSW 2127
Committed to Education: AV Installation Skills Day and AV Innovators Forum for Secondary Education Professionals
| | |
| --- | --- |
| | |
| Ben Caswell (Knox Grammar School) explains AV facilities in a science classroom. | |
It has been an active month so far for InfoComm in Oceania. With InfoComm Las Vegas barely around the corner, we headed back to Sydney to deliver AV Installation Skills Day on 29 June in the facilities of venue sponsor Madison Connective Technologies. In a workshop-like setup, students learned and practiced essential audiovisual installation skills to successfully perform cable termination techniques. At the end of the day, students commented on the high quality of instruction and course content, as well as on the hands-on and engaging teaching style. The overall feedback was very positive with requests to offer this one-day training course next year again.
| | |
| --- | --- |
| | |
| | AV Innovators Forum attendees during forum discussions. |
Incessantly dedicated to helping advance AV career development within the education sector, InfoComm participated in the inaugural AV Innovators Forum hosted by Knox Grammar School on 15 June in Sydney. More than 50 IT and AV professionals from schools with different levels of AV resources gathered to share ideas and challenges, and to create a more formal group for future collaboration. InfoComm Regional Director Rod Brown, CTS-D, CTS-I, had the opportunity to inform attendees of InfoComm International member services and our commitment to education and training, which can play a pivotal role to career progress in AV. InfoComm International would like to congratulate Ben Caswell and his team from Knox Grammar School on this great initiative to support career development for AV professionals in the education sector.
10-12 August 2016
Mexico City, Mexico

23-25 August 2016
Sydney, Austrália

12-14 September 2016
Mumbai, India

11-13 October 2016
Bogota, Colombia

1-3 November 2016
Moscow, Russia

9-10 November 2016
New York, USA

6-8 December 2016
Dubai, UAE

7-10 February 2017
Amsterdam, Netherlands

12-14 April 2017
Beijing, China

23-25 May 2017
São Paulo, Brazil

10-16 June 2017
Orlando, FL, USA
Explore some of InfoComm's resources in German and in Spanish.
This email was sent to

%%email%%

.

This email was sent by: InfoComm International


11242 Waples Mill Road, Suite 200, Fairfax, VA 22030 USA



To change the type or frequency of your InfoComm email or to unsubscribe,
please visit our Subscription Center.



+1.703.273.7200

|

1.800.659.7469

| infocomm.org

Copyright InfoComm International® 2016