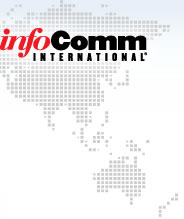 REGIONAL UPDATE
Asia & Oceania
MAY 2016
A Message From the Directors
Dear Friends,
More and more pro-AV colleagues are traveling from Asia to the June InfoComm trade show in the U.S. For those still on the fence about attending, here is what you can expect at the 2016 event in Las Vegas.
Immense learning opportunities: Explore the more than 100 workshops, technology tours, and Manufacturers' Trainings. This year's show is also gearing up to be a learning hub for Internet of Things (IOT).
An international, targeted network: Mingle with pro-AV customers and suppliers from across the globe. The show is where tech managers, integrators, consultants, and manufacturers collide and ideas are sparked.
The sheer scale: Join attendees from more than 100 countries to see and hear the latest products in action. With 1,000 exhibitors and 20 demo rooms on 500,000 net square feet of show space, planning ahead will surely help. And don't miss the after-hours parties by your favorite exhibitors all around town.
Hope to see you next month in Las Vegas!
Sincerely,
Think Technology Second, Learning First: Education AV Design Q&A With Zane Au, CTS-D, Director, Shen Milsom & Wilke
The university classroom is moving beyond the simple one-way lecture, a standard practice that hasn't advanced much since medieval times. Today's interactive learning and the changing classroom dynamics require the space and technology to be both flexible and user-centric. It's an exciting time as technology becomes more integrated into the classroom. These changes also demand a shift in the design processes.
These important questions are highlighted in Asia's first InfoComm on Campus at the University of Hong Kong on 24 May.
Read a Q&A with one of the guest speakers, Zane Au, CTS®-D, Director, Shen Milsom & Wilke. He argues that AV design for higher education must start with bringing the right stakeholders to the design table early on. He also talks about the danger of putting technology before user needs.
Rod Brown Promoted to Regional Director — Oceania
The InfoComm International® team in Oceania has recently undergone significant change to its internal structure to further enhance services to InfoComm members in the region. Rod Brown, CTS-D, CTS-I, has been promoted to Regional Director — Oceania. In this newly created role, he will serve as primary contact person for InfoComm members.
Rod manages InfoComm membership services, the education programme and InfoComm certification in the region. He will also direct the Australia Advisory Group. Prior to his promotion, Rod was an InfoComm staff instructor who taught InfoComm Unversity™ courses, presented seminars at industry events and delivered AV education webinars. He also worked on the creation of new and updated learning content. He was the first Australian to earn his CTS-D certification.
Rod's expertise, particularly at a practical level, comes from his extensive experience in broadcast television, live theatre, concerts and cinema. He has been involved in education for many years, particularly in sound production techniques and acoustics, and has been a seminar panelist for the Audio Engineering Society. Due to his longstanding career, Rod is highly regarded within the AV industry and brings a wealth of knowledge and connections to his new role.
Please contact Rod for enquiries about membership, certification, training or volunteer opportunities with InfoComm in Oceania. He can be reached at rbrown@infocomm.org or at +61 03 9017 4211.
AV Installation Skills Day Sydney: Registration is Open
Registration is now open to attend InfoComm International AV Installation Skills Day in Sydney on 29 June 2016.
For the first time in Australia, this training event will be held in a one-day format. It is ideal for those new to the AV industry, staff members who need to develop their technical knowledge, individuals preparing for the AV Technologist Certificate, and field technicians who regularly install AV components, terminate cable, and perform other installation tasks at the job site.
Classroom time will focus on learning and practising cable termination techniques, testing and safety. Additional reference information will be provided in the student materials including cable pulling, loudspeaker impedance considerations, balanced and unbalanced circuits, signal separation, conduit, and an introduction to power and earthing.
The AV Installation Skills Day will be held from 8 a.m. to 5 p.m. at the premises of Madison Connective Technologies (venue sponsor).
Cost: AU$200 includes GST for members, AU$300 includes GST for non-members. View the course details and register.
InfoComm Networking in Perth and Adelaide
InfoComm networking events continue to be popular down under. This month saw InfoComm members and business partners come together in Perth on 3 May and Adelaide on 5 May to connect with their peers, get industry updates and foster business relationships. It was also a perfect occasion to inform our members about the structural changes recently made to the InfoComm Oceania team.
Jonathan Seller, Senior Director InfoComm International Asia-Pacific, made himself available to meet with InfoComm members at the Perth event, while new regional director for InfoComm Oceania, Rod Brown, CTS-D, CTS-I, headed the Adelaide event. In both cities, integrators, distributors, manufacturers, university representatives, engineer and AV consultants gathered to network and had a pleasant time socialising.
Upcoming InfoComm networking events in Australia:
Tuesday, 4 Oct. in Melbourne
Tuesday, 18 Oct. in Sydney
We hope you will join us, whether you are based locally or happen to be in town on one of these days.
For details and to enquire about sponsorship opportunities, please contact the Oceania team at oceania@infocomm.org.
Save the Date — InfoComm Events at Integrate 2016
The countdown has begun — only three months before Integrate 2016 will open its gates in Sydney from 23 to 25 Aug. InfoComm International will be offering a comprehensive education programme that includes InfoComm MasterClasses, InfoComm seminars and new this year at the show, InfoComm FlashTracks and professional development consultations.
InfoComm FlashTrack sessions are designed for AV professionals who would like to get a quick overview about hot industry topics. These free sessions also include short excerpts from InfoComm courses with practical, applicable ideas and skills.
InfoComm professional development consultations are free, one-on-one 20-minute-sessions designed to help you reach your career goals. At the end of the session, you will receive a tailored plan of training opportunities to learn new skills and best practices. To receive a free consultation, please make contact with the InfoComm team at oceania@infocomm.org.
Save the date to join us on Wednesday, 24 Aug. for the Women of InfoComm Network Breakfast at Integrate 2016. We will come together to talk about the challenges women in the AV industry are faced with, and to develop ideas on how to support them. Please note that men are welcome too!
Attendees of InfoComm education sessions at Integrate 2016 can receive renewal units (RU) toward the Certified Technology Specialist (CTS) certification. For further details about Integrate 2016, visit the show website.
InfoComm Today Podcast: What Does the Rise of Virtual Reality Mean for AV Pros?
From improving free-throw accuracy in the NBA to fulfilling travel wishes of immobile elderly, new virtual reality applications are in the news feed weekly. Where do these developments lead for AV professionals and the video market? What is the sweet spot between AV and IT?
In the recent InfoComm Today Podcast, "AV Professors Get to the Bottom of HoloLens and More," the hosts share how AV professionals should step up in these changing times by creating meaningful interactive experiences. The ones who thrive are those who actively diversify their training.
4-10 June 2016
Las Vegas, NV, USA

10-12 August 2016
Mexico City, Mexico

23-25 August 2016
Sydney, Austrália

12-14 September 2016
Mumbai, India

11-13 October 2016
Bogota, Colombia

1-3 November 2016
Moscow, Russia

9-10 November 2016
New York, USA

6-8 December 2016
Dubai, UAE

7-10 February 2017
Amsterdam, Netherlands

12-14 April 2017
Beijing, China

2017
São Paulo, Brazil
Explore some of InfoComm's resources in German and in Spanish.