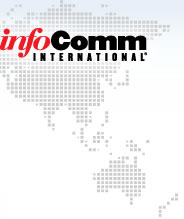 REGIONAL UPDATE
Asia & Oceania
APRIL 2016
A Message From the Directors
Dear Friends,
InfoComm China wrapped up this month to great success. Overall show attendance was up 15 percent despite economic slowdown. The Summit programs reported 34 percent more attendees than last year, with close to 4,000 delegates participating in 40 education sessions.
One of the most popular Summit topics was the integration of IOT and data into smart cities. This demonstrates our community's eagerness to learn how connectivity drives urban development and the immense opportunities this brings to AV professionals.
Even as we wrapped up this year's show, we were already working on how we could do even better next year in making InfoComm China an international event, to create a forum representing more thought leaders and business pioneers from around the world.
Hope to see many of you at InfoComm China 2017, scheduled for 12-14 April.
Sincerely,
AV Market in Indian Sub-Continent to Hit US$5.4 Billion by Year End
Following the continued expansion over the last few years, the audiovisual market in the Indian Sub-Continent is projected to reach US$5.4 billion by the end of 2016, according to a recent InfoComm Market Definition and Strategy Study for India. The primary driver of the predicted growth is the rapid digital transformation and smart urbanization in India.
This positive outlook is great news for regional professionals in AV and information and communication technology. It also signals a demand for broader education and training in the territory.
AV Installation Skills Day Coming to Sydney
Join InfoComm International® for a full day of training on essential AV installation skills, tools and techniques in Sydney on 29 June 2016.
The AV Installation Skills Day is ideal for AV professionals who would like to gain deeper technical knowledge or prepare for their CTS — General exam. Course curriculum includes an introduction to cable and wire, cable termination and pulling, loudspeaker impedance, and other installation tasks on the job site.
Cost for members is AU$200 including GST. For details or to register, please contact Jason York at jyork@infocomm.org or +61 (0) 2 8206 0979.
Stephen Dubner, Author & TV Personality, to Headline InfoComm Las Vegas as Keynote Speaker
Stephen Dubner will deliver the keynote address at the InfoComm 2016 trade show in Las Vegas. World-renowned author, journalist, and radio and TV personality, Dubner is best known for his New York Times bestselling Freakonomics series, which has sold more than 7 million copies in over 40 countries.
Speaking to the commercial audiovisual industry at the show, Dubner will talk about how emerging communication technologies are changing the behavior of the people who use them. He will explain what this behavior can tell the industry about the kinds of problems that can and can't be solved by communication technology applications. What business opportunities can be created by these behaviors, and conversely, what false assumptions should be avoided in promoting new technologies?
The keynote speech will take place at 4 p.m. PDT on 7 June during InfoComm 2016, which is the largest audiovisual trade show in North America with almost 20 percent of its attendees from outside the United States.
Asia's First InfoComm on Campus Confirmed for 24 May in Hong Kong
InfoComm International has partnered with the University of Hong Kong to bring the InfoComm on Campus series to Asia.
The one-day program is ideal for professionals who interact with classroom audiovisual technology, including AV technology and IT managers, facility managers, as well as academics and teachers interested in integrating AV technology to enhance student learning.
Speakers will include professors Susan Bridges and Ricky Kwok; Zane Au, CTS-D, Director, Shen Milsom & Wilke; and Terry Coe, Manager, Teaching Infrastructure Services, University of Western Australia.
Two Upcoming Seminars Co-Hosted With Indian Chamber of Commerce
InfoComm International has partnered with the Federation of Indian Chamber of Commerce & Industry (FICCI) to organize seminars ICT Solutions for Digital & Smart Gujarat in Ahmedabad on 16 May and ICT Solutions for Digital & Smart Telangana in Hyderabad on 20 May.
Focusing on India's rapid digital transformation and urban renewal and their impact on the role of audiovisual and information and communication technology (AV and ICT), the half-day programs will include speakers from academia, local government and beyond.
These events come on the heels of a series of highly popular classes and networking forums held in March across India, including Bangalore, Hyderabad and Chennai. More than 800 of the region's InfoComm members and others from the industry participated.
Integrate 2016: Registrations Open
Registrations are now open for Integrate 2016, which returns to Sydney from 23 to 25 Aug. 2016. As the partner of Integrate, InfoComm International will be hosting again an exciting InfoComm Education Program during the trade event.
You will have the opportunity to attend InfoComm University™ seminars, learn about hot AV topics in free InfoComm FlashTrack sessions, join us at the daily Explore the Floor session for tips on how to make the best out of your trade show visit, and come together with fellow AV professionals at the Women of InfoComm Network (WIN) breakfast.
Make sure to register and attend the InfoComm Education program onsite to learn core skills, competencies and InfoComm standards that you can apply in your AV projects.
See further information on InfoComm's seminar offering and register.
10-12 May 2016
São Paulo, Brazil

4-10 June 2016
Las Vegas, NV, USA

10-12 August 2016
Mexico City, Mexico

23-25 August 2016
Sydney, Austrália

12-14 September 2016
Mumbai, India

11-13 October 2016
Bogota, Colombia

1-3 November 2016
Moscow, Russia

9-10 November 2016
New York, USA

6-8 December 2016
Dubai, UAE

7-10 February 2017
Amsterdam, Netherlands
Explore some of InfoComm's resources in German and in Spanish.