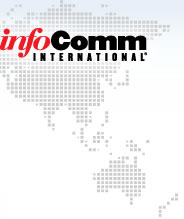 REGIONAL UPDATE
Asia & Oceania
October 2015
Message From the Directors
Dear Friends,
Have you wondered how to make your company stand out from the rest? Have you thought about InfoComm's AV Providers of Excellence (APEx) program? The APEx program recognizes AV integration and design firms that set high standards for employee training and certification and meet their clients' needs by delivering exceptional solutions. The program requires companies to satisfy specific criteria to ensure quality service.
The number of new APEx members around the world continues to grow at an impressive rate. We are proud to announce ihD Ltd. as the latest APEx member. Based in Hong Kong, ihD specialises in audiovisual design, consultancy and project management. ihD has met all of the requirements to become a participant of the program and represents the AV industry with great pride in the Asia region.
Is your company ready to take it to the next level and join the industry's elite? We encourage you to visit InfoComm's APEx page for more information.
Sincerely,
Bringing AV Training to BECIL
At last month's InfoComm India show in Mumbai, InfoComm signed a Memorandum of Understanding with Broadcast Engineering Consultants India Limited (BECIL) — A Government of India Enterprise under the Ministry of Information & Broadcasting. This marks a landmark step by InfoComm in the development of the AV industry in India by recognizing the importance of and implementing AV skills development throughout the region.
This agreement will provide BECIL with resources to train students and representatives from the industry with hands-on AV Installation skills through their 12 training centers in India. Installation Skills Day training will prepare candidates to perform basic AV installation tasks in their jobs. Students will acquire new skills in preparing, terminating and pulling cable during hands-on laboratory sessions. They will also learn circuit theory, conduit capacity, signal separation, earthing and loudspeaker installation. This program will help build their skill set for a rewarding career in AV installation. InfoComm has developed the training content and will train the trainers for the initiative. The program will begin in 2016.
In 2015, InfoComm organized AV Installation training at various locations in India and trained more than 250 employees at InfoComm member companies.
Going Online and Beyond in India
InfoComm hosted a session on how to prepare for the CTS exam on 23 Sept. at My Fortune Hotel in Bangalore. The event was attended by 37 professionals seeking insight and strategy in approaching the CTS exam. Students found the session, presented by InfoComm instructor T.S. Gopalakrishnan, CTS®, very interactive and took the opportunity to communicate with faculty for advice.
Along with the CTS workshop, InfoComm also organized a workshop in which attendees — specifically those in human resources — learned more about InfoComm's online education resources. The workshop was designed to bring awareness and help orient company HR departments with online resources. Manoj Kumar, Program Coordinator for InfoComm, explained to HR attendees the steps for arranging InfoComm education after a new employee joins an organization. Gaurab Majumdar, InfoComm's India Country Manager, said the group wants more such programs.
"InfoComm's new program for HR orientation is a welcome initiative. It helped us to know more about InfoComm online resources and I could meet other HR people from AV industry," said attendee Kavitha N. Kishore, Manager of Human Resources at Ideas Ahead AV Solutions Pvt. Ltd. "I want my staff to be included in InfoComm online courses."
InfoComm provides many professional development resources, both online and in-person. Learn about what is available.
The InfoComm LinkedIn Group
InfoComm International on LinkedIn is where AV professionals like you share insights, ask questions, talk about technology, find out what the association is up to, and much more. Join 16,000 of your closest friends and colleagues and reap the rewards of their collective wisdom.
28-30 October 2015
Moscow, Russia

10-12 November 2015
Bogota, Colombia

11-12 November 2015
New York, USA

9-12 February 2016
Amsterdam, Netherlands

3-4 March 2016
San Jose, California, USA

13-15 April 2016
Beijing, China

10-12 May 2016
São Paulo, Brazil

4-10 June 2016
Las Vegas, NV, USA

17-19 August 2016
Mexico City, Mexico

23-25 August 2016
Sydney, Austrália

12-14 September 2016
Mumbai, India

6-8 December 2016
Dubai, UAE
Explore some of InfoComm's resources in German and in Spanish.