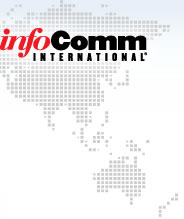 REGIONAL UPDATE
Asia & Oceania
May 2015
Message From the Directors
Dear Friends,
Our North American show, InfoComm 2015, is almost here. We hope to see many of you in Orlando, Florida, for this year's big event. If you are coming, we encourage you to join us at the International Business Centre, sponsored by AV Magazine, located on Level 1 of the Orange County Convention Center. Stop by for refreshments, meet with other international attendees and relax. We would love to chat with you.
Can't make it to Florida? Not a problem, take a look at the schedule of events happening in your region.
Sincerely,
Advance Your Networked AV Knowledge in Sydney
If you're still learning to navigate AV on the network, or you're just ready for advanced training, InfoComm University™ can help. Networked AV Systems, 2-4 June in Sydney, will give you the real-world training you need to understand networks and how AV applications work within them.
Taught from an AV perspective, this course guides you through the technical aspects of networking and offers you the practical know-how to identify your customer's security concerns as well as navigate conflicts between network policies and customer demands.
Take the pretest to make sure you're ready. Register today to help end networking challenges and keep your skills current as more AV applications operate within enterprise IP networks.
Ready to take on the course? Be sure to register soon.
InfoComm Participates at BICSI Event in Mumbai
InfoComm International participated at the BICSI India District Conference & Exhibition, held in Mumbai on 24 April 2015. Speakers at the event highlighted the role of BICSI and stressed member services and forthcoming activities in India.
During the technical sessions, sponsors and members highlighted technologies for smart cities, standards for telecom industry and networking infrastructure solutions for telecommunications. InfoComm faculty gave a presentation on innovative digital technologies for conferences and events, and discussed InfoComm education and services for members.
Around 300 attended the event, with an audience consisting of CIOs, IT managers, project managers, communications managers, wireless/digital professionals, facility owners and managers, electronic safety and security professionals, network designers and administrators, systems integrators, installers, consultants, distributors and more.
AV Installation Skills Day in Bangalore
A group of AV installers in India displayed their abilities and learned more about their craft at the AV Installation Skills Day, organised by InfoComm International® on 25-26 April at the Kramer Electronics offices in Bangalore. The Networked AV Systems course helped to promote the InfoComm education program to non-members and provided current members with an opportunity to refine their skills. The session was presented by T.S. Gopalakrishnan, CTS, to a split class of 16 students on 25 April and 17 on 26 April.
Explore courses coming to your region.
Learn and Network in Singapore
InfoComm co-hosted Learn and Network Day, 22 May, at Singapore's Nanyang Polytechnic (NYP) School of Engineering. InfoComm's Jonathan Seller, Senior Director of Development, Asia Pacific, kicked off the day's presentations with the keynote How You Can Create Exceptional Experiences in AV. He was followed by Zane Au, CTS-D, LEED AP, Director of Shen Milson & Wilke's Hong Kong office, who presented AV Technology in Healthcare: New Technology for AV = Bad Idea for Medical Technology?
More than 80 participants from 28 companies and organizations in the AV industry attended. Before adjourning for an hour of food, drinks and networking, attendees heard from Malcolm Murugan, CTS, Assistant Manager, Embedded Technology, at Nanyang Polytechnic, who provided an overview of the audiovisual system design and the interactive media programmes at NYP.
13-19 June 2015
Orlando, FL, USA

12-14 August 2015
Mexico City, Mexico

25-27 August 2015
Melbourne, Austrália

1-3 September 2015
Mumbai, India

19-22 October 2015
Dubai, UAE

28-30 October 2015
Moscow, Russia

10-12 November 2015
Bogota, Colombia

11-12 November 2015
New York, USA

9-12 February 2016
Amsterdam, Netherlands

3-4 March 2016
San Jose, California, USA

13-15 April 2016
Beijing, China

10-12 May 2016
São Paulo, Brazil
Explore some of InfoComm's resources in German and in Spanish.