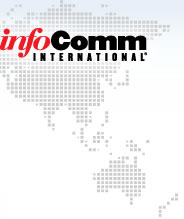 REGIONAL UPDATE
Asia & Oceania
April 2015
InfoComm China 2015: A Record Set
The InfoComm China 2015 Exhibition and Summit, held at the China National Convention Center in Beijing, closed with the largest participation by attendees and exhibitors in its history. The number of visitors from various countries and regions was 23,347, up 13 percent from last year. The number of exhibitors increased to 277 from 249 in 2014, spread over an exhibit floor area of 50,000 square meters in seven halls. The Summit, at which delegates could experience InfoComm University™ training, Manufacturers' Training and other industry education, registered positive response from 2,864 delegates, learning and sharing ideas over three days and 39 engaging sessions. Read more.
Executive Insights From InfoComm China
InfoComm International® Executive Director and CEO David Labuskes, CTS®, RCDD, had the pleasure of joining AV professionals from throughout the Asia-Pacific region at the just-completed InfoComm China show. In his brand-new blog, Dave shares what he observed of the fast-growing AV market, and his conclusion: Pro AV in China and the Asia Pacific bears a striking resemblance to the exciting and growing market for AV products and services throughout the world. Read more.
Around the Table in Bangalore and Mumbai
In March, InfoComm hosted two successful roundtables in India. The first was held at My Fortune Hotel in Bangalore (pictured) and hosted 77 attendees — a significant increase over prior roundtables in Bangalore. The second, held at Hotel Grand Sarovar Premier in Mumbai, hosted 71 attendees — also an impressive expansion. Both events were sponsored by Harman and began with a welcome address by Jonathan Seller, InfoComm Senior Director of Development for Asia Pacific, who presented InfoComm's exceptional experiences initiative.
In Bangalore, Tanusree Deb Barman, Director of Information Technology and Managing Director of Karnataka Biotechnology and Information Technology Services for the government of Karnataka, explained that state's plans for AV entrepreneurs, including financial assistance given to groups opening offices or research and development facilities in Karnataka. In Mumbai, Rajat Mukerji, Co-Chairman for Communication and the Digital Economy at the Federation of Indian Chambers of Commerce and Industry, stressed the need for pro-AV technology in India's digitalization plan and highlighted the importance of such technologies in improving the business environment and quality of life for people in India.
To learn more about future InfoComm roundtables in your region, visit InfoComm's event page.
E&E Partners With InfoComm International
In partnership with InfoComm International, Electronics & Engineering PTE LTD (E&E) organised the first CTS Prep course of 2015 for staff and partners. The class was conducted by InfoComm's Rod Brown, CTS-D, CTS-I. The rigorous course is designed for students intending to take their Certified Technology Specialist™ exam.
"At E&E we firmly believe in the journey of lifelong learning," said Gary Goh, Deputy Managing Director of E&E. "We encourage and support our staff in the various skills upgrade programs. The key is to facilitate and equip all our staff with relevant skills so that they are able to carry out their tasks effectively and for their personal growth and career progression."
Creating Exceptional Experiences
You've heard InfoComm talk about exceptional AV experiences. They're the result of a perfect combination of content, space and technology, woven together to exceed customers' expectations. Now AV professionals and technology managers can explain the value of their expertise through an all-new website dedicated to the exceptional experience. Find information, videos, case studies and links to resources you can use to communicate what makes your AV systems exceptional. Explore today.
Join the InfoComm LinkedIn Group
The InfoComm LinkedIn Group is where AV professionals like you share insights, ask questions, talk about technology, find out what the association is up to, and much more. Join more than 15,600 of your closest friends and colleagues and reap the rewards of their collective wisdom.
Message From the Directors
Dear Friends,
We've had an eventful past few weeks here at InfoComm. Of note was our biggest InfoComm China show ever, with 23,347 people attending. Held at the China National Convention Center in Beijing, attendees enjoyed product exhibits and participated in education and networking opportunities. The success of InfoComm China is a great indication of the growing pro-AV market in the Asia-Pacific region. We encourage you and your colleagues to continue advancing the industry.
In that spirit, has your company accomplished something you would like us to mention in our Regional Update? Have you earned your Certified Technology Specialist or AV Provider of Excellence (APEx) designation and deserve recognition from InfoComm and your peers? We are always looking for stories to share that demonstrate success. Please let us know what's new and we will be happy to spread the word. Contact us at the email addresses below.
Sincerely,
12-14 May 2015
São Paulo, Brazil

13-19 June 2015
Orlando, FL, USA

12-14 August 2015
Mexico City, Mexico

25-27 August 2015
Melbourne, Austrália

1-3 September 2015
Mumbai, India

19-22 October 2015
Dubai, UAE

28-30 October 2015
Moscow, Russia

10-12 November 2015
Bogota, Colombia

11-12 November 2015
New York, USA

9-12 February 2016
Amsterdam, Netherlands

13-15 April 2016
Beijing, China
Explore some of InfoComm's resources in German and in Spanish.