Is 4K Just a Pit Stop for 8K in Digital Signage?
Print
Type: Article, Report or Whitepaper
Topics: Digital Signage
Date: May 2014
By Monica Heck, Special to InfoComm International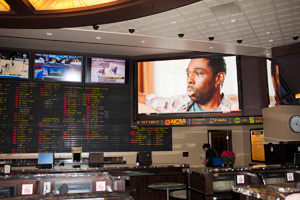 The UHD frenzy first hit the digital signage market last year, driven by screen manufacturers and the momentum in the digital cinema and broadcast markets. With the recent arrival of 4K players, digital signage seems to be joining the rush towards bigger and better resolutions. However, there's a feeling in the industry that it's too soon to talk about 4K, never mind 8K for most commodity, real-world deployments.
Jade Li, product manager at Advantech's digital signage division, says the industry norm is still 1080p HD for most mainstream applications. "Some users who want to deliver a big impression to the audience may have a requirement for 4K, but it is something that won't be quickly deployed in every chain store."
Momentum for 4K technology is nonetheless increasing in the industry. "It's rare to see full installations of 4K digital signage on an enterprise level, but we are starting to see the technology speckled throughout multiple industries focusing on advertising, promotions or visual aesthetics," says Jason Fullen, director of sales engineering at Four Winds Interactive.
The HD-to-4K transition is unlikely to resemble the groundswell of the SD-to-HD transition, according to JJ Parker, CEO of Tightrope Media Systems. "Our type of signage customer is unlikely to be in situations where a HD monitor couldn't do the job and they had to upgrade to 4K. We're talking 65-inch panels, so 4K is probably going to suit our customers' needs for quite a while."
Close Encounters of the 4K Kind
It seems that despite the industry enthusiasm surrounding UHD formats, only certain types of digital signage installations currently benefit from the investment in extra pixels beyond the glory of the "early adopter" badge.
Screens are getting larger, which is naturally driving an increase in resolution. However, while a finer pixel pitch is one of the key benefits of the UHD resolutions on very large format signage screens, investing in a tiny pixel pitch on an 80-inch screen would often be pointless. "How much more you are going to sell by running a 4K or 8K 80-inch screen if nobody can tell the difference from a 2K screen of similar size?" asks Steve Scorse, EMEA VP at SiliconCore.
Situations that require interaction with a screen – wayfinding scenarios, for example – seem to be a current 4K sweet spot. "When a user is close to a display and wants detail on a map, 4K can be very useful," says Parker. "It's also applicable to point-of-sale situations, where the viewer will notice the quality enhancement."
Chris Chinnock, president of Insight Media, also cautions against throwing more pixels at the problem to make an image look better. "For gesture or touch interaction, the price premium of 4K makes sense as it solves deficiencies in graphics or video that are apparent in 2K. It's less true the further away you get because your eye can't resolve the extra pixels anyway. So if the sign is to be viewed from 10 feet away, 98 percent of the time you're wasting your money."
While a 4K investment may not yet be of much use to a majority of customers, 4K sources and players are already being used in some cases to drive bigger displays or video walls made up of combined HD screens, as a way to reduce the overall pixel pitch of the installation and deliver a better experience.
"The commodity market may well use a 4K playback system to run multiple 2K displays to get a 4K image," says Robert Simpson, founder/director of Electrosonic. "The displays themselves are not 4K, but the image source is; you're now spreading your 4,000 pixels across maybe four or five displays in width."
Resurrecting 3D
And in an interesting twist, the rise of 4K could also spell a revival for the much-maligned 3D format, which may yet make a glasses-free return in the digital signage world. Simpson is particularly enthused by the possibilities afforded by those extra pixels. "4K displays may be the key to acceptable 3D without glasses in the signage market and I think that's where it belongs."
He explains that the extra pixels in 4K are going to be key to presenting 3D images without glasses, as they require an awful lot more pixels than a normal display and the results were not good enough on HD screens "On a 4K panel, you'll get a glasses-free 3D picture roughly equivalent to a HD picture. That would also mean that on an 8K panel, you could generate even bigger glasses-free 3D displays."
The Content and Workflow Challenge
There are three requirements for a successful 4K digital signage roll-out, according to Li. "The first is the hardware platform, the second is the panel, which must also support 4K and which are still too pricey. The third is the content. There is a lack of content to be displayed."
When all is said and done, a 4K- or 8K-capable screen is useless without content. But the issue of content generation currently makes 4K look like an obstacle course and 8K like fantasy. End-to-end content generation and distribution workflows are only emerging in the broadcast market and are not a reality yet in digital signage.
SiliconCore's biggest market lies with premium brand super-flagship stores that mix large individual screens and multiple secondary screens throughout the store. "For companies that want to create seasonal content that will change every few months, the cost of producing content in 4K is a lot higher than in HD," says Scorse. "Going to 8K would be prohibitively expensive."
He notes that most companies seem to be struggling just to get their content created in 4K today, which means a lot of the extra pixels available on 4K screens are going unused. "There's a screen at Burberry on Regent Street that's potentially 8K, but they struggle to even put 4K content on it."
Making the Business Case for Higher Resolutions
Screen manufacturers may be driving the frenzy around the 4K and 8K UHD formats, but the industry is pausing to ask questions about the benefits of upgrading. Mike White, president of Multi-Media Solutions, Inc. notes that the fastest growing segment of the signage industry is currently the Return on Objective (ROO) project, that doesn't depend on advertising dollars: campus or factory environments displaying HR information and key performance indicators.
"For those projects, I can't see a justification for anything beyond the current technology. I'm not going to ask that manufacturer to spend many thousand dollars more on the project to get a little bit better color depth and visual impact for their people. They just aren't going to do it."
A major debate is ongoing in broadcast around the need for either more pixels or better pixels. Chinnock notes that the "better pixels" argument suggests a 2K solution can deliver a better-perceived image than a 4K one.
"It's the other vectors in the image quality, such as having more contrast, a wider color gamut or high dynamic range, that seem to be more important from a visual perception point of view – just throwing more pixels at it doesn't necessarily improve the image quality, especially as you get further away from the display."
White also notes that in a world where companies have already made huge digital signage investments and where screens are becoming increasingly invisible to viewers, companies should focus on more than just resolution to catch the eye of the image-weary consumer.
"Many are not keeping their content fresh, relevant and dynamic, which is the most important element, as it's the reason people would continue to consider those screens worthy of viewing and not visual noise."
In a world where HD has just become the norm and 4K is only in the early adopter stage, it seems to be too soon at this point to anticipate the arrival of 8K in digital signage.
"4K already pushes the boundaries of what most digital signage solutions can do, in terms of rendering visual presentation. 8K is yet another step up," says Fullen, who notes that many existing signage applications still consider the 4:3 aspect ratio appropriate for the applications they support. "Does the 8K set the standard for digital signage visualization? Absolutely! The right content on an 8K screen looks crisper than real life, but does every application call for it? Not at all. That is why 4K, standard HD and even lower resolution displays will continue to have a space in the industry."