CTS News February 2013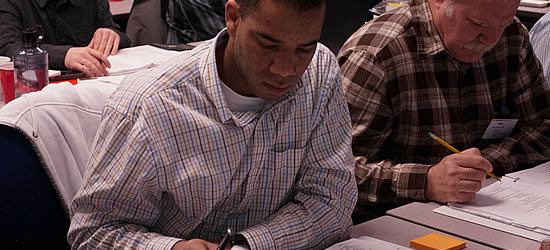 How the CTS Exams Are Changing in 2013
As part of the ANSI continuous improvement process, your InfoComm International® Certification Committee is constantly working to keep the CTS®, CTS-D and CTS-I exams current. This process also reflects the association's commitment to you. The CTS represents top quality in the AV industry, and we want to keep it that way.
This year, revisions have been made at the job task analysis level to reflect significant evolution in the AV industry including AV/IT integration and changing business concepts.
The revised exams will go into effect July 1. Don't worry about the new exam outlines if you are studying for the CTS, CTS-D or CTS-I credentials now. Here is some guidance on how to study for the exams, depending on when you will take them.
Already have your CTS? You still need to know about these changes so that you can stay up-to-date in the industry. View the modified exam content outlines.
Want one-on-one guidance? Call +1.703.273.7200 to talk to your regional representative to find exam preparation that works for you.
---
Meet the First CTS-D Holder of 2013
Justin Rexing
Justin Rexing, M.S., CTS-D, ISF-C, DMC-E, knows about the need for communication in an evolving industry. With a background in networking and learning about AV on the job, Rexing earned his CTS in 2006. But as an AV designer at Western Kentucky University, he found himself involved in AV design projects and wanting to gain a deeper understanding fostered by InfoComm's training and education.
"Being responsible for AV design in multiple capital construction projects at WKU was the motivation I needed to obtain my CTS-D. The training I've acquired from InfoComm over the years has had a direct impact on my daily tasks at work."
During his career, Rexing has been able to evolve with the industry through experience and education and prepped for the CTS-D exam with AV Design Level 1, 2 and 3.
"It's my opinion that AV is IT. We are past the convergence stage and moving toward the development and ingenuity stage," he says.
Additionally, Rexing says that the popularity of software codecs challenges those in the AV industry to have a unified and collaborative approach to the design and integration of communications systems.
"Being able to coordinate and communicate with all stakeholders at various levels throughout the project lifestyle has not only created a better work experience, but also has opened the door to more professional opportunities I hadn't considered before obtaining my CTS-D," he says.
---
How Many CTS Holders Are in Your City?
Take a look at the CTS map from a whole new angle.
InfoComm's Certified Professionals Directory has new robust search options. You can search for CTS professionals by the following categories:
Use this directory as a useful tool when you prepare bids to zero in on your competitive advantage.
---
Your Invitation to the CTS-D and CTS-I Symposium
If you are a CTS-D and/or a CTS-I holder, you are invited for an exclusive day with your peers on Tues., June 11 at InfoComm 2013 in Orlando, FL, 8 a.m.-3:30 p.m.
Forget the lecture. You are just as much of an expert as the presenters. Be ready for an interactive day where you'll explore a case study of integrating standards, brush up on networking and examine the AV Systems Verification Checklist.
Note: There is a registration fee for this day of professional development.
---
Explore Your AV Training Opportunities
InfoComm University™'s 2013 training schedule is up. Browse the catalog for sneak-peek tidbits of where training will take you later this year. You'll
Preview the new Networking Technology course.
Find out what courses are now free for InfoComm International® members.
Discover what every AV professional needs to know about standards.
Plus, check out all the RUs you can earn at InfoComm 2013.
---
Welcome, New CTS Holders From ISE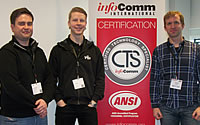 Pictured above: The first three candidates to earn their CTS credentials at ISE 2013: (L to R) Havard Haugen, CTS; Ketil Lindberg, CTS; and Oyvind Berg, CTS.
For the third year in a row, attendees at Integrated Systems Europe (ISE) combined the trade show with CTS exams. Congratulations to the nearly 30 candidates who added the CTS credentials to their name at ISE. They hail from Norway, Germany, India, the United Kingdom, Kuwait and more locations around the world.
If you missed ISE, you get a second chance to combine taking your CTS exam with one of the biggest AV shows in the world. Stay tuned for details on how to sign up for your CTS exam at InfoComm 2013, June 8-14, in Orlando.